BWW Review: JESUS CHRIST SUPERSTAR at Te Auaha
The Greatest Story Ever Told - Played With Passion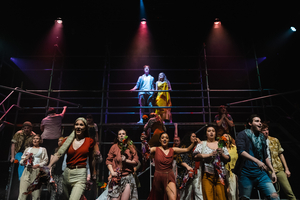 Music by Andrew Lloyd Webber
Lyrics by Tim Rice
Directed and Choreographed by Leigh Evans
Musical Director and Producer: Kate Marshall
Presented by Musical Theatre Students as part of their 2020 Programme of Study
Te Auaha - Tapere Nui (Big Theatre), 65 Dixon Street, Te Aro, Wellington
Until 26 September 2020
Reviewed by Lindsey Rusling
Blazing a trail between Rock and Roll and Musical Theatre, Jesus Christ Superstar was originally released as an album in UK in 1970. The musical is a sung-through rock opera Passion Play depicting the last seven days of the life of Jesus Christ. Banned by the BBC and South Africa for being sacrilegious, consequent film and staged productions have also received criticism for the fact that the musical is written from the perspective of Judas Iscariot. Many Christians prefer to completely vilify Judas and feel uncomfortable that the musical alludes to a more human viewpoint of the interpersonal relationships between Jesus, Judas and Mary Magdalene.
It is, however, the humanising of these religious figures that gives the audience the opportunity to relate to them in a new and empathetic way and be reminded of the devastating reality of what happened in the last days of Jesus of Nazareth's life.
JC Superstar is often intentionally anachronistic and this production is no different. Modern costume moves from bright and glittering in colourful numbers such as The Temple with belly-dancing outfits and swathes of material straight out of a Bazaar to Superstar with Judas returning in a sparkling suit with back up dancers in red and yellow. Jesus and his Apostles wear muted, modern clothes except Mary Magdalene (Holly Main-Grant) in a beautiful, golden dress that looks stunning with her long, blonde curls and flowers.
The lighting design is outstanding with haze creating moving beams of light, uplighting in front, drop spots and backlighting increasing dramatic effect. The set is industrial scaffolding with lighting crates/boxes that form an edgy feel and terrific levels to position the large cast.
Leigh Evans is an expert in dramatic staging and choreography and she uses her immense talent to striking effect here. Trial by Pilate (39 lashes) was as emotional, shattering and claustrophobic as it should be and, with the mob wearing shiny, red gloves and black suits, also an exquisite, if uncomfortable, spectacle.
It is apparent that these students are passionate about their art and the entire ensemble moves and sings with commitment. On a lockdown evening with only a few family and friends in attendance, it feels like it wouldn't matter if there was no audience at all. The fact that each actor loves what they are doing, is confident in performance and aware that they are among highly skilled performers increases their own enjoyment of the process and raises their individual game.
The energy that each person brings to the stage is electric, every tiny moment characterised with enthusiasm and focus. Interaction, freeze-frame and characterisation in every corner of the stage are portrayed with care and harmonies (overseen by the incomparable Musical Director Kate Marshall) are sung with conviction. Happy apostles are reminiscent of the park-dwelling, free-flowing hippies in Hair in numbers such as Simon Zealotes with an outstanding vocal from Jade Thomson as Simon. Caiaphas and the Pharisees are intensely creepy and vampiric. The severity of their posture, slicked-back hair, taut unison of swooping black cloaks and red lighting supports the rumbly Bass notes of Isaac Andrews and the crisp clarity of his Priests - Rebecca Ansell and Lane Corby.
Flora Dryburgh is stellar as Pilate, alternately comedic, commanding and vocally brilliant. Peter (Harrison Nicol), shows off a beautiful tone and vibrato in Could We Start Again Please? and Bentley Stevenson (Herod) with his troupe of dancing girls, is completely glitzy, ritzy, camp and nuts.
Holly Main-Grant as Mary Magdalene is soothing, she sustains presence on stage and her relationship with Jesus is sweet and believable. Main-Grant delivers the well-known I Don't Know How To Love Him with a honeyed vocal, genuine bewilderment and poise.
The casting of Moana Leota as Judas adds another angle to the jealousy, angst and complicated relationship with Jesus and her beret, military shirt and leather mini add to her aggressive, militant, Che Guevara style. Leota's Judas seems angry and lonely in a socially awkward way which gains her empathy from the audience, but, although she is obviously an accomplished singer, on the night I attended some sound issues made it difficult to hear her in places.
Jesus Christ Superstar may be written from Judas' perspective, but the star is undoubtedly, Jesus. Devon Neiman embodies a man exhausted, struggling with celebrity status and the knowledge that his life is about to end. With a superlative vocal (Gethsemane and those soaring notes being the highlight), Neiman devotes his all to the role and breaks our hearts in the process.
The show races through from one powerful moment to the next and, although it was a shame that we didn't have a band to allow the moments to breathe or up that heart-pounding rock feel, there was more than one goose-bump moment. Ultimately, with the way this year has progressed through lockdown, it is a phenomenal achievement that the team at Te Auaha have managed to put this show together at all and it is understandable that there was just not time to include live musicians in the mix. With a shortened rehearsal period, it is testament to the commitment and passion of both the students and teachers that they have pulled together such a slick production in the current restricted climate.
I can only hope and pray that our Alert Levels will allow more people to see such a sharp and polished presentation. Te Auaha has proved once again that, not only do they have the talent to deliver exceptional entertainment but they are consistently producing the most professional, homegrown Musical Theatre in Wellington. Can't wait for the next one!