Missoula Community Theatre Presents THE ADDAMS FAMILY
Performance dates are October 20-30, 2022.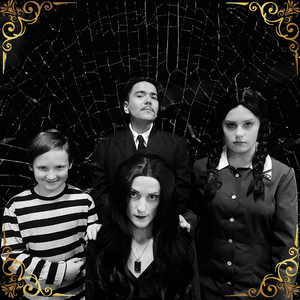 The Missoula Community Theatre will kick off the 2022-2023 season with The Addams Family, October 20-30 at the MCT Center for the Performing Arts. This ghoulish musical comedy is reminiscent of the 1960's television series, featuring characters you know, love and may even find to be creepy! Gomez, Morticia, Wednesday and Pugsley Addams, along with their extended family (including a Grandma who is NOT a sweet, soft-spoken woman) and departed ancestors, show what it's like to blend families together when one (the Beineke's) is relatively normal and the other (the Addams) is, well..........anything but.
The Addams family is made up of unique characters, each with a macabre sense of humor. There is shocking imagery when Wednesday tortures her brother Pugsley and this production is quite satirical, with occasional references to death, drugs and sword-fighting. Social commentary is a through-line, there are jokes about and references to politics, bedroom humor and a few expletives tossed into the mix. This may sound grim, but everything is filtered through the lens of physical comedy (think The Three Stooges). It may not be everyone's cup of poison...er, tea, but the show really IS a musical comedy to consider as PG-13.
In the Director's chair is James Rio. Into the Woods, Freaky Friday, SpongeBob SquarePants are his most recent MCT projects. "With so many versions of The Addams Family over the years, each generation has its own reference point to the colorful cast of characters. Mine happens to have come from watching reruns of the TV series. What is special about this musical are the dynamics of the relationships, from young love to the challenges that long-term couples face, within the confines of the very quirky and zany Addams' household," Rio explains.
The cast includes familiar faces like Alicia Bullock Muth ("Grandma"), Arielle Nachtigal ("Alice Beineke"), Jon Bell ("Uncle Fester") and Miguel Angel Olivas ("Gomez") who recently played the title role in The Rainbow Fish. Among those making their Missoula Community Theatre debut are Jessie Cubberly ("Morticia"), Liv Carmichael ("Wednesday") and Jet Mucha ("Pugsley"). Rio comments that "MCT has assembled a talented local cast with a varied range of stage experience. I love to see what young actors bring to the stage, and then guide them along to bring the story to life. Our more seasoned actors are great examples for those new to the stage and have been thoughtful in their approach to the iconic characters."
Gregory Boris (Music Director) and Colleen Rosbarsky (Choreographer) round out the experienced creative team. Tickets are available at www.MCTinc.org, by calling (406) 728-7529 (PLAY) or stopping by the MCT Box Office 9AM-5PM, M-F. Performance dates are October 20-30, 2022.
Garlington Lohn & Robinson, PLLP; Blackfoot and WIPFLI LLC are the sponsors of The Addams Family which is a production of the Missoula Community Theatre.
More Hot Stories For You
Tippet Rise Announces Highlights of 2023 Summer Season

December 7, 2022

Tippet Rise Art Center, which celebrates the union between music, art, and nature on a 12,500-acre working ranch, announced today the highlights of its upcoming 2023 season.
---
Have Breakfast With Santa At The Ford Wyoming Center, December 17

December 1, 2022

E&F Towing and Recovery and OVG360 will present BREAKFAST WITH SANTA at the Ford Wyoming Center on Saturday, December 17th. 
---
A CHRISTMAS CAROL Comes to Alberta Bair Theatre

November 30, 2022

 Alberta Bair Theater will welcome A Christmas Carol to the stage on Tuesday, December 20 at 7:30 p.m. and Wednesday, December 21 at 7:30 p.m.
---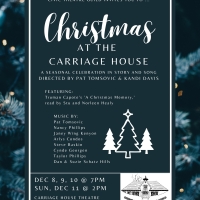 The Sheridan Civic Theatre Guild Presents Christmas at the Carriage House Next Month

November 28, 2022

The Sheridan Civic Theatre Guild (CTG) will present 'Christmas at the Carriage House,' a seasonal celebration in story and song, directed by Pat Tomsovic and Kandi Davis. Performances are at the Carriage House Theater on December 8, 9, 10 at 7pm and Sunday, December 11th at 2pm.
---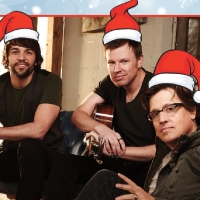 Nashville Duo Due West To Make A Stop At The WYO This Holiday Season

November 18, 2022

​​​​​​​On Saturday December 17 at 7pm Due West celebrates the holidays by making their WYO premiere! Featuring talented local Matt Lopez of Ranchester origins with Brad Hull and Tim Gates, these three gents will serve up Christmas delights along with original favorites.
---