Kathy Mattea & Suzy Bogguss To Play WYO Theater In February
The concert will take place on Sunday, February 19.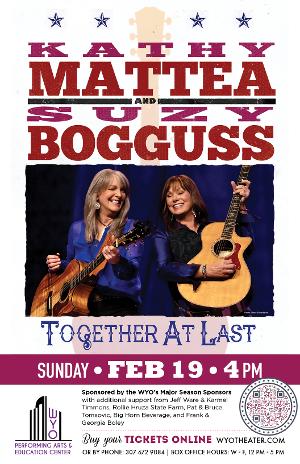 Kathy Mattea and Suzy Bogguss will appear on the WYO Stage together (at last) Sunday February 19 at 4pm.
Mattea and Bogguss have each carved out careers in popular music with country chart hits spanning two decades. Suzy's "Outbound Plane", "Aces", and "Someday Soon" are among the many songs beloved by country music fans around the world, as are "Where've You Been?", "455 Rocket", and "Eighteen Wheels and a Dozen Roses" from Kathy's deep well of material. Friends since their early days in Nashville, they had only found a few opportunities to collaborate musically, notably with "Teach Your Children", their Grammy-nominated track from 1994's "Red, Hot + Country" compilation. They have "threatened" for years, and their many fans have clamored for this pairing. Now, sporting new material developed for the tour, armed with 2 careers worth of stories and more hits than they can fit........Kathy & Suzy are "Together At Last" and performing at the WYO Theater!
Kathy Mattea & Suzy Bogguss - Together at Last is sponsored by the WYO's Major Season Sponsors: Ron & Kris Butler, Scott Davis & Mary Ludemann, E.C. & Edith Gwillim Memorial Fund, Kim & Mary Kay Love, Mars Charitable Trust, Gary & Susan Miller, Joe F. & Roberta H. Napier Foundation, Ramada Plaza by Wyndham Sheridan Hotel & Convention Center, Sheridan Media, Thickman Family Foundation, The Welch Foundation and Wolf Creek Charitable with additional support from Jeff Ware & Karmel Timmons, Rollie Hruza State Farm, Pat & Bruce Tomsovic, Big Horn Beverage and Frank & Georgia Boley.
ABOUT THE WYO THEATER
The WYO Performing Arts & Education Center is a live performing arts venue in the heart of downtown Sheridan dedicated to inspiring, educating and entertaining.