Jazz at Lincoln Center Orchestra Comes to Marcus Performing Arts Center
The performance will take place February 2 at 7:30pm.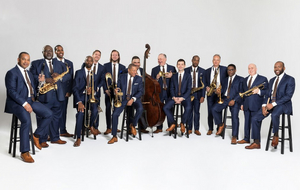 The Jazz at Lincoln Center Orchestra (JLCO) with Wynton Marsalis will be presenting Middle East Meditations with internationally-renowned Iraqi oud musician, Naseer Shamma, one night only at the Marcus Performing Arts Center. Part of the 2022/23 MPAC Presents: Jazz Series, the performance will take place February 2 at 7:30pm. This milestone concert event marks the JLCO's first collaboration with an Iraqi artist.

Tickets for Jazz at Lincoln Center Orchestra are on sale now and start at just $24.50. To purchase tickets, visit www.MarcusCenter.org, call 414-273-7206, or visit the Marcus Center Box Office at 929 North Water Street, Downtown Milwaukee. Groups of 10 or more can secure their seats by calling 414-273-7207.

Middle East Meditations will unite JLCO and Wynton Marsalis with Naseer Shamma, the eminent Iraqi oud virtuoso-composer-educator. Under Music Director Wynton Marsalis, the JLCO brings together 15 of today's finest jazz soloists and ensemble players.

"We're coming together for a collaboration with the brilliant musician, composer, and musicologist Naseer Shamma. He comes from a whole world of music of which he is a master. As a virtuoso and teacher, he has transformed the presence of the oud," said Marsalis. "Playing with Naseer is what makes being a musician -all the hours and years spent practicing and trying to be serious -worth it. We look forward to coming together to interpret his music."

Known for being one of the world's greatest oud (an ancient Middle Eastern stringed instrument) virtuosos, Shamma has also received numerous awards for his contributions to promoting and advancing the oud and Arabic music all over the world. This tour will celebrate the first collaboration for JLCO and oud and will feature new works arranged by Mr. Marsalis, Mr. Shamma, and JLCO members.

Revered as being one of the world's greatest oud virtuosos -the oud being a centuries-old Middle Eastern short-necked lute-type stringed instrument- the acclaimed Naseer Shamma is equally known for his humanitarian work, including serving as the UNESCO Artist for Peace.

Shamma and Marsalis first met at the behest of the Abu Dhabi Music and Arts Festival in 2010, which led to more than a revelatory musical meeting of the minds, but to a shared belief in the power of music and collaboration to bring cultures and people together, beyond politics and religion. They reunited later that year for a concert in Marciac, France, where reviews called the collaboration an "unprecedented fusion between jazz and the oud instrument."

Middle East Meditations continues the orchestra's season of cross-cultural offerings that illuminate, actualize, and reaffirm the notion of jazz as a global language and the music's power to bridge divides and coalesce distinct communities.

Jazz at Lincoln Center Orchestra is part of the 2022/23 MPAC Presents: Jazz Series. Jazz Series subscriptions and Build Your Own packages are still on sale and provide the ultimate in savings and flexibility. All upcoming show dates and information are available at MarcusCenter.org. The 2022/23 MPAC Presents Series is supported by Bader Philanthropies, Inc., Saint Kate - The Arts Hotel, Fields Auto Group, the Herzfeld Foundation, The Ambassador Hotel, Sazama's Fine Catering, and THINKLimo.