Fascinating Frank Ferrante Returns to The Bartlett Performing Arts Center
For more than thirty-three years Frank Ferrante has been channeling Groucho Marx. His highly- acclaimed one-man show, "An Evening with Groucho" has triumphed in New York, London, Australia, and across the U.S., as well as on PBS. Ferrante's tour-de-force stays fresh and fascinating because it relies so heavily on improv and audience interaction. Three-thousand shows later, no two performances are alike. This current iteration is directed by Dreya Weber and accompanied by Alex Rybeck.
When the lights come up, we find ourselves in Groucho's dressing room in 1934. While the premise and staging of the show are simple, the performance is elaborate. This 90-minute two-act combines repartee, reflection, song, dance, and off-the-cuff one liners in a skillfully-paced combination of memorable moments and madcap momentum.

While Ferrante is an award winning actor/writer/director with a wide spectrum of credits, he is the only person in the world who can perform this show. That's because "An Evening with Groucho" isn't a portrayal, tribute, or contrivance, but rather a lifelong involvement that started serendipitously.
In 1972, nine year-old Ferrante saw the Marx Brothers on television for the first time. He was delighted by their zany humor. "The timing, in my life, and in that era, was perfect," he explains. "The Marx Brothers resonated with me. I was Catholic school boy, bound by a lot of rules, and they portrayed outsiders looking in--homeless tramps who infiltrate high society and take on the elite." While other boys idolized sports figures, Ferrante admired Groucho's defiant verbal gymnastics. "He had a dangerous quality that seemed like armor to me," the actor says. "He spoke his mind, and didn't seem to care whether people liked him or not. I felt safe, knowing that he was at bat and in battle for us."
In 1976, when Ferrante was thirteen, Groucho was promoting a book called, "The Groucho Phile." Frank Ferrante's father drove him to the event at the Ambassador Hotel in Los Angeles. "I followed him toward the podium, and sort of sat at his feet," Ferrante recalls. "When he opened up the floor for questions, I asked what he thought of Nixon. That was the beginning of it. I took a photo of him. It was remarkable. Ten years later, to the week, I was playing Groucho on stage. "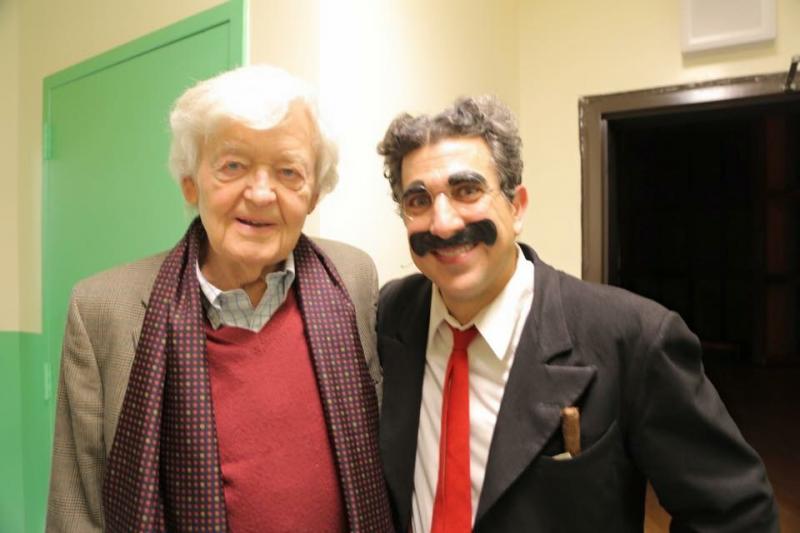 That stage portrayal began as cousework at USC, when, as a theatre major, Ferrante began to study solo form. In 1985, he was discovered by Groucho's co-writer Morrie Ryskind, as well as Groucho's children, Arthur and Miriam.
Arthur Marx was so impressed that he asked Ferrante to star in a new show he was working on about his late father. "Groucho: A Life in Revue." Through that project, Ferrante became very close to Arthur and Miriam, and they eventually bequeathed him the copyrights. "They saw me as carrying on and perpetuating their father's legacy," Ferrante says.
Groucho's comedy required a foil--most famously, Margaret Dumont. Ferrante's foil is his audience, whose members delight in playing along. "I can be extremely sensitive," he says. "I have learned to become really aware of who wants to play and who doesn't."
As seasoned as he is, Ferrante isn't jaded. The excitement and affection he feels for his audience shines through when he talks about the show. That enthusiasm fuels his energy. "To make this show work," he explains, "I need to leave the stage and circulate in the house. In some venues that means climbing a ladder to the balcony, or jumping off and onto a fairly high stage."
When gently reminded that most people would find those physical feats more daunting at fifty-five than they did at twenty-five, Ferrante laughs and exclaims, "Not me!"
"This show," he concludes with a smile, "Is always a work in progress. It continues to grow."
"An Evening with Groucho" will play at
the Bartlett Performing Arts and Conference Center
Saturday, October 13th at 7:30 p.m.
All seats are $35.00
Tickets are available at BPACC.org or 901.385.6440
The venue is located at 3663 Appling Road, Barlett TN, 38133.
Related Articles View More Memphis

Stories

Shows
Caroline Sposto is a writer, producer, actor and startup entrepreneur. More information about her can be found at http://www.whycaroline.com