Review: ON YOUR FEET! at The Orpheum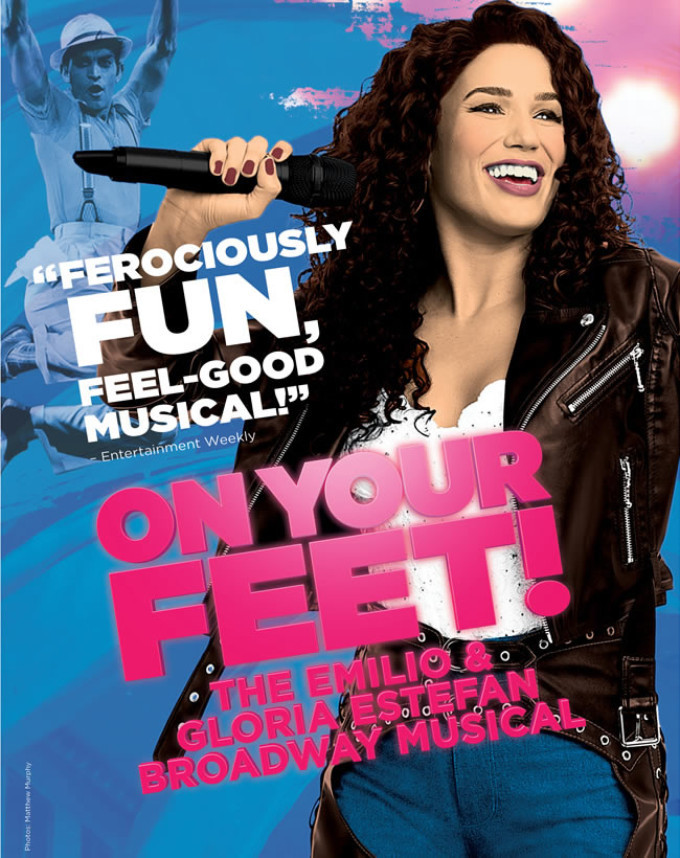 Rare is the wedding, Bar Mitzvah, office holiday party or Sweet 16 that does not at some point feature a rousing rendition of Gloria Estefan and the Miami Sound Machine's "Conga." Particularly for those of us in Generation X - for whom the pop music of the 1980s, in all its glorious forms, remains a source of unbridled nostalgic celebration - "Conga" is such a staple that any gathering involving a dance floor just seems incomplete without it. As it turns out, the 2018-2019 season at Memphis's Orpheum also needed a fresh injection of the Conga, and the immensely talented and attractive touring cast of On Your Feet!, the Emilio and Gloria Estefan Broadway Musical, delivered all that and more. Quite literally and as advertised, Memphians in the audience at the run's premiere leapt to their feet to celebrate Gloria and Emilio Estefan, a couple whose success story remains as relevant today as ever in today's political climate, not to mention their remarkably prolific song catalog. Broadway has seen its fair share of jukebox musicals in recent years, but there is something unique and special about On Your Feet!, not only in the time period it evokes, but also in the indomitable spirit of its core subjects, portrayed with incredible heart by Christie Prades and Eddie Noel.
After a prologue of sorts, which is set backstage at a Gloria Estefan concert in 1990 at the height of her superstardom, the show flashes back to young Gloria's (Ana-Sofia Rodriguez/Carmen Sanchez) childhood in the Little Havana neighborhood of Miami. In her late teen years, Gloria is discovered by Emilio, who is then with a local act called the Miami Latin Boys. Emilio is quite taken with Gloria's talent, beauty and charm, and invites her to perform and later record and tour with the group (who would later be rebranded as Miami Sound Machine, with Gloria Estefan as its frontwoman). Gloria and Emilio become partners in the truest sense of the word, and ride the path to superstardom through the late 1970s and 1980s, overcoming an array of challenges along the way. Although securing their record label's support to crossover from Latin to English language markets is difficult enough, perhaps their most personal challenge is Gloria's complicated relationship with her mother (a fantastic Nancy Ticotin), who we learn abandoned her own show business dreams and opportunities to take care of her family, including Gloria's ailing father (Jose Rosario, Jr.). As such, she is none too enamored with Emilio or his goal of achieving international success with Gloria at his side. Gloria's grandmother (Debra Cardona) and sister (Claudia Yanez) are generally more supportive. Of course, an even greater challenge arises when Gloria is nearly paralyzed following a 1990 bus accident, a tragic event depicted in the production with great care.
As Gloria and Emilio Estefan, co-leads Ms. Prades and Mr. Noel are simply outstanding and the production's anchors. While both are excellent in their own right, much like the real life couple they portray, their transcendent partnership is truly greater than the sum of its parts. By design, On Your Feet! is deliberate in its aim to present the couple's story; not just that of Gloria. And as such, some of the show's strongest musical numbers are the couple's duets, including the Act I standout "I See Your Smile" in which the harmonic blend of Ms. Prades' and Mr. Noel's voices (particularly when Ms. Prades rides her lower register, and Mr. Noel takes the higher notes) makes it sound as if they were born to sing together. The actors share tremendous chemistry and avoid any clichéd representations of famous musical/romantic partnerships.
What is most striking about Ms. Prades' performance is her ability to channel the spirit of Gloria Estefan without resorting to mimicry. Surely, her big hair, costumes and dance moves will leave any nostalgic 1980s aficionado well satisfied, but more so than any production window dressing is the unselfishness and restraint of her performance, which reflects Estefan's innate shyness, sense of humility and discomfort with taking the full spotlight for herself. Moreover, while Ms. Prades' vocal tone certainly bears a similarity to that of Estefan's contralto, it nonetheless maintains its own identity. In other words, the vocal resemblance is sufficient to satisfy Gloria Estefan devotees, while still being unique enough to provide a new experience and justify the cost of a ticket versus a song download. This is true of both the fast paced numbers (e.g., "Get on Your Feet" and "1-2-3") and the ballads (e.g., "Anything for You").
Mr. Noel expertly captures Emilio Estefan's grit and savvy (one cannot help but admire his sheer moxie), and has tremendous vocal chops, with a powerful and soaring belt, exhibited most greatly in his 11 o'clock number and production highlight, "Don't Wanna Lose You", which sounds fantastic with a male vocal. Because of Gloria Estefan's generally lower vocal range, a lot of her catalog lends itself to both male and female vocals, and it was nice to hear new and reimagined renditions sung by a variety of voices.
A recognizable veteran of stage and screen (who this reviewer incidentally first saw in the 1994 Broadway revival of Damn Yankees), it was a thrill to see the great Ms. Ticotin as Gloria's mother, Gloria Fajardo. An enduring performer with vocal and dance chops, Ms. Ticotin evokes a different era in "Mi Tierra", a flashback sequence in which her character (who was apparently once given the opportunity to be the Spanish voice of Shirley Temple) learns she has to flee Cuba without her husband. It is another of the show's strongest sequences, and Ms. Ticotin's fitness and endurance are a marvel. Her moments with Mr. Noel following Gloria's accident are also moving, and deftly reflect the evolution of her complex character.
Also worthy of mention is Ms. Cardona who captures the audience's heart (and leaves it in stiches) as Gloria Estefan's supportive grandmother Consuelo.
If you want to see some beautiful people, look no further than the On Your Feet! ensemble. They exude enthusiasm and heart while executing fun and intricate choreography. The so-called "Mega Mix" at the show's conclusion (which features crowd pleasers like "Rhythm Is Gonna Get You," "Turn the Beat Around," "Conga," "Everlasting Love," and "Get on Your Feet") turns into an all-out dance party, and is the ultimate payoff. It was great seeing so many of the show's performers get a chance to take the microphone. There may even have been a Conga line into the audience, so watch out if you are seated along a center aisle. (The show even pokes fun of "Conga's" status as a dance party staple.)
Finally, the On Your Feet! orchestra (which includes a number of Miami Sound Machine members) deserves special mention for its energy and rousing execution of Gloria and Emilio Estefan's orchestrations, which feature that trademark combination of Latin, synth pop and big band influences. It is a song catalog that more than amply supports a production dedicated to it.
Although the production takes a few scenes to find its groove (and the early scenes of Gloria's childhood are a bit disjointed), it later finds its secure footing. Simply put, if fun is what you are after, make sure to get to the Orpheum this week and see On Your Feet!
With a book by Alexander Dinelaris, On Your Feet! is directed by Jerry Mitchell and features choreography by Sergio Trujillo. It runs through February 17, 2019 at the Orpheum, 203 South Main Street, Memphis, Tennessee.