BWW Review: MID-LIFE: THE CRISIS MUSICAL at Alhambra Theatre And Dining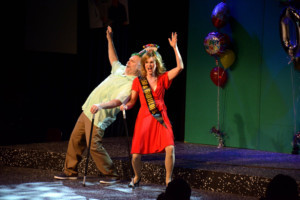 "Welcome to Mid-Life!" Mid-Life!: The Crisis Musical has opened at the Alhambra Theatre and Dining and has audiences crying laughing. The musical has three men and three women playing various characters dealing with variety of mid-life situations, such as menopause, side effects from various medications, forgetfulness, and so much more. The six-membered cast is hilarious, entertaining, and oh so talented!
The three men were incredibly amusing during their performances of "Weekend Warrior" and "Boys Night In". Their physical acting had audiences belly laughing through a majority of these numbers. Each also had great solos that made everyone giggle. Man 1 (Brian D. Simmons) in "Turning 40" is hysterical portraying a man who is turning into his father. He spouts off numerous "dad" sayings about turning off the lights, telling his kids to stop rough-housing, etc. I laughed so hard knowing I, as well as others, have definitely heard one or more of these sayings. Man 2's (Michael Strauss) performance in "Side Effects" was hysterical! Strauss's physical acting was incredibly funny and entertaining. Man 3 (Mark Poppleton) in "My Lost Love", a ballad about a man losing is hair, was also very funny! Poppleton put so much emotion into the number, which made it even funnier for the audience.
The three women had great chemistry as friends gathered at their high school's thirty-year reunion in "He Got What He Deserves". They were so great all together and made audiences laugh out loud. Woman 2's (Lisa Valdini) performance in "Biological Clock" was incredibly entertaining, as she portrays a woman whose biological clock is running out of time to have a family of her own. Valdini is incredibly humorous in this performance, and it was personally one of my favorite ones of the musical. Woman 3 (Becky Baxter) had one of the sweetest performances in "When He Laughs". Baxter is portraying a woman who has just undergone LASIK surgery and now notices all the imperfections of her husband, but when he laughs, she loves him all over again. It made my heart happy to see such a sweet performance about loving someone's imperfections. Woman 1 (Patti Eyler) in "Mid-Life Translator" was hysterical as she incoherently cries about why she is so upset with her husband. Eyler knew how to make the audience laugh just by making crying noises, that would later be translated by the Mid-Life Translator.
Whether you are a young adult who has not experienced mid-life, are currently experiencing it, or have experienced mid-life, you will find this show incredibly entertaining! Mid-Life!:The Crisis Musical will be at the Alhambra now through March 24.