The Role of Women Highlighted in Major Exhibition Opening at New Museum in Bangalore
The exhibit opens on Saturday 18 February 2023.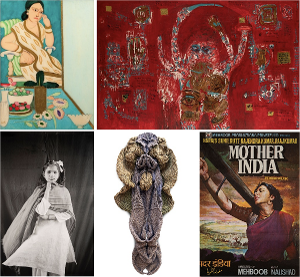 MAP Museum of Art and Photography will open its doors to the public in Bangalore, the capital city of South India, on Saturday 18 February 2023.
The opening exhibition, Visible/Invisible: Representation of Women in Art Through the MAP Collection, explores the paradox of how visible women are in Indian art over the ages and yet how invisible they seem in the public domain.
The exhibition's Curator and Director of MAP, Kamini Sawhney, said: "For centuries, while women have been one of the central themes of artistic representation, the image builders have largely been male, allowing women very little agency over the nature of their representation. In the Nationalist struggle against colonial rule, India appropriated the defining image of a woman as the mother to symbolise the country. The body of the woman and the geography of the nation were identified as one. It is disturbing to see, today, that while the performing arts, literature, activism and the feminist movement in India reflect changing perceptions and attitudes, the language of visual culture has not shifted the bar as far as it needs to."
Divided into four interconnected narratives: Goddess and Mortal, Sexuality and Desire, Power and Violence, and Struggle and Resistance, more than 130 works in all media from MAP's extensive permanent collection are included, focusing particularly on works from the 20th and 21st century.
Contemporary artists featured in the exhibition include Mrinalini Mukherjee, Bhupen Khakhar, Arpita Singh, KG Subramanyan. From MAP's celebrated photography collection key figures are included such as Gauri Gill, Anoli Perera, Chitra Ganesh, Pushpamala N and Clare Arni, Indu Antony, Fazal Sheikh and Jyoti Bhatt.
The exhibition showcases commissioned works by Arshi Ahmadzai, Rahee Punyashloka, Ranjeeta Kumari, Renuka Rajiv and Payana in collaboration with the Bangalore based media and arts collective Maraa. These works represent new ideas around gender and caste by showcasing voices that are underrepresented in mainstream art historical discussions. They provide a context to the work of sexual minority communities, and practices that highlight the intersection of caste and labour.
In addition, the show features tactile responses to certain artworks, made by artists Gurjeet Singh and Akshata Mokashi, to encourage a multisensorial experience.
A 240 page fully illustrated catalogue for the exhibition is available including an introduction by Kamini Sawhney, Director of MAP, and essays by Professor Shukla Sawan, artist and scholar based in Delhi, Vijeta Kumar, writer and teacher based in Bangalore, and Arushi Vats, curator and writer based in Delhi.