HK Phil Presents Two Swire Denim Series Concerts Featuring Popular Film Music and Symphonic Fairy Tale
Learn more about the upcoming performances here!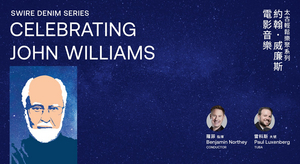 From February to March 2023, the Hong Kong Philharmonic Orchestra (HK Phil) will present two concerts of the series, with all-time favourite film music by renowned Hollywood film music composer John Williams on 25 & 26 February 2023, and the Asia premier of an original symphonic fairy tale named Merregnon: Land of Silence featuring delightful music and on-screen illustrations on 17 & 18 March 2023, respectively. Tickets are now available at URBTIX and POPTICKET. Join the HK Phil for these family-friendly concerts, and let your imagination bloom in the musical journey to the worlds of fantasy!
Swire Denim Series: Celebrating John Williams (25 & 26 February)
Conducted by Benjamin Northey, this programme is dedicated to the greatest of all film-composers - John Williams. Music includes Jaws, Schindler's List, Harry Potter and the Philosopher's Stone, E.T., Jurassic Park and Star Wars. This concert also features HK Phil Principal Tuba Paul Luxenberg in the third movement of Williams' Tuba Concerto.
"Swire Denim Series: Celebrating John Williams"will be held on 25 February 2023 (Sat) at 3PM in the Tuen Mun Town Hall Auditorium with tickets priced at HK$420, $320 and $220 and on 26 February 2023 (Sun) at 3PM & 8PM in the Hong Kong Cultural Centre Concert Hall with tickets priced at HK$480, $380 and $280. Tickets for the three performances are available at URBTIX and POPTICKET. For enquiries, please call +852 2721 2332 or visit hkphil.org.
Swire Denim Series: Merregnon: Land of Silence (17 & 18 March)
Performed with delightful music, narration, and illustrations, Merregnon: Land of Silence presents the wonder of a symphony to a broad audience, with a special focus on younger people, families and video game fans. Featuring original music by internationally-renowned composer Yoko Shimomura (famous for her work on Kingdom Hearts and Final Fantasy XV), and a story by popular German children's author Frauke Angel, Merregnon: Land of Silence tells of orphan Miru, who along with her childhood friend Hikito and faithful dog Mako, set out on an unforgettable adventure to discover what ails the mysteriously silent land of Merregnon. The concert is conducted by Lorenzo Iosco and hosted by Vivek Mahbubani.
"Swire Denim Series: Merregnon: Land of Silence"will be held on 17 March 2023 (Fri) at 8PM and 18 March 2023 (Sat) at 3PM in the Tuen Mun Town Hall Auditorium. Tickets priced at HK$300 and $250 are available at URBTIX and POPTICKET. For enquiries, please call +852 2721 2332 or visit hkphil.org.
The Hong Kong Philharmonic Orchestra (HK Phil) is recognised as one of Asia's foremost classical orchestras. Presenting more than 150 concerts over a 44-week season, the HK Phil attracts more than 200,000 music lovers annually. Recently the HK Phil won the prestigious UK classical music magazine Gramophone's 2019 Orchestra of the Year Award - the first orchestra in Asia to receive this accolade.
Jaap van Zweden, SBS, one of today's most sought-after conductors, has been the orchestra's Music Director since the 2012/13 Season, a position he holds through the end of the 2023/24 Season. Maestro van Zweden has also been Music Director of the New York Philharmonic since the 2018/19 Season.
Yu Long has been Principal Guest Conductor since the 2015/16 Season.
Lio Kuokman, JP was appointed Resident Conductor in December 2020.
Under the dynamic leadership of Jaap van Zweden, the HK Phil has attained new heights of artistic excellence, receiving international critical acclaim. The orchestra successfully completed a four-year journey through Wagner's Ring Cycle, performing and recording one opera from the cycle annually from 2015 to 2018. The concert performances were enthusiastically received by audiences, and the live Naxos recordings were praised by critics, and garnered the Gramophone Orchestra of the Year Award 2019.
The HK Phil has toured extensively across Mainland China and, with the support of the Hong Kong Economic and Trade Offices, undertook a major tour in 2017 to Seoul, Osaka, Singapore, Melbourne and Sydney in celebration of the 20th anniversary of the establishment of the Hong Kong Special Administrative Region of the People's Republic of China.
Conductors and soloists who have recently performed with the orchestra include Vladimir Ashkenazy, Joshua Bell, Charles Dutoit, Christoph Eschenbach, Renée Fleming, Ning Feng, Stephen Hough, Evgeny Kissin, Katia and Marielle Labèque, Lang Lang, Yo-Yo Ma, Leonard Slatkin and Yuja Wang.
The HK Phil promotes the work of Hong Kong and Chinese composers through an active commissioning programme, and has released recordings on the Naxos label featuring Tan Dun and Bright Sheng conducting their own compositions. Its acclaimed education and community engagement programmes in schools, hospitals, and outdoor spaces, bring music into the hearts of tens of thousands of children and families every year. The recently founded "The Orchestra Academy Hong Kong", funded by "TrustTomorrow" of The Swire Group Charitable Trust and co-directed with The Hong Kong Academy for Performing Arts, aims at enhancing professional training for graduates from The HKAPA's School of Music and facilitating their career development in the orchestral field.
The Swire Group has been the Principal Patron of the HK Phil since 2006. Through this sponsorship, which is the largest in the orchestra's history, Swire endeavours to promote artistic excellence, foster access to classical music, stimulate cultural participation in Hong Kong, and enhance Hong Kong's reputation as one of the great cities in the world.
Thanks to a significant subsidy from the Government of the HKSAR and long-term funding from Principal Patron Swire, the Hong Kong Jockey Club Charities Trust and other supporters, the HK Phil now boasts a full-time annual schedule of core classical repertoire and innovative popular programming, extensive education and community programmes, and collaborations with, amongst others, Hong Kong Ballet, Opera Hong Kong and the Hong Kong Arts Festival.
Originally called the Sino-British Orchestra, it was renamed the Hong Kong Philharmonic Orchestra in 1957 and became fully professional in 1974. The HK Phil is a registered charitable organisation.