Johnny Clegg - The Final Journey to Hit Boulder Theater This Fall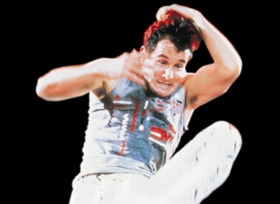 Johnny Clegg - The Final Journey - with Jesse Clegg - is set for the Boulder Theater on November 2, 2017. Doors: 7:00 pm | Show: 8:00 pm. Tickets on sale at 10:00am Friday, June 23, 2017 at bouldertheater.com - $40.00-$55.00 reserved seating plus applicable service charges.
Johnny Clegg occupies a peerless position on the global music stage - one that is built on more than four decades of making life-changing, life-affirming and groundbreaking music for hundreds of thousands of fans scattered throughout the world.
From the time he began mastering Zulu music and traditional Zulu Inhlangwini dancing as a teenager, to the formation of Johnny and Sipho and then Juluka with Sipho Mchunu in the late 1970s, the creation of Savuka and the past 23 years as a solo artist, Clegg has carved out a music career that places him alongside the world's most acclaimed artists.
While Clegg is quick to acknowledge that the idea of mixing music and cross-cultural experimentation already existed in the sub-culture of Zulu migrant labour in the 1940s and 1950s , his major artistic achievement is as an innovator of truly crossover music. Clegg's mixing together of English lyrics and Western melodies with Zulu musical structures came a full decade before Paul Simon's global breakout album, Graceland.
When awarded the degree of Doctor of Music honoris causa by the University of KwaZulu-Natal in 2013, Clegg recalled how this crossover music sprung to life. "From 1970 to 1977, Sipho and I played traditional Masikande music. I learnt the rules of composition and the rules of presentation. However, from time to time, I could not help hearing echoes of certain characteristics of Celtic Folk music in some of the Zulu war songs. There was something that made me feel a conversation could be had between the two traditions."
The melodic connection that he was hearing spurred Clegg into introducing Irish and Scottish folk music into the Masikande he and Mchunu were playing, resulting in what was initially a "strange mixture". "We began an experiment which led to the music of Juluka and the concept of crossover music - music that encouraged the mixing of language, rhythm and melody in the same song."
In late 1979, Juluka's first album Universal Men was released - and, nearly 40 years later, it remains a stunning example of the transcendent capabilities of music when in the hands of the gifted. This revolutionary record was followed by African Litany in early 1981 - a 10-track album that significantly broadened Juluka's audience and whose opening track, "Impi", along with "African Sky Blue" are now undisputed South African classics. The album Ubuhle Bemvelo followed, featuring songs sung entirely in Zulu, backed by a mix of Western and African musical styles. The international breakthrough album was the 4 th album , Scatterlings. It entered the top 50 in England and Juluka were offered touring engagements in Europe and the USA. Johnny resigned as a lecturer in the department of Athropogy , Wits university and became a full time musician and performer up until the present time. In the wake of a tour to the USA, Canada, the UK, Germany and Scandinavia, Juluka released Work For All in 1983 and Musa Ukungilandela in 1984, the duo's last record before Mchunu headed back to his farm fulltime in 1985.
Decades after the group formed, it's easy to forget just how radical Juluka truly was. Alongside heralding a new musical form, the creative outpouring of songwriting and performing that emerged from Clegg in collaboration with Mchunu was directly in opposition to the Apartheid regime's slate of laws. Getting airplay on any of the South African Broadcasting Corporation stations was near-impossible and live performances were frequently organised away from the prying eyes of the police and other authorities. In spite of these obstacles, Juluka gained a devoted fanbase through a mix of memorable songs and live performances that were life-changing for those who witnessed them in the repressive climate of Apartheid South Africa.
In its citation conferring a Doctor of Music on Clegg, UKZN made reference to the artist's influence far beyond being a musical innovator. "With a critical eye on South Africa's racial imbalances, he has promoted a unique pride in African heritage in a way that reconciles rather than tears asunder," the citation read. "At the height of apartheid he made possible what seemed impossible: a celebratory ideological and artistic model for tolerance and human brotherhood against the backdrop of South Africa's divisive racial policies."
After the dissolution of Juluka, Clegg continued his singular musical journey with the group Savuka("We have risen"). Savuka again mixed African music with Celtic folk music, but also included a strong element of rock in its sonic brew - as heard on the Johnny Clegg & Savuka's striking debut album Third World Child. That album again broke new ground, containing three of the most incredible songs to have emerged from Clegg's pen - "Scatterlings of Africa", "Great Heart" and "Asimbonanga" (Mandela)".
It was the latter song that delivered one of the most emotional and enduring images of Clegg over his storied career. At a concert in Frankfurt, Germany in 1999, Clegg introduced the song by saying, "Thirteen years ago, in 1986, South Africa was in a state of emergency and there was a really intense cultural struggle being waged. We were part of that and this is a song that we wrote for truly one of the greatest South Africans in history, Nelson Mandela ... we would like to open the show tonight with a tribute to him." Several minutes into the performance, Madiba himself appears on stage, surprising Clegg and then paying tribute to the role of song and dance in his own life, before requesting that "Asimbonanga" (Mandela)" be performed again. The image of Madiba dancing alongside Clegg - both dressed in black and white - remains one of the most potent and moving in recent South African history.
Performing has always been central to Clegg's career, with countless shows at home and on the international stage over the years - including a 36 show tour of USA and Canada in 2016, during which Clegg travelled an astonishing 17,000 miles in 42 days. His recordings - more than 24 albums - have amassed sales in excess of five million albums worldwide, marking him out as amongst South Africa's most successful artists on sales alone.
Clegg is also one of the most awarded artists the country has ever produced - including being honoured with the Officer of the Order of the British Empire (OBE) by Queen Elizabeth II in June 2015, being awarded the Chevalier des Arts et Lettres (Knight of Arts and Letters) by the French Government in 1991 and receiving the South African Order of Ikhamanga in 2012. Alongide the recent UKZN Doctor of Music Degree, Clegg has been awarded honorary doctorates from Dartmouth College, The City University of New York and his alma mater, the University of the Witwatersrand.
What burns through one of the most awarded and consistently vital careers in South African music is Clegg's fierce curiosity for the world around him; an abiding intelligence; an expansive, colloborative spirit; a deep and enduring compassion for the people of the world and, perhaps still most importantly, a musical gift unlike any other.
"If there is a continuity in the work I have done, it is an underlying idea of crossing boundaries and mixing competing approaches," Clegg has said. "It forms the background and influence in the crossing over of musical forms in most of the music I have composed. It is an attitude and approach to culture which, in the terms of Lévi-Strauss, the great French anthropologist, his notion of bricolage - being a cultural handyman, fixing and changing the world with anything you have at hand, that has given life and meaning to what I do."
Tickets are on sale at Boulder Theater Box Office, by phone at (303)-786-7030 or online at www.bouldertheater.com.
The Lounge at the Boulder Theater is now open Tuesday - Saturday and on event nights from 5:00 p.m. - 11:00 p.m. The Lounge at the Boulder Theater specializes in locally sourced small plates, fine wines, craft cocktails and microbrews. Check us out on Facebook and Instagram. Give us a call at 303. 998.9350 or send us an email.
Related Articles View More Denver

Stories

Shows
More Hot Stories For You