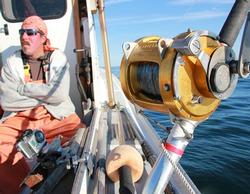 The Wicked Tuna fleet is back as this season begins with the adrenaline rush of "monstah" hunting in Gloucester. It's midseason in Massachusetts, but this is when the money is made and tempers run hot. Each captain loads his boat with $3,000 worth of fuel, bait and ice, and heads off for open water where the blue gold is waiting. But it doesn't take long for things to sour when there's cash on the line. Bill and the Bounty Hunter are already struggling to stay out of the red, and their luck only gets worse when a "dragger" severs their anchor line while at sea. Sensing weakness in his limping competitor, Dave of FV-Tuna.com flaunts his catch and fills Bill's ear with fictitious advice that sends the Bounty Hunter farther from the fish and deeper into the red.
Latest Tweets from NatGeoChannel
8/4 @ 2:00 PM

NatGeoChannel - The longest living shark species we know of, Greenland Sharks are found in colder waters around Canada, Iceland, an… https://t.co/pd8XogazMa

Retweet | Reply | Original Link
8/4 @ 9:23 AM

NatGeoChannel - NASA astronauts Doug Hurley and Bob Behnken have splashed down in the Gulf of Mexico after becoming the first peopl… https://t.co/XF3sOgnpsQ

Retweet | Reply | Original Link
8/3 @ 2:00 PM

NatGeoChannel - #Sharkfest host @Kenny_Mayne breaks down a nail-biting matchup between a hammerhead shark and a stingray. https://t.co/EK1mVJN2Um

Retweet | Reply | Original Link
8/3 @ 11:58 AM

NatGeoChannel - #TheLastIce tells the story of the Inuit communities fighting to protect a rapidly changing Arctic that has been th… https://t.co/gDb3Khkir5

Retweet | Reply | Original Link
8/3 @ 10:47 AM

NatGeoChannel - 'Blood on the Wall' Trailer: 'Restrepo' Team Uncovers Murder and Corruption in Central America https://t.co/UkhPlmtZ3W via @indiewire

Retweet | Reply | Original Link
Latest Articles About Wicked Tuna: Hooked Up on National Geographic Channel

Michael McKean Returns in a New Season of FOOD: FACT OR FICTION? on Cooking Channel
by TV News Desk - August 28, 2018
Ever wonder how the birthday cake first came to be? Or which popular dish has its ties to a criminal cartel? Actor, writer, and Grammy® award-winning musician Michael McKean returns to explore and unmask the mythology and fascinating food mysteries surrounding everyday dishes, on Cooking Channel's F...