Sony Pictures Classics Presents James D. Stern's AMERICAN CHAOS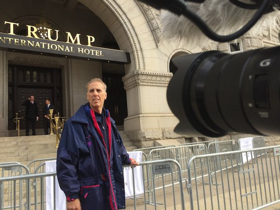 Sony Pictures Classics presents AMERICAN CHAOS a film by James D. Stern, opening September 4th, 2018.
For six months leading up to the conclusion of the 2016 Presidential Election, director Jim Stern put his life on hold.
"In my social and political circles, the prevailing belief was that we had just lucked into the guy we want to run against because he can't win. America will never elect this guy." - Jim Stern
Driven by a deeply personal need to understand what seemed incomprehensible at the time, Stern traveled through red states to learn directly from Donald Trump supporters what explained the billionaire's surging appeal, and why these voters remained untroubled by troubling things the candidate had said and done.
What he returned with proved to be a landmark lesson in the central differences dividing America today - a cultural breach, still dangerously misunderstood, that continues to tear at the fabric of our democracy.
AMERICAN CHAOS is a road movie of discovery, that stretches from Trump's adopted home state of Florida to Cleveland and the Republican National Convention, to the coal mines of West Virginia to an Arizona town bordering Mexico, and then finally back to Florida for the election. It is a fish-out-of-water film where Stern talks to everyone from a wealthy Floridian to a Cuban ex-mayor, to direct DESCENDANTS of the Hatfields and McCoys, to a man who wants to convict and kill Hillary Clinton for treason, to a rancher on a lonely night on the Arizona border. In all, through the twenty-some-odd characters Stern meets, he gains empathy for his subjects' wish to go back to America before globalization even if he doesn't sympathize with the solutions offered by Donald Trump.
Especially with the midterms upon us, Stern remains urgently unabashed about his intent to rally those dismayed about the state of the nation. As with Stern's ...So Goes The Nation, AMERICAN CHAOS holds up a rearview mirror to some of his beloved party's self-defeating blind spots.
AMERICAN CHAOS vividly demonstrates that commitment to the difficult, sometimes painful, but ultimately redemptive process of searching for connections and insights is what being stranded in electoral DARKNESS is all about. As President Obama says in the film, "we learn from our mistakes, we do some reflection, we lick our wounds, we brush ourselves off, we get back in the arena, we go at it."
"And we try even harder the next time."
AMERICAN CHAOS runs 106 Minutes

Related Articles View More TV

Stories