Noticias Telemundo Receives a Special Mention at Spain's Ondas Awards for Its Coverage of Family Separations in the US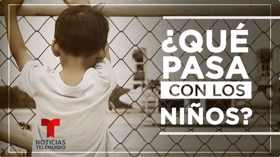 Noticias Telemundo has been honored with a special mention in the category of International Television at Spain's Ondas Awards for its coverage of the separation of immigrant families in the United States. In a statement, the jury praised the news coverage's "well-pitched editorial effort in its serious approach to a major problem," as well as its contribution to "shed light on the matter, putting it on the media agenda in the United States and raising awareness among the American public as to just how great a tragedy this is."
The Premios Ondas, awarded annually in Spain by Grupo PRISA's SER Network via Radio Barcelona, are considered to be the most prestigious honor in the Spanish-language radio, television and music industry. This year's awards singled out Noticias Telemundo's coverage, "Qué pasa con los niños," more than 60 stories resulting from three months of investigative journalism between April and June of 2018.
"For Noticias Telemundo, reporting on the separation of immigrant families is more than routine coverage: It is our duty, the duty to give a voice to those who have none when they need it most," said Gemma García, Vice President of Noticias Telemundo. "This was an enormous effort of teamwork: NOTICIAS TELEMUNDO mobilized more than a dozen news reporters, correspondents and anchors in four countries. It was a group effort with all of the elements to serve as a model for future reporting: breadth, depth, accuracy, impact and, especially, relevance. We dedicate this recognition to all of the children and parents who are victims of the current administration's immigration policy."
The separation of immigrant families in the United States is one of the year's most important stories. Its dimensions -more than 2,000 children detained and separated from their parents- political importance, moral repercussions, international relevance and emotional impact have made it global news. Throughout, NOTICIAS TELEMUNDO has been, and will continue to be, a leader among news organizations covering immigrant family separations in the United States.
"Noticias Telemundo" is a leading news provider for U.S. Hispanics. Its award-winning television news broadcasts, airing from the Telemundo Center, include the daily newscast "Noticias Telemundo" with José Díaz Balart, "Noticias Telemundo Fin de Semana" with Julio Vaqueiro, "Noticias Telemundo Mediodía" with Felicidad Aveleyra, the "Un Nuevo Día" news segment with Paulina Sodi, and the Sunday current affairs show "Enfoque con José Díaz-Balart." The "Noticias Telemundo Digital Team" provides uninterrupted content to U.S. Hispanics via its growing online and mobile platforms. "Noticias Telemundo" also produces news specials, documentaries and news events such as political debates, forums and town halls.
Related Articles
View More TV

Stories