they owe us Announces Debut Album 'Broken English & Sad Serenades'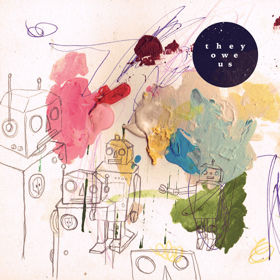 they owe us is two simple Swedes who play music without any rules. Comprised of two lead singers - Rane and Kris - they were both cast as outsiders in their formative years and found escape through music. Their meeting was a fortuity waiting to happen, and one year after a run in at a house party, they owe us announces the June 7 release of their debut full-length, Broken English & Sad Serenades, sharing first track, "Robots" - share via YouTube + listen via your favorite DSP.

"Robots" is an electro-psychedelic trip through the artifice of filthy rich lifestyles and lame VIP nonsense. The track came to life from intense energy and an iPhone recording of a drum beat, that was then put through a tube compressor. All lyrics were improvised, recorded with gritty Moog bass and beautiful Jupiter 6 arpeggio, vocoder vocals. The band's favorite electric guitar player, Reine Fiske (Dungen, The Amazing), also contributes.

Broken English & Sad Serenades is a collection of songs with wide ranging influences from Beach Boys to Kraftwerk, colored with homemade drums and grumpy, analog synthesizers. The album revels in unique arrangements and sonic palettes.

"Brushing Off The Dust" is a straight forward one-take wedding song hammered out on a compressed piano, while the raw vocoder and MPC-3000 in "Hots For You And Your Silence" salutes the night with grit and gravity. The cymbal-driven title track, "Broken English & Sad Serenades", pulls on the duo's shared musical and lyrical interests. Toward the end of the song-length crescendo of "Heavily Distorted Nightmares", the bottled frustration in Rane and Kris's vocals culminates as both singers explode into full-on Swedish, unleashing their full selves in anthemic chorus.

Broken English & Sad Serenades was written, performed, recorded, and produced by they owe us, and was mixed byHans Olsson Brookes. The 13 tracks stand as a rather apt analog for what will surely be the first of many musical explorations by they owe us, a project whose shared roots, while just starting to dig in, already go deep.
Broken English & Sad Serenades Track List:
01. Harvest Time
02. Don't Think About Me
03. Broken English & Sad Serenades
04. There Is A Way If There Is A Will
05. Brushing Off The Dust
06. Dishes And Loneliness
07. Rest My Mind
08. Heavily Distorted Nightmares
09. Hots For You And Your Silence
10. At Your Side, Out Of Sight
11. Tiden Går
12. Robots
13. Fireworks And Countdowns
Related Articles View More Music

Stories