Machine Dazzle Named Grand Marshal of the 45th Annual Village Halloween Parade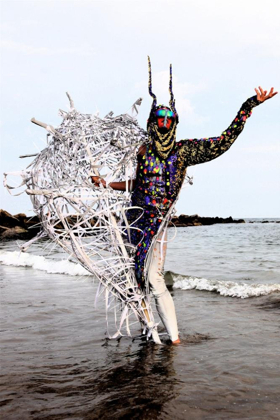 This year, conceptualist-as-artist Machine Dazzle will serve as Grand Marshal in New York City's 45th Annual Village Halloween Parade. Machine will dazzle the streets of New York City, just as he has since his arrival in the Big Apple in 1994. The costume designer extraordinaire will lead parade-revelers up Sixth Avenue and exhibit his talents in a look that will bring to life this year's theme: "I AM a Robot!"
Machine Dazzle is best known for his award-winning designs for Taylor Mac's "A 24-Decade History of Popular Music" and has won the prestigious Henry Hewes Design Award.
"I am absolutely thrilled about this opportunity and cannot wait to experience the collective celebration of individual imagination," said Machine Dazzle. "Halloween perfectly embodies not only my work as an extreme costume designer and performance artist, but also my lifetime affinity for make-believe and fantasy. "
Machine Dazzle will host a $5,000 costume contest at the Official Halloween After Party, presented by the Research Foundation to Cure AIDS (RFTCA). The RFTCA is an alliance of leaders from diverse fields who are developing a cure for AIDS that is accessible and affordable for those in need worldwide. The official after party will begin at 10:30pm at Performance Space New York in the East Village.
"We are thrilled this year to announce Machine Dazzle as this year's Grand Marshal and to present an After Party for a Cause. At the 45th Annual Parade, Machine will dazzle like a jewel in the perfect setting!" said Jeanne Fleming, Director of the Village Halloween Parade. "Before there was the Gay Pride Parade, the Halloween Parade has always been a safe haven for the LGBT community to express themselves. This year, we celebrate the progress that has been made for LGBT rights and HIV/AIDS prevention while marching towards equality and the cure.
The legendary Village Halloween Parade has entertained the public on Halloween night for the past 44 years, on 6th Avenue North of Spring Street to 16th Street from 7:00pm - 10:30pm. The parade has been attracting millions of people from around the world. It will showcase hundreds of puppets, 53 bands spanning all genres of music, dancers, artists and thousands of New Yorkers donning costumes of their own creation in the nation's largest public participatory event in the greatest city in the world.
Related Articles View More Music

Stories