Photo Flash: HERE Arts Center's 2009 CULTUREMART
The OBIE-winning HERE Arts Center's annual CULTUREMART festival is set for January 7 -February 4, 2009, this year featuring 17 works that blur the lines between dance, theatre, music, new media, puppetry and visual art. Reflecting a core philosophy that it's not possible for any one art form alone to convey the flood of images, data and sound bytes that inundate the senses in today's world of information and communication overload, CULTUREMART's cross-disciplinary presentations embrace and illuminate our modern experience by integrating many forms of media and content into exciting new works.
CULTUREMART 2009 takes place in both of HERE's theaters in its newly renovated venue. In addition to the work of HERE's resident artists, this year's CULTUREMART features an exciting "first" - two full productions mounted in conjunction with the 2009 Under The Radar Festival. As presentations of Under The Radar, Corey Dargel's Removable Parts returns to HERE where it premiered and played to great acclaim in 2007, while award-winning artist, composer and performer Ray Lee's Siren, a whirling spectacle of movement, electronic sound and light, makes a New York debut.
HERE's unique residency programs (HARP & Dream Music) commission and develop cross-disciplinary performance work through long-term relationships with mid-career artists for durations of 1-3 years. While in residence, artists have opportunities to present work during various stages of development through WIPs (work-in-progress showings) and more fully developed workshops during CULTUREMART.
Resident artist projects seen at CULTUREMART often come to fruition as main stage productions in HERE's season. This year's festival features 8 works by the newest resident artists, 6 works that have been seen in past CULTUREMART festivals and 2 productions by HERE residency alumni who are back for an encore. CULTUREMART alumni include Young Jean Lee, Taylor Mac, Lisa D'Amour, Faye Driscoll, Collision Theory, Troika Ranch, Will Pomerantz, James Scruggs and the Theatre of a Two-Headed Calf.HERE Arts Center is located at 145 Sixth Avenue (entrance on Dominick Street).Tickets range from $15.00-20.00. CULTUREMART festival passes are available for $35.00 (valid for any 3 different Resident Artists shows, excludes Removable Parts & Sirens).Reading of Secret Rendezvous is free.
For tickets & info, call (212) 352-3101 or visit www.here.org.
CULTUREMART 2009 SCHEDULE:
January 7-9 @ 7 PM / Jan 10 @ 7 & 10 PM / Jan 11 @ 1 & 5 PM•
REMOVABLE PARTS / Corey Dargel. This special engagement marks a co-presentation with the Under The Radar Festival by HARP alumnus Corey Dargel. Performed by Corey Dargel and pianist Kathleen Supové, Removable Parts is directed by Emma Griffin with dances by Yvan Greenberg and production design by Raquel Davis. A spellbinding theatrical song series, Removable Parts centers on a victim of unrequited love, who turns to voluntary amputation as he questions the usefulness of his body parts once his heart is broken. This production drew rave reviews in its 2007 mainstage run at HERE Arts Center, with The New York Times noting its "intelligent grace that is as moving as it is impressive." Additionally, Removable Parts is the recipient of the NY Innovative Theatre Award for "Outstanding Performance-Art Production.
"January 8 @ 6 & 8 PM / Jan 9 & 10 @ 4, 6 & 8:30 PM / Jan 11 @ 2, 4 & 6 PM• SIREN / Ray Lee. A special engagement marking a co-presentation with the Under The Radar Festival. Siren is a whirling, spinning spectacle of mechanical movement, electronic sound and light by award-winning British artist, composer and performer Ray Lee. Investigating the hidden world of electro-magnetic radiation and how sound can be used as evidence of invisible phenomena, Siren is performed by Ray Lee and Harry Dawes. Upon experiencing this work, Live Art Magazine praises, "I could have sat for hours hypnotized."
Saturday, January 3 @ 8:30 & 11 PM / Sunday, January 4 @ 8:30 PM• LET'S WATCH (an opera) / Kamala Sankaram. CULTUREMART alum composer Kamala Sankaram is the bandleader for the multi-media ensemble Squeezebox, as well as a coloratura soprano, accordionist, video artist, and general insomniac. In this work, it's time to play "You Bet Their Life," the only show that lets the audience be detective, judge and jury for some of America's most heinous unsolved crimes. Let's Watch combines classical singing with electronics, rock guitar, a chamber ensemble and multi-media video effects. Directed by Emma Griffin with video by Greg Emetaz, this dark comedy takes on the form of a reality game show, allowing the audience to watch the hour leading up to a murder before convicting and sentencing a suspect. Are you ready America? Let's watch!
Tuesday, January 13 & Wednesday, January 14 @ 8:30 PM• VENUS RIFF / Johari Mayfield. The Venus Hottentot's fame brought about unexpected consequences. Ridiculed, pinched and poked as a freak in 19thCentury sideshows and then stared at, dissected and scientifically scrutinized in death, her extraordinary buttocks, genitals, and lips transformed the voyeur experience for all time. Today, the demand for more "junk in the trunk" via cosmetic procedure has increased fivefold. Obsession, covetousness and human depravity are humorously examined in Venus Riff as choreographer Johari Mayfield forces 19th century science to mingle with the beauty standards of the 21stcentury in a twisted and macabre dance of sexual and racial prejudice. The New York Times has applauded Mayfield's work writing,"intense perpetual motion, making every small shift in movement quality clear."
• AMAZINGLAND/ Geoff Sobelle, Trey Lyford & Steve Cuiffo. HARP alumi Geoff Sobelle & Trey Lyford team up with Steve Cuiffo in Amazingland.
|ə ' māzi ng land|(n) place, zone or state. Where your mind is blown clean through the back of your head by the sheer grace andunbelievability of a magical performance. Where your jaw drops helplessly to your knees, you are overwhelmed in a barrage of glitz, glam and shazam - and you wonder - where am I? From Sobelle & Lyford, the twisted minds that brought audiences all wear bowlers and machines machines machines machines machines machines machines (coming to HERE in June), teaming up with the shaman-like powers of Steve Cuiffo, comes an experience you weren't even aware was out there. Three magicians. Two nights. One stage. Zero boring stuff. Sub-zero intelligence. It's time to make it all add up...in Amazingland.
Wednesday, January 14 & Thursday, January 15 @ 7 PM• BORDER TOWNS / Nick Brooke & Jenny Rohn. Border Towns explores how recordings have reengineered the psychological landscape of the U.S., stitching together hundreds of recordings collected along the borders. Seven performers lip-sync, sing and move precisely with a dense map of song fragments, ambient sounds and border broadcasts. Along the way, musical Americana gets reconstructed into a surreal theatrical collage reflecting on recording, location, and culture. "Giddily disorienting," hails The New York Times.
DON CRISTOBAL, BILLY-CLUB MAN / Erin Orr & Rima Fond. A presentation of the Dream Music Puppetry Program, Don Cristobal, Billy-Club Man explores the violent appetites and poetic possibilities of the Spanish Punch as he existed in the plays of Federico Garcia Lorca and as he is re-imagined by composer Rima Fand and puppeteer Erin Orr. What really drives the violent desires of Don Cristobal? Do even the most brutal players on the stage have complicated potential for goodness? Is it the hand within, the demands of the paying audience or the design of the puppet itself that makes Don Cristobal the Billy-Club Man?
Thursday, January 15 & Friday, January 16 @ 8:30 PM• LUCID POSSESSION (Like Shadows on the Head of a Pin) / Toni Dove. Lucid Possession, the uncanny manifestation of a virtual multiple personality, combines music, text, dimensional robotic screens and projections to create a character, like an instrument, that speaks, sings and dances. On-stage performers Toni Dove and composer Mari Kimura control the entity's physical and virtual movements, singing and speaking databases, in a form like cinematic bunraku. This short demo is a trio for two humans and remarkably, one virtual entity. Winner of The Eugene McDermott Award, M.I.T, Toni Dove's work has won wide acclaim. Of her work Spectropia, The Columbus Dispatch marveled, "Visually stunning...dazzling."
• ALCHEMY OF LIGHT / Ruth Sergel & Peter von Salis. There is an aching tension between the promise of technology and our critical need for human interaction and touch. Melding 19thcentury illusionism with current interactive technology, Alchemy of Light traces the life of the legendary magician Torrini, who toured the world with his daughter and wife showcasing their illusions. One day, a tragedy dispels the happy demonstration of technical prowess. Torrini is left straining against the limits of technology as he struggles to regain his lost family. Alchemy of Light is a parable from a time when our lives first became mediated by machines.
Friday, January 16 - Sunday, January 18 @ 7 PM• SONNAMBULA / Michael Bodel. Sonnambula is a layered look at the breaking point of matter and motion, featuring an amalgam of puppets, contraptions and choreography that delves into the eventual reduction of everything to nothing. A collaboration with opera singer Casey Cole, the work originates with the arias from Bellini's mysterious opera by the same name, following a soprano's voice through the nebulous world that separates human from object, living from lifeless. The Village Voice has lauded, "Bodel has a talent for conjuring striking and mysterious images, [his work] is at once spirited and melancholy." A presentation with the Dream Music Puppetry Program. On the cusp of completing his latest theater piece, a puppeteer finds himself dissatisfied with the state of his art. As he stumbles through the creative process of developing a new piece, he realizes that in order to create a better show he will need to enhance his control over both his puppet skills and his people skills. But as his search for perfection grows, so too does the artist's self-assurance, tempting him to transcend to a higher level. "A beautifully staged production. The puppetry enacted by the cast was, indeed, splendid and not just a little charming," writes obscene jester. A presentation with the Dream Music Puppetry Program.
Sunday, January 18 @ 2 & 4 PM• AUNT LEAF / Barbara Weichmann & Jeffrey Mousseau. A century-old haunting.An old woman and an adolescent girl neither of whom are listened to. A dead man on the lawn. A nightly ritual. A tale from the dark woods of the Hudson River Valley and the darker woods of the imagination. A story about stories. From startHERE: Innovative Theater for Young People, forfamily audiences ages 12 and up.
Saturday, January 17 - Monday, January 19 @ 8:30 PM• PARIS SYNDROME / Ex.Pgirl. Based on a strange psychological phenomenon afflicting thirty-something Japanese women when visiting Paris, Paris Syndrome explores issues of culture shock, identity, competition and dreams through the experience of three "French" and three "Japanese" women who come to New York pursuing a dream. Interweaving movement, interviews, games and humor, Paris Syndrome asks the question, "Why did you come to New York?" while examining our collective sanity as New Yorkers and reminding us why we're still here. A dance-theater piece from the international ensemble of women known as Ex.Pgirl, this production features their trademark use of video interviews, playful multilingual text and physicality to engage the ideas of madness, love, beauty, and cultural misunderstanding that surround this psychological condition.
Wednesday, January 21 - Friday, January 23 @ 8:30 PM• MOSHEH - a videOpera / Yoav Gal. MOSHEH, the biblical story of Moses reenacted as an ancient-futuristic ritual, returns to this year. Created by Yoav Gal, whose style has been termed "Indie Opera" by The New York Times, and directed by Kameron Steele, MOSHEH presents a new aesthetic in the realm of opera. Drawing upon a wide palette of genres spanning performance and video art, minimalism and modern dance, this work is also influenced by Baroque opera, with its virtuosic singing, intricate yet melodious music and formal storytelling. MOSHEH treats its biblical theme as a personal, spiritual hallucination, emphasizing the role of four female characters in the hero's evolution. Allan Kozinn of The New York Times writes, "Music that is drawn to what's next, not what has been."
Thursday, January 26 - Saturday, January 28 @ 8:30 PM• SOUNDING / Jennifer Gibbs & Kristin Marting. Loosely inspired by Ibsen's Lady from the Sea, this multi-media performance written by Jennifer Gibbs and directed by Kristin Marting synthesizes cinematic first-person perspective and live-feed video by Maya Ciarrocchi with music by Kamala Sankaram. Leda, once New York City's art rock goddess, is now wife to a psychiatrist on Cape Cod. A Dionysian figure from her past, a musician known as The Stranger, refuses to release her. As she mourns the death of her infant child, Leda confronts the disorder and outsized desire The Stranger brings.
Friday, January 30 @ 8:30 PM & Saturday, January 31 @ 8:30 & 11:00 PM• WATER (or the secret life of objects) / Sheila Callaghan & Daniella Topol. Returning to CULTUREMART, Water (or the secret life of objects) is a 6-hour epic (an excerpt of which will be presented) set in the near future where a flood of mythic proportions has destroyed 70% of the population. This piece bears witness to memories of survivors and surviving objects. What do people do when they cannot trust the thing they most need? What happens to the souls of objects when they outlive their owners? Through textures and tones, this fragmented, multi-lingual epic journey to the "source" (part installation, part narrative) explores what it means to survive, or not to survive, or to exist in the space between. Of Callaghan's work, American Theatre magazine notably commends, "At the core of her work is an authenticity and emotional density that serve as reminders of what theatre is and where it can take us."
Saturday, January 31 @ 2 PM• SECRET RENDEZVOUS (a reading) / The South Wing. Led by Kameron Steele and Ivana Catanese, Brooklyn-based The South Wing theatre company presents their translation/adaption of Kobo Abe's 1977 novel Secret Rendezvous, chronicling the bizarre and erotic adventures of a man searching for his missing wife in a mysteriously vast underground hospital. Brought to American audiences for the first time through the South Wing's neo-expressionist lens.
Tuesday, February 3 & Wednesday, February 4 @ 8:30 PM• SOUL LEAVES HER BODY / Peter Flaherty & Jenny Mary Tai Liu. This integrated-media performance synthesizes theater, dance, live video, music and cinema. Inspired by a 13th century Chinese story about a young woman who rips her soul from her body in order to pursue her destiny in the city, this original contemporary work explores the soul-body relationship in today's networked, electronic culture. A team of international film, theater, electronic music and visual artists create a multi-channel film live onstage, mixing pre-recorded film with a multitude of onstage cameras. Lush cinematic visuals appear on ghostly moving panels, reshaping and obscuring the glass stage, while outside the cameras frame - drawing the audience into a highly integrated folk dance for modern life.
FREE SPECIAL EVENTS AT CULTUREMART 2009:January 11 @ 11 AMHYBRID PERFORMANCE BRUNCHOpen to members of the Association of Performing Arts Presenters and others. See excerpts of current HARP alumni projects: SONNAMBULA - Michael BodelWATER - Sheila Callaghan & Daniella Topol837 VENICE BLVD - Faye DriscollARIAS WITH A TWIST - Joey Arias & Basil TwistSpace is limited, reservations required. Contact kim@here.org to RSVP.
January 4, 14, 15, 22, 23, POST-PERFORMANCE DISCUSSION SERIES
Meet the Culturemart Composers Culturemart 2009 is supported in part by The New York City Department of Cultural Affairs, New York State Council on the Arts, National Endowment for the Arts, Carnegie Corporation, Andrew W. Mellon Foundation, New York Community Trust / Lila Acheson Wallace TheaterFund, Mental Insight Foundation, Mertz Gilmore Foundation, Peg Santvoord Foundation, Jerome Foundation, Jim Henson Foundation, Lower Manhattan Cultural Council's Swing Space program created with lead support from the September 11th Fund with project spacedonated by Capstone Equities, and HERE's community of individual donors.The 2009 Under the Radar Festival is a program of the Association of Performing Arts Presenters Annual Members Conference, with major fundingby the Andrew W. Mellon Foundation and the Ford Foundation. The festival is produced by Mark Russell and The Public Theater. www.undertheradarfestival.com http://www.undertheradarfestival.com/

Eriko Ogawa

William Cusick

Don Cristobal and Chris Green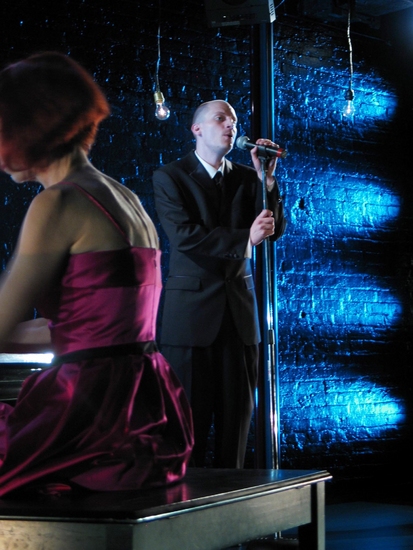 Mark Barton
Related Articles
View More Classical Music

Stories
More Hot Stories For You