Piero Rivolta's New Novel Takes Readers To 'Bridge Through the Stars'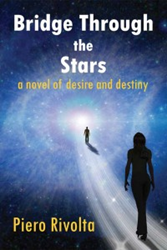 Piero Rivolta's enchanting new novel Bridge Through the Stars allows readers to join an Italian bank employee named Roberto on a mystical journey in which he literally tours the stars and still finds time for romance.
Rivolta's desire to inspire others to live "a more poetic life" resonates through Roberto's travels as he discovers not only heavenly bodies, but also the inner truths of the human spirit. It is Rivolta's desire as a writer to explore the depths of the human spirit that makes Bridge Through the Stars a must read.
Roberto's journey into self-discovery, while simultaneously uncovering some of the truths of the universe, may allow readers to understand some truths in their own lives.
Roberto is a simple bank employee in Milan when he suddenly becomes inundated with thoughts and dreams about this bridge through the stars. At the same time, he encounters two intriguing women who help him in his quest to explore the heavens. So the book becomes not just about traversing the heavens, but also about romance.
Roberto's journey also includes revealing regressions into past lives and visits to astronomical observatories. At one point, he goes on a trip to Africa to the land of Dogon, where a mysterious people whose knowledge of the Sirius Star System is hundreds of years old.
Bridge Through the Stars morphs through more than one genre. In addition to being a romance, it is also an inspirational, coming-of-age story that deals with the origins of mankind, as well as our prior and current role in the universe. It enables us to see our future among the stars.
About Piero Rivolta
Award-winning poet and author Piero Rivolta grew up in Milan, Italy in a family of automakers. He left Italy and moved to Sarasota, Florida in 1980 with his wife Rachele, a painter. He recently published Bridge Through the Stars which is his first novel since the publication of Journey Beyond 2012 and his Sarasota trilogy: Sunset in Sarasota, Alex and the Color of the Wind and The Castaway. Piero is also the author of four poetry/prose collections: Just One Scent: The Rest Is God, Nothing Is Without Future, Going By Sea and One Life, Many Lives. Piero and Rachele have two grown children, Renzo and Marella.
Related Articles View More Books

Stories
More Hot Stories For You