LAST SONG AND DANCE, by Christopher Woods, is a Darkly Comic Satire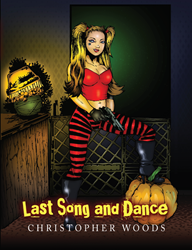 LAST SONG AND DANCE, by
Christopher Woods
, is a darkly comic satire of all that is held dear. Or perhaps…
...an absurdist meditation on the inevitability of extinction. Whatever it might be, LAST SONG AND DANCE is hallucinatory, unique, funny and horrible all at the same time. It tells the grim story of Cy Sullivan, failed alcoholic author who has returned to his hometown from years of exile, scandal and disgrace, not in triumph but simply to die. He has but a week to compose his great American novella, Curse of the Blue Nun which he structures in relation to the seven days of creation in the Book of Genesis. Indeed, the parallels between Cy's mad fiction (composed in collaboration with his typewriter, Clarabelle) and his own mad carnival of life which is revealed through memory and occasional strolls down the darkened avenues of the mythologized New Middletown, USA form the foundation of this novel.
"A ballerina acquaintance of mine informed me that she dreamed of the graveyard procession of the dead sequence (Samuel Beckett meets George Romero) which concludes Day One and woke in a cold sweat. I thanked her profusely for the compliment and created an even more dreadfully grave scene at climax of Day Seven."
While there is sly commentary on weighty issues such as opiate addiction, religious hypocrisy and impending death, LAST SONG… takes nothing seriously including itself and failed author. Stylistic references/parodies range from Shakespeare to James Joyce and William Burroughs, Li'l Abner, jailhouse lingo and supernatural horror so it is quite an eclectic stew.
This is a first novel by Mr. Woods but he has experimented with alternative screenplays in the past which may explain the cinematic and extreme visual nature of the novel. "I lack the resources and experience to produce and direct my own films so I chose the literary route as I've always had a gift for language. The artists/designers at Bookfuel did a fantastic job with my visual concepts which form an intriguing counterpoint to the narrative."
Born and bred in Louisville, KY, Christopher Woods lives with his faithful, fluffy albino Australian shepherd, Spot who is "blind, deaf and savage as a wolverine." Spot is one of the lead characters in this short novel which has a cast of over fifty of various species, both living and dead.
LAST SONG AND DANCE is available on Amazon and Barnes and Noble.
Related Articles View More Books

Stories
More Hot Stories For You