Kasia Karpinska-Sikorska Releases 'The Other Honeymoon Album'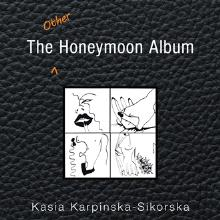 According to
Kasia Karpinska-Sikorska
, most couples today will have lived together for a while before getting married. She believes that today, there is a decline in the significance of the honeymoon as the starting point of a relationship. She wanted to make the honeymoon sexy and fun again. She decided to write "The Other Honeymoon Album" (published by AuthorHouse UK) to put the spark, mystery and naughtiness back in the honeymoon. For more details about the book, please visit:
https://www.theotherhoneymoonalbum.com
.
The book is about creating sexy fun for honeymoon couples. Across its different chapters, there is something for everyone, whether the couple is inexperienced or "black belts" in lovemaking – all that is needed, is a sense of humor. The book gives "stags and hens" the opportunity to challenge the couple to try activities and allows the couple to dare each other to take part in sexy activities.
"This book provides novices and experts with the opportunity to try something new – with the emphasis on fun," Karpinska-Sikorska says. "In addition, marriage failure rates are high, resulting frequently from a failure to communicate and negotiate. This book provides a relaxed and fun way of getting a couple to do just that – talk about their preferences, likes and dislikes and agree how to share time and each other."
Karpinska-Sikorska aims the book to be a part of the stag and hen celebrations to help create an air of anticipation and excitement about the honeymoon. She wants the couple's friends to spend their time speculating whether the couple will or will not complete some of the challenges. She wants the honeymoon couple to come home with a big smile on their faces, a naughty story or two to tell and a freedom to communicate and negotiate with empathy.
"The Other Honeymoon Album"
By Kasia Karpinska-Sikorska
Softcover | 8.5 x 8.5in | 80 pages | ISBN 9781546286165
E-Book | 80 pages | ISBN 9781546286158
Available at http://www.theotherhoneymoonalbum.com
About the Author
Kasia Karpinska-Sikorska was born in Lodz, Poland, on April 27, 1980. She graduated from the prestigious High School of Art in 2001 and went on to earn her master's degree in art history at the University of Lodz. After she got married, Karpinska-Sikorska and her photographer husband set-up Funnygames redesign. Their studio produced a diverse range of exhibitions using a variety of eclectic media. As their brand became synonymous with groundbreaking avant-garde work, they moved to London to start a family and progress their work. In the last couple of years, as her children grew up, Karpinska-Sikorska has been looking for a vehicle for her creativity. "The (other) Honeymoon Album" represents the outcome of two year's work pulling ideas and experiences together in what she now hopes is a successful format. The book is a response to how so many friends have viewed their honeymoon as "just another holiday." Art remains her first love and the artwork in the book is her own work and, like the book, blends humor and eroticism to provide an interesting read and even more interesting honeymoon. Her own reading habits covers philosophy, ancient, modern and post-modern art.
Related Articles View More Books

Stories
More Hot Stories For You