Iran History Book Author Provides Analysis for Impact of America's...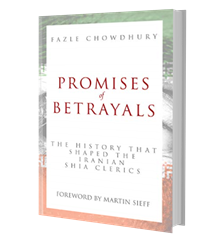 The sudden and surprising announcement from President
Donald Trump
that the United States would be immediately withdrawing all of its troops from Syria has created chaos and confusion, both domestically and abroad.
Promises of Betrayals
author Fazle Chowdhury analyzes the latest U.S.-Syria news while providing historical and modern context for its impact and what may happen next.
To recap the saga so far, on December 19th, President Trump ordered the U.S. troops withdrawal from Syria, saying that ISIS was defeated and that all 2,000 troops were leaving the region. This quickly led to the resignation of Secretary of Defense Jim Mattis. In turn, President Trump then pushed up Mattis' departure date by two months, all the while reaction from American analysts, allies, and enemies has continued to swirl.
One of the most crucial consequences of America's Syria withdrawal is the impact on the country's Kurdish allies. Chowdhury compares the move to several other in Syria over the centuries, stretching from Rome's control of the region to the Treaty of Versailles.
"Being abandoned by an ally is not new to the Kurds," Chowdhury explains. They have seen this before in the 1919 Treaty of Versailles. Promised a state of their own by Britain, only to be sucked into another state in what is today Turkey, Iraq, and then later to Syria and Iran. The strength of the Kurds is their resilience to survive. Their folly, however, is seizing the credence opportunity to cement their ambitions through non-super power alliances."
As it relates to the Kurds today, Chowdhury explains that their wagon was hitched to America's in the region. "By keeping Damascus out, the Kurds hedged all their hopes to American wishes," he says. "Now with American withdrawal, it is certain Turkey will not only carve Kurdish expansion but possibly eradicate its presence on Syrian soil.
"The early signs are beginning to show," Chowdhury continues. "The Kurds already had lost military and political support in fighting ISIS militants with further volatility in their control of areas in Manbij, Raqqah, al-Hasaka, and Deir-ezzour becoming more entrenched with Iranian and Russian forces. The civil war in Syria is slowly reaching its climax, but problems with ISIS and its affiliates remain. American military advisors will now see nearly eight years of their blood, sweat, and sacrifices overrun by a fellow NATO ally besieging its proxy. For the Kurds, they will survive this episode. The American withdrawal does signal one crucial emergence. The more aggressively expansionism of Turkey in Syria."
The U.S. troop withdrawal is therefore quite negative in its impact on the country's international relationships, power, and positioning. Further, this weakens America's stance as it pertains to all of their alliances, and the trust other parties may have in them, or their willingness to pursue or strengthen them. Further, America's withdrawal from Syria can only be seen as a positive to remaining ISIS forces, as well as the strength of Russia and Iran in the region.
Promises of Betrayals analyzes Iran's history and modern affairs in an attempt to provide clarity on the best course for American foreign policy as it relates to the country and region. The book on Iran history and politics can be purchased on Amazon, as well as other leading book retailers.
More information on the best new Iran history book can be found at the book and author's official website, PromisesofBetrayals.com.
About Promises of Betrayals
Promises of Betrayals is a new book about Iran history, politics, and foreign policy from author Fazle Chowdhury, published by Archway Publishing. What began as a faction of rebels to form a Shia empire and in almost 500 years later lead to what is today an Islamic Theocracy. Shaped by British Colonial interference, Ottoman aggression, Russian dominance and the Shia-Sunni divide, the Shia clerics also had to contend with their Persian monarchies. For the first time since the Islamic Revolution of 1979, Shia clerics found a defining and authoritarian role in Iran. The book explores all of this history and more in a quest to understand modern Iran and a chart a course towards a more secure U.S.
About Author Fazle Chowdhury
Fazle Chowdhury is a Fellow at Global Policy Institute in Washington D.C. specializing in the history and finance of the modern Middle East with a special interest in the economy of Iran. His articles have appeared in Arizona Weekly, Daily Telegram, Billings Gazette and numerous other news outlets. He worked for many years as a Management Consultant, working for IBM as well as for United Nations Development Program (UNDP) in Baku, Azerbaijan.
Related Articles View More Books

Stories
More Hot Stories For You