A Christmas Carol: shake & stir's Theatrical Masterpiece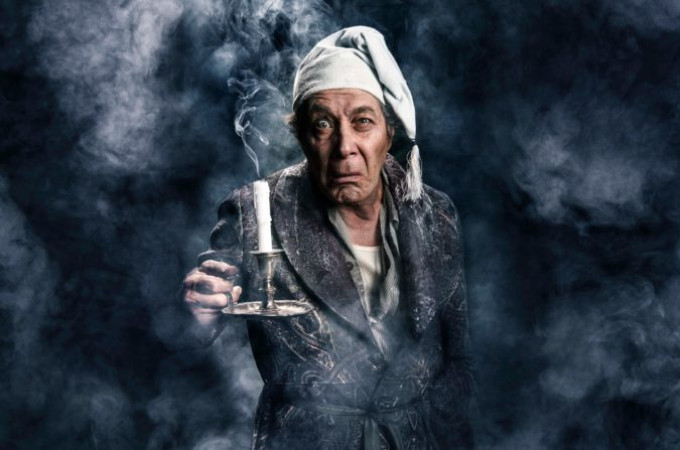 Wow. I don't think I've managed to pick my jaw up off of the floor since last night and I certainly don't have enough words to describe how phenomenal this piece of live theatre is. Everything is so fantastic, I don't know where to begin....
If I didn't believe in magic before, then I sure do now. The tech was not like anything I've seen before in the Brisbane performing arts sector. It was a brave, bold and courageous choice, and boy did it pay off. Scrooge's 19th century London was re-born on stage with Josh Mcintosh's set design, which features a series of frames of Victorian gothic houses on wheels where we moved by the actors on stage to create laneways, squares and interiors of numerous characters households' such as Bob Cratchit's warmth filled house and Scrooge's dark and gloomy bedroom. But what was the most magical was Craig Wilkinson (video designer) and Jason Glewright's (lighting designer) holograms of the ghosts, who I, at first, thought were real people and had wondered how shake&stir had found such talented actors that were also rollerblading professionals. It was not until there were two Jacob Marley's on stage that I realised that either I had been incredibly wrong or someone had either a twin or an excellent look-alike in the cast, and it wasn't the latter. The quality of the images made the holograms and the way in which their interactions and exchanges with the actors on stage made it feel real. One of my favourite snapshots of the show is when there are three Jacob Marley's standing side by side next to the real Marley and they vanish one by one, leaving Scrooge all alone in the dark once more.
When it clicked in my head that Bryan Probets played all four of the ghosts, my jaw dropped even more. I'm so so grateful that we have him and his talent in the Brisbane theatre scene and whenever I see him on stage I feel so fortunate that I'm sharing the auditorium with someone with his level of craftsmanship. Eugene Gilfedder has the cold-hearted ignorance of Scrooge that we are all very familiar with but his portrayal also had more frail nature to it, more of a hint of a banished or hidden generosity and warmth which was bursting to come out, if only it had encouragement. I loved that Nelle Lee, the adaptor of the work and also Mrs Cratchit, gave Scrooge a witty sense of humour, with a crowd favourite being when Scrooge responded to a pregnant woman who was asking him for help that it wasn't him that put the baby in her. To have a good show, you need an excellent Scrooge and it's safe to stay that with Gilfeddor, it was not only a good show but a spectacular show.
Lucas Stibbard played Bob Cratchit with such heart and compassion. Some of my favourite scenes in the show was set in the Cratchit household with other cast members Nelle Lee, Ross Balzbuziente, Arnika Larcombe and Nick Skubij as they were filled with such love and compassion on stage, and I don't think that it was just between the characters. The decision of having Tiny Tim portrayed as a golden, frail-looking puppet that would sit on his fathers' shoulder and be cradled in his mothers' arms, created such a beautiful image. It also made it clear from the start of the piece that Tim was different than everyone else; that not only did he choose to be happy when he was critically ill but that maybe he could see things that we could not see.
Nelle Lee's adaptation of Dickens work made it feel like you were reading a storybook and the characters were jumping in and out of their roles. It made it feel more personal and the story and message more approachable from an audience's point of view. And although she didn't have any spoken lines, Salliana Campbell, who is also the composer of the piece, was the narrator of the story while she plucked the different chords of her instruments, from a raised platform on the stage. Additionally, by director Michael Futcher having the characters already huddled around the fire and singing on stage as the audience entered, made us feel like we were being welcomed into the story and that the characters wanted us to share the space with them. None of this magic would have been possible without his direction. I applaud him for taking on such a canonical work and transforming it into a story which not just exists as the written text, the projections or the soundscape, but in the space in between. It exists in the space in the auditorium and, most importantly, in a space in the audience members head which doesn't close up once they leave the playhouse's doors.
As a theatre critic, I get invited to a see a surplus amount of shows but I can honestly say that this is the best show I've seen all year. Congratulations shake & stir, Michael Futcher and company. At the most wonderful time of the year, this is the most wonderful show to see.
Rating: 5 stars
A Christmas Carol
Performed by shake & stir at the Playhouse, QPAC
7th - 20th December