Click Here to Visit the College Center

Blogs are the opinions of the authors and do not necessarily reflect the opinions of BroadwayWorld. BroadwayWorld believes in providing a platform for open and constructive conversation.

Student Blog: Movie Musicals That Should NEVER Be Remade
The possibility of remakes ruining classics is something to think about as the movie industry struggles to find new plot lines for people to enjoy for many years to come.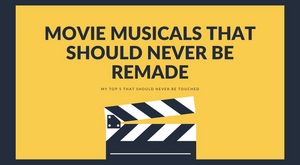 In the world of Hollywood and movie makers we have seen all sorts of remakes and revamped versions of movies. Like Disney creating live action Cinderella and Mulan or the type of new spin on West Side Story coming out this December, these movies tend to be hit or miss.
Though new fresh takes on movies can be uplifting and eye opening in terms of theme or message, there are some stories that I believe should never be remade. When the movie is mentioned, we must keep that classic movie as our only thought that comes to our heads, simply because the first movie is so iconic and unique in my opinion, and I therefore do not think another interpretation could ever be as good as the original.
The first movie musical is The Sound of Music. Julie Andrews and Christopher Plummer created a love story unlike any other. And with the storyline being inspired by the real Von Trapp family, I feel as if another retelling is simply unnecessary. There is nothing new to give in terms of interpretation whether for sets, costumes and the like and I feel as if there is no room to grow in a remake.
The next movie musical is Rent. This sort of modern movie featuring many of the original Broadway cast has been a favorite of mine for many years. Something about the performers' voices and interpretation of each song can never be replaced in my head. This was also evident in my opinion on Rent Live, which was very controversial in critic eyes, and to be honest was not my favorite. (Excluding Jordan Fisher.)
The Wizard of Oz also holds the same reasoning as The Sound of Music. This is a classic well loved by theater and movie fans that has created to high a bar for the storytelling abilities. There is also something to note on the way actors and actresses were treated on set such as with Judy Garland's story or the dangerous nature of live fire and toxic makeup was used as well, where I believe the original movie deserves as much credit as possible.
Another movie musical that should never be remade is Chicago. I will admit this is a movie I have seen the least but something about the iconic dancing, hair, make-up, and costumes, leaves something that I feel would be pointless to recreate again. I do not think there is more room for interpretation or fresh ideas for this storyline because it would simply be too repetitive.
The last movie musical that deserves to remain untouched is Grease. This movie is loved by many ages and remains a plot where I cannot get the movie performers voices out of my head when singing the songs in my head. Olivia Newton-John and John Travolta have been ingrained in my head sine I was a child and new interpretations like Grease Live did not do it for me.
In conclusion, this is just my opinion on what shows have impacted me the most in their original movie musical forms even though there is definitely room for debate on these shows on more. The possibility of remakes ruining classics is something to think about as the movie industry struggles to find new plot lines for people to enjoy for many years to come.