Click Here to Visit the College Center

Blogs are the opinions of the authors and do not necessarily reflect the opinions of BroadwayWorld. BroadwayWorld believes in providing a platform for open and constructive conversation.

Student Blog: A Week of Wonder
My first week back at college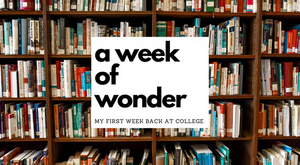 One week I have been at Pitt. Only one and it has been filled to the absolute brim with opportunities. I have met so many people, learned about all sorts of clubs and organizations at Pitt and I have never felt more a part of a community then I have recently. All the students around me feel the exact same way. Though we dread normal schoolwork, exams, and the like, we have had incredible opportunities to let our strengths shine in many ways.
In this article, I would like to share the thoughts of my fellow students here at Pitt about how this school year has already brought them joy in terms of their social, mental, and emotional state as well as in relation to their academics and what they are studying.
Personally, this year has already brought back into perspective my love for theatre. After the pandemic and everything was shut down, I did not have a deep desire to perform and create for audiences. Now, my mind has been entirely filled with thoughts of theatre. I have therefore decided that I would like to turn my Theatre Arts minor and turn it into another major. I will then be double majoring with English Writing and Theatre Arts. I am so excited for the rest of my years at Pitt, and I cannot wait to see where both of my majors will take me post-graduation.
My friend Kat, whom I have known from last year has switched her major to Nutritional Science. She commented, "I feel excited and ready for this year. It is nice that we have in person classes, and we can meet professors. I am still a little apprehensive about COVID and being a sophomore in college where we are becoming more like adults, but it is definitely an over all improvement from last year. The opportunities are great this year and I know everyone is in the same boat this year."
Caleigh, who is majoring in Public and Professional Writing shares that, "This is probably the most mentally stable I have been because last year sucked. Being at home was hard I only had a couple friends and graduation was rough. Also, my friends were drifting apart, and it was just awkward. I feel good now, I love all my classes. I feel good about my future I have an internship which is pretty cool so now I just gotta not fail I guess."
One of my new friends, Alex who is studying Mechanical Engineering stated, "I have had an overall positive outlook. Before I came here, I didn't talk to others that much, but it was nice to meet new people with new perspectives. I am always worried about academics, but I love what I do, and I hope I can keep doing it, so I will keep doing it the best I can."
Though all our stories are different there is one thing in common. We are all in a state of excitement, hope, and joy. All of which we have been deprived of for the past year and a half. This generation of "quaran-teens" whom are now spreading their wings for opportunity, is exactly what the world needs right now.