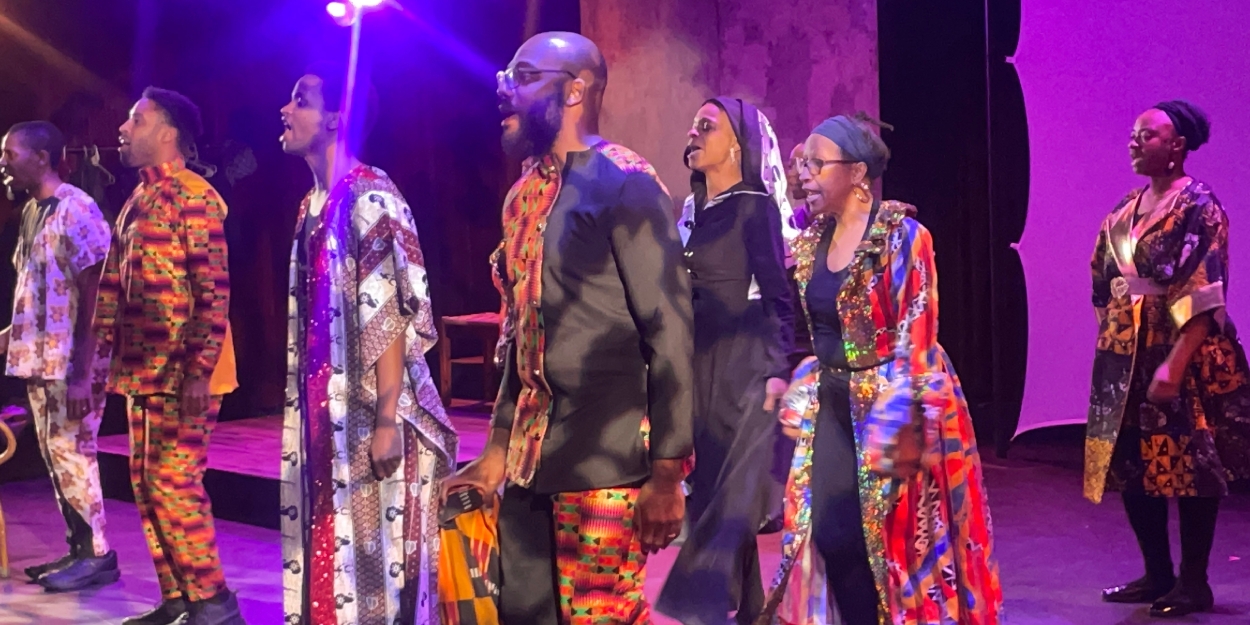 Review: DON'T BOTHER ME, I CAN'T COPE at Bmore Broadway Live
A fabulous addition to Black History Month on stage at MotorHouse
Dance and Bmore, one of the newer players on the Baltimore theatre scene, has launched its inaugural program, Bmore Broadway Live, with a production of Vinette Carroll's award winning musical, Don't Bother Me, I Can't Cope (I'm just going to set up the abbreviation right here, ok? DBMICC.) And what a production this is! I'll tell you, I was exhausted in the best possible way from all that hooting and hollering, swaying and stomping.
The show shows its age, but the themes are for the most part as relevant today as they were in 1971 when the show premiered. With a book by trailblazing composer, Micki Grant, the first woman to write the book, music, and lyrics of a Broadway show, and directed by Vinette Carroll, the 1st black woman to direct a Broadway show, with choreography by none other than George Faison, the critically acclaimed show won numerous well-deserved awards and paved the way for a slew of black musicals on Broadway, from The Wiz to A Strange Loop.
Dance and Bmore's Bmore Broadway Live has captured the zeitgeist of the era with DBMICC. Under the skillful direction of company founder CJay Philip (who also performs in the ensemble), they have assembled a team that includes a purposeful set design by Bruce Kapplin, well-placed lights by Tyrell Stanley, and stunning costumes by Yelé.
CJay Philip has shown her background as a professional Broadway dancer and choreographer to great effect. The dances are well suited to the music and the era, and fit the company like a bespoke suit. Winston Philip's excellent musical direction never fails to keep the beat moving and the voices and harmonies blend perfectly with the talented musicians' sound. I have to give a shout out to the little musical genius playing his heart out on the drums, 13 year old Noah Kabia. This kid ROCKS the joint.
This show reminds me of others that followed, like Smokey Joe's Café. The difference is that this one is less a celebration of the music of the times, but an examination of the times themselves set to music and dance. Productions in those times that gave a spotlight to civil rights in the arts were not new, but they had not been done with this degree of panache. With themes that touched on protest, poverty, uniquely black experiences and themes that were then and now universal, all set to a score that actually sounds like those days some fifty years ago. Ms. Philip shines a spotlight on Grant's musical motif that sounds new all over again, due in large part to the range and reach of the outstanding cast. She never lets the action and movement slow down more than needed to make a point. And doing triple duty as director, choreographer, and performer, her production proceeds on an almost seamless trajectory that makes the two+ hours go by in a flash of swirling lights, music, sound and movement. Personally, I remember those times with a mixture of nostalgia for the warmth and comfort of my family, growing up as a little black kid, experiencing many of the stories being told in this musical tale of the period, and awareness of just how much was going on in the world that I was not nearly as aware of as I now wish I had been.
These were days of civil unrest, war protests, sit-ins, Laugh-Ins, the emerging popularity of drug use in common culture, neon fashions and more fads than even I can remember. But when listening and watching these performers, against that backdrop, it is somehow romanticized even as it occasionally makes one wince.
The company of 12 singer/dancers are all at the top of their game. I wish I could write about each and every one of them. But that's not very practical and I'd love for readers to discover their own picks, so I'll just mention a few that come most to mind and I'll encourage everyone to go and find their own favorites.
So let's start with Brandon Shaw McKnight. From the ensemble numbers, to his dancing, not to mention his vocals on group songs and a terrific solo turn on Looking Over From Your Side, this consummate entertainer is on fire.
Then there is the vocal powerhouse duo of Edima Essien and Terrell Chambers. They match each other stratospheric note for note on All I Need. Just when you think they've reached the top, they raise the pitch another third. Astonishingly accomplished.
Another star turn was Ms. CJay Philip herself. If all she had done was direct and choreograph, it would have been an outstanding event. But no, this lady showed exactly why she had the career she had in New York and beyond, every time she came on stage, sometimes just staying in the background as a member of the ensemble in the musical house she built with her husband, the uber talented Winston, but then she breaks out and takes off with numbers like It Takes A Whole Lot of Human Feeling and Universe in Mourning. Stunning.
Musicals that tackle such weighty topics as racism, police brutality, the Black Power movement, ghetto life, and topics that transcend race like the church, family, love, and friendship, walk a fine line between biting off more than they should and getting closer to the truth because of the journey, and those who take us on that journey with them. Don't Bother Me, I Can't Cope, walks that line with sheer talent and dedication, and comes out on the right side every time. This is Black History Month. Show your support for Black theatre, and get on over to MotorHouse for this show. You'll do the community, and yourself, nothing but good.
Don't Bother I Can't Cope runs at Motor House Baltimore, 120 West North Ave., Baltimore, MD through February 12th, 2023. For information and tickets, click here.