BWW Review: Heritage Players Perform Tuneful Feats Of Fun And Fantasy With SEUSSICAL THE MUSICAL.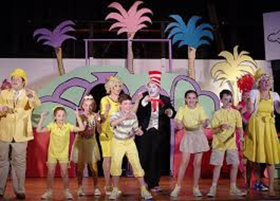 Are you hot in the heat? Are you longing for cool? With the kids at your feet, do you wish them in school? Do you crave something fun, with some flair and panache? Let the Cat and some songs fix you up in a flash!
If you're anywhere close to Catonsville, if you have (or have access to) children between 4 and 14, do your family a favor and come see SEUSSICAL THE MUSICAL, playing for one more weekend at the Rice Auditorium on the Spring Grove campus. It's a bright, juicy popsicle of a show, with fast moving action, familiar characters, child actors, audience interaction, and a temperature-controlled environment.
The Heritage Players is an extremely special community theatre group: since its first production in 1975, it has committed to donating to charitable organizations, a portion to its host theatre and another that is agreed upon by the cast and crew of each production. This production's beneficiary, The Maryland Book Fund, is a wonderfully appropriate tie-in for SEUSSICAL. The Rice Auditorium on the grounds of Spring Grove hospital, which still functions as a psychiatric hospital even now, is host to the productions of Heritage Players. The drive in is simple and surprising: we quickly leave downtown Catonsville and enter a bucolic little pocket of seclusion. As we drive up, rabbits cavort in a meadow and a deer grazes beneath a tree in front of a brick building. We spot the Rice Auditorium, and park where we see other people parking.
The seating is mid-level banquet chairs, comfortable enough, but the floor is not raked, so pay attention to the height of the person sitting in front of your young one. A throw pillow from your couch might not be a bad idea. The restrooms are clean, well lit, and plenty large enough for the audience in attendance. Snacks are available before the show and during intermission, but they don't have prices on them. Pay what you wish is Heritage Players' policy for snacks, and there's a donation basket to collect the proceeds. You might like to bring small bills, as making one's own change from the basket may feel a bit awkward.
Full disclosure: I'm disappointed in this script. It's got irrelevant sequences, and some of the songs don't move the plot. It might be better were it trimmed by about a third. I realize, however, that this is a "book problem." I frequently am underwhelmed by scripts, even legitimate juggernauts. (CoughPhantom; coughWicked). Author Lynn Ahrens, in trying to be inclusive of so many popular Dr. Seuss' stories, has created what Wikipedia refers to as a "complex amalgamation," which sounds like code for "difficult to follow." Heritage Players' production team, however, takes Ahrens' script and makes of it some seriously top-shelf family entertainment.
The set looks as if it's been torn from the pages of a Dr. Seuss book, complete with Seuss's signature shapes, styles and shadings. Functionally, it cleverly provides several levels of performance space, a bunch of entrance/exit points and a couple of surprises. Set designer Andrea Bush is to be commended for a whimsical adorable set that assures me immediately that the folk in charge love Seuss as much as I do.
From the opening notes of the first song, I am impressed. Music director Andrew Worthington has done a lovely job with composer Stephen Flaherty's catchy, hummable numbers. The vocals in this production are so nicely arranged and performed, even in cases when I don't think the song is relevant to the plot, I enjoy listening to it. Each singer is so clear and precise that I am never in doubt about what I'm hearing. Clarity of lyrics in song is tricky, particularly when the lyrics were originally written for the printed page. Even speaking the title of "The Thinks You Can Think" proves challenging for some- go on, you try- I'll wait. See what I mean? Worthington's vocalists perfectly enunciate every K, and this precision is carried for the duration of the show.
This is a clean, clean production. Everything is very crisp. Under the direction of Amy Haynes, the cast moves with purpose. When anybody hits their mark- and they all do- they stay there, owning the space, with no extraneous movement, even the littlest of the cast members. The fun, imaginative blocking blends well with Kelly Alt's cute choreography, and everyone looks just swell. A large portion of the show's clarity is due to Claire Kneebone's fanciful but unfussy costuming. The lines are strong, the colors bright, and it is easy to tell who's Who and who isn't. My favorites include the Sour Kangaroo's ensemble, the juicy gowns of the Bird Girls, the badboy getup of the three Wickershams ("They don't look like monkeys," my companion says. "Them being monkeys isn't at all pertinent to the plot," I reply), Mayzie's hilarious accessories, Horton's "trunk" and a special particular salute to the Cat's makeup, which is beautifully done and delightfully durable.
The lighting highlights the cast and contributes to the mood, leaving no dark corners and few weird shadows. Set changes happen rapidly enough that not even the youngest audience members have a chance to become restless. There are some opportunities for audience interaction, especially for the little ones, and that gives me lots of warm fuzzies.
The Cat In The Hat, who serves as MC and narrator for the show, is a crucial role. Get someone who is not the proper combination of charming and naughty and it doesn't work at all. Stephen Foreman works perfectly. His delivery is snappy, he's a physical embodiment of controlled frenzy, and even at his most athletic moments, his smile is in place, his cheek is at full force, his timing perfect, and he's only a little bit out of breath.
As Horton, the main creature character of the story, Jim Gross is warm and endearing, with a touch of sad Eeyore energy, which seems ideal to me. His vocals, especially his duet with Jojo, the main child character, are lovely and wonderful. The part of Jojo is wisely divided between two children, Carly Dagilis and Brandon Goldman, who join the Ensemble when not playing lead. Carly is in lead tonight, and she is capable, sturdy, and plenty audible. Also audible, to a legendary degree, is Kristen Zwobot playing the Sour Kangaroo. Her singing makes me wish she had a bigger part. The Young Kangaroo in lockstep beside her, every inch of her dripping sass despite her few lines, is Talya Goldstein, who may be a theatrical force to be reckoned with in the future. Another character of great impact though few lines is Mrs. Mayor, played by Rachel Weir, with superb comic timing. Megan Mostow as romantic interest Gertrude McFuzz is a powerful performer and utterly adorkable.
SEUSSICAL THE MUSICAL is performed with a 15 or 20 minute intermission (The Heritage Players are not sticklers for timing) in which refreshments are available and also kid-friendly souvenirs, including tall red & white striped hats. The whole thing runs just under two hours. SEUSSICAL THE MUSICAL entertains audiences just three more times, Saturday and Sunday July 15th and 16th at 2 pm, and Saturday July 15th at 8 pM. Prices are $15 for adults, $13 for students and seniors; visit https://app.arts-people.com/index.php?show=(73583) for tickets, or for more general information, http://www.heritageplayers.com/ . Heritage Players perform in the Thomas-Rice Auditorium at Spring Grove Hospital Center, 55 Wade Avenue, Catonsville, MD 21228.
Photo Credit: John Cholod. Pictured: Dave Hill and Rachel Weir as Mayor and Mrs. Mayor, Stephen Foreman playing The Cat In The Hat, both actors who play Jojo, Brandon Goldman and Carly Dagilis (as Ensemble), Audrey Bell, Gabby Gertner, Xander Bell and Monique Gertner as Whoville ensemble.