Braden Joseph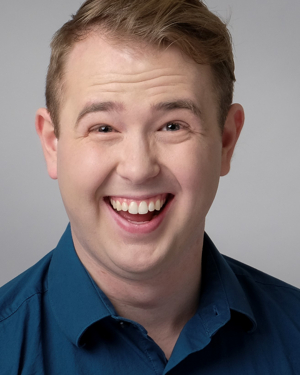 Braden Joseph is a college student at Minnesota State University, Mankato studying Theatre Arts and Creative Writing. He lives alone with his three sugar gliders: Maya, George, and Oscar. He is the Artistic Producer of The Feral Theatre Company and co-hosts a Percy Jackson and The Olympians fan podcast called "Demipod". You can connect with him @somebradenstuff on Instagram and YouTube and as Braden Joseph on Linkedin.
MOST POPULAR ARTICLES
LAST 30 DAYS
LAST 365 DAYS
BWW Review: ARDEN OF FAVERSHAM AND MUCH ADO ABOUT NOTHING by Classical Actors Ensemble

September 13, 2019

The Classical Actors Ensemble is a company that focuses on classic work and they are currently doing two shows in repertory: a?oeArden of Favershama?? and a?oeMuch Ado About Nothinga??. According to the program, the company wanted to explore a?oeboth sides of the coina?? and do two shows that are opposite from each other in style. Certainly, an interesting concept. I was able to see the shows for myself... 
---
BWW Review: Theatre Helping Theatre: Geki Arts And Broken Ivy Theatre

August 28, 2019

Minnesota Nice is often something we hear about when we talk about neighbors and coworkers, but these productions really showed me how this nice attitude can carry on in the theatre. It lifted my spirits that these two companies helped and supported each other and how, in the end, we got more theatre being produced. 
---
BWW Review: WHEN THE SHARK BITES at Open Eye Theatre

August 15, 2019

Currently playing at Open Eye Theatre is a delightful and laidback show that audiences seem to love. a?oeWhen The Shark Bitesa?? by Chronofon is a play...or a concert...it's actually a bit difficult to pin down what category this piece is in. But, nevertheless, it continues to entertain the audience and isn't that what matters? This performance follows the lives of Bertolt Brecht, Elisabeth Hauptmann, Lotte Lenya, and Kurt Weill. The show mainly focuses on the time surrounding World War I and a bit of World War II, but that doesn't seem to be the focus of the piece. 
---
BWW Review: Falling For TO LET GO AND FALL at Theater Latte Da

June 19, 2019

To Let Go and Fall is a breathtakingly beautiful, moving play that gives its subject matter its dues. 
---
BWW Review: HOW IT'S GON' BE at Underdog: See It Before It Closes!

June 7, 2019

How It's Gon' Be, currently playing its last weekend at Mixed Blood, is a wonderful snapshot into a young black teen's life as he grows up. There's a quote from the play that summarizes this show well: I believe it goes "You're out here looking for manhood, but manhood is gon' find you."
---
BWW Review: BLOOD KNOT at The Pillsbury House Theatre: A Play Just as Relevant Now as 1961

June 4, 2019

Blood Knot by Athol Fugard, currently playing at The Pillsbury House Theatre is a show that was first performed in 1961 and is still just as poignant today. A 'blood knot' is explained in the show as a bond by blood that will never be undone. In this case, the knot ties two brothers together in South Africa in 1960, then heavily racially segregated. One brother, Zachariah, is black and the other, Morris, is white.  
---
BWW Review: SMALL MOUTH SOUNDS at The Jungle Theater Says A Lot

May 29, 2019

There's something very unique happening at The Jungle Theater. In the play Small Mouth Sounds  by Bess Wohl, barely a word is said onstage during the show. Though much is said from the characters. Sitting in (mostly) silence in the audience while watching mostly silence on stage was a really interesting experience, because it made the play feel more intimate. The characters, whose lives I was watching onstage, and I were in the same state. For that alone, I urge you to see this show.
---
BWW Review: Artistry Theater Hits a Home Run with TINKER TO EVERS TO CHANCE

May 22, 2019

Baseball's Sad Lexicon rings with the names of some of the Chicago Cubs' greatest players, and Tinker to Evers to Chance rings with great performances all around. There's a line in the poem that goes 'Making a Giant hit into a double'. Well, Artisity has taken a giant hit of a play and turned it out double.
---
BWW Review: A Look Back at THE VELVET SWING by The Umbrella Collective

May 17, 2019

As a first time audience member at Bryant Lake Bowl and Theater, I didn't know what to expect as I walked into the building and didn't see a theater. As I finally found and walked into the theater, I was greeted by a pianist telling jokes and playing a merry tune, I didn't know what to expect. As I was presented with a play about the famous Evelyn Nesbit, where she's played by five actors, I didn't know what to expect. I was happily surprised by all unknown expectations.
---
BWW Interview: Louise Lamson of METAMORPHOSES at The Guthrie Theater

May 7, 2019

I walk into the Guthrie Theater and I immediately see a pool of water built on the Wurtele Thrust Stage...and I immediately know I'm in for a theatrical treat. Metamorphoses, written and directed by the incomparable Mary Zimmerman, has taken Minneapolis by storm after its run in California (it's a co-production with Berkeley Rep). Our very own BWW Reviewer Karen Bovard called it '...a visual feast,'. As a captivated audience member and a performer, I was so hungry to know some of the thoughts of the show's ten ensemble members. Luckily, I was able to do so a few days later over a delightful phone call.
---