Tony Award Nominee Eva Noblezada to Star in Musical Film YELLOW ROSE with Lea Salonga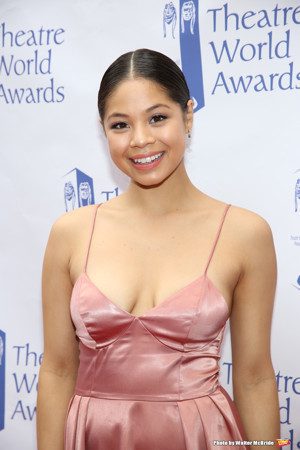 Tony Award Nominee Eva Noblezada (Miss Saigon, Les Miserables) will lead the cast of musical drama film Yellow Rose along with Tony Award Winner Lea Salonga (Once On This Island, Miss Saigon). The film is helmed by Award-Winning Director Diane Paragas (Brooklyn Boheme) and production wrapped last month in Austin, Texas. Yellow Rose is Ms. Noblezada's debut in a feature film.
Yellow Rose tells the story of a 17-year old Filipino American girl from Texas who secretly dreams of becoming a country music star of old. When her mom is arrested by Immigration and Customs Enforcement, she runs away and is forced to embark on a journey to forge her own path or face deportation with her mother back to the Philippines. The film features original music composed and performed by the cast and director.
Joining the cast are acclaimed country music artist Dale Watson (Friday Night Lights), Liam Booth (Ghosts Never Sleep), Gustavo Gomez (Walking Dead, ANIMAL KINGDOM), Libby Villari (Boyhood) , and Princess Punzalan (Mulawin, Mula sa Puso).
"With the increased demand for diverse Asian American stories in Hollywood, I can't think of a better time to develop this film," says Director Diane Paragas, " Yellow Rose has been in development for over 15 years and we've selected an incredibly talented cast to help tell this story."
Along with Paragas are Producers Cecilia Mejia (The Unstoppable, Split Persona), Orian Williams (Control, Shadow of the Vampire) , Rey Cuerdo (Ulam, Motherland), and Co-Producer Jeremiah Abraham (Warner Bros Entertainment, IW Group). The film has received investments from ABS-CBN Global along with private investors.
Yellow Rose is supported by New York based Asian CineVision, the Cinematrografo International Film Festival (ABS-CBN Global), and was awarded the Ravenal Foundation Feature Film Grant earlier this year by New York Women in Film & Television (NYWIFT)
Related Articles