Click Here to Visit the College Center

Blogs are the opinions of the authors and do not necessarily reflect the opinions of BroadwayWorld. BroadwayWorld believes in providing a platform for open and constructive conversation.

Student Blog: More Than Family
What does it mean to be a family?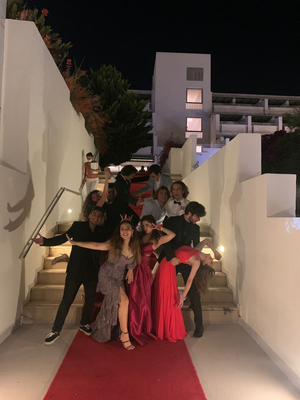 Last Friday, I went to the graduation of my high school's Class of 2021. I am a part of the Class of 2018, and we have more than 160 people in one class year alone. So, normally, even knowing people who are one year ahead of you is too much, let alone three grades younger. This class always had a special place in my heart since they were the first ones I helped to choose to join our school's theatre club. I remember them auditioning in their Prep years and seeing them graduate made me emotional.
My high school theatre club has always meant so much to me. It wasn't only a school club; we were a family. We are a family. I understand this now more than ever. We spent many years without seeing each other, but it feels like nothing has changed when we do. We are a bunch of different people on every end other than our love for live theatre. And creating something beautiful on stage is what brings us together.
I always feel grateful that I am a theatre person; it gives me a sense of empathy and a different way of looking at life. Having this kind of bond with people I have otherwise probably never met is also one of the reasons I feel grateful. This graduation showed me that we will always be the same when we are together, no matter how much time passes. That's what family means to me: just being yourself and having a bond that is beyond words and actions. I don't have to prove myself to my family; I don't have to do things to make them like me. I just have to be myself. I am lucky since I also have this kind of a bond with my parents, but having a family in addition to my real family is one of the best things in life.
No matter what we do and where we are, it's only genuinely beautiful as long as we have people whom we love without any outer motives. And I am nothing but thankful to have such an expanded family who now lives all around the world.
Even if it weren't for my love for theatre, being a part of this club would still be the best part of my high school experience.