Student Blog: Live Theatre Experiences I Miss
With the hopeful return of live theatre in NYC later this year, here are some experiences that I'm looking forward to having again.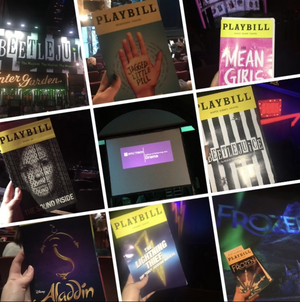 In honor of the recent announcements about NYC's plan to help live theatre begin again (and getting my first Covid-19 vaccine today!), I have made a list, in no particular order, of some experiences that I cannot wait to experience again when live theatre and in-person theatre school returns!
1. Entering a theatre to see a show that you don't know anything about
Oh, to witness a new piece of theatre in person again! I miss the excitement of entering a theatre and not knowing whether what you see will change your life. The last show I saw like this was Sing Street at the New York Theatre Workshop when my sister and I unexpectedly won the lottery for it. I knew the movie, but it had been years since I'd seen it, and I didn't know anything about the show. I walked into the theatre almost completely unknowing, and I walked out a changed person! The show was so beautiful, and I can't wait to see its Broadway transfer!
2. Crying during the overture of a Broadway show
Whether it's because you've been wanting to see the show you're seeing forever, or because something about the music is just so striking, it's a unique experience to be moved to tears before the show has even really begun! I think the first time I experienced this was when I saw Les Mis on Broadway when I was about 14 years old.
3. Hugging and/or high fiving your scene partner/cast-mate(s) after a job well done
Remember celebrating together? I miss high-fiving my scene partner after we crush our scene in class. I miss hugging my castmates as a congratulations, or celebration, or even just because! (And I'm not even really that much of a hugger!)
4. When you finally get the difficult harmonies right in rehearsal, and it sounds magical
This may be one of the most satisfying feelings in the world, especially when you've been working on the harmonies for a while. Hearing a beautiful harmony sung by your cast for the first time is magical.
5. When you successfully rush a show and get amazing seats
I am not really a morning person, so it's a special occasion for me when I get up early on a weekend. Rushing a show is most certainly a special occasion, especially when it pays off! The first time I saw Jagged Little Pill was because my friends and I woke up at the crack of dawn, trekked to midtown ,and stood in line in the freezing cold for a while. We ended up getting amazing seats for super cheap! JLP is now one of my favorite shows I have ever seen live.
6. Sitting in a circle in a studio
Sitting in a circle was a moment of unity, whether it was because we were receiving instructions or having a discussion. We sat in a circle often in studio, and I remember leaning on my friends and having interesting conversations with my classmates and teachers in person. Now our circles are made of our Zoom boxes. (We still have interesting conversations, though!)
7. Moving in person in sync with other people
I had my first in person movement/dance class last Wednesday, and wow did I miss that! It was so nice to be able to dance in a studio again, but I was the only one in my pod who was there that day. I miss moving in sync and feeling the energy of others around me. So much of the work we do in the Experimental Theatre Wing is collaborative movement, and while we've been making it work over Zoom, I really miss the in person connection.
8. Playing games at the beginning/end of acting class
Sometimes before or after we did the Work part of class, we would play games! The games always had something to do with what we were learning, and I found that they really brought us together. One of my personal favorites was the Question Game, where we all stood in a tightly knit circle with one person in the middle who would choose someone to ask questions to. The questions could be about anything; the only rules were that you couldn't repeat a question and you couldn't stop asking questions. I am undefeated!
9. Stage-dooring on a night when it's not crowded, and you can have conversations with the cast and the other people stage-dooring
This one didn't happen too often because I usually saw shows on weekends, which are usually crowded. When it did happen, though, it was pretty cool! I've had conversations with actors at stage doors about college and clothes and other subjects! I've received advice and compliments! It's also so fun to meet the other people standing at the stage door and bond over how much you loved the show!
10. Taking someone you love to see a show you love that they've never seen
I love sharing shows I love with the people I love! They have no idea what they're in for, and you get to be there with them while they experience this amazing piece of art for the first time. Last year, I went with my mom to see Jagged Little Pill, and I went with my dad to see Beetlejuice, and they loved the shows!
11. Scoring free or discounted tickets to a show through NYU
This didn't happen so often, which only made it more special when it did! I was able to see The Lightning Thief last year because NYU got tickets! The shows we get tickets to are always a surprise, and I've definitely seen some shows I might not have seen otherwise.
12. Getting ready backstage before a show (especially on opening night)
Ah, collective opening night jitters :). It's so fun to get ready with your friends backstage, everyone all lit up with excitement! And of course the warm-up circle beforehand! We do a lot of standing and sitting in circles in my theatre experience, apparently.
13. Being in a show in a theater with a live audience
I am so grateful that I have been able to be in Zoom shows this year, but I do miss the rush of a live audience that I can see in front of me. What I would give to be on a stage again, especially with other people! There's nothing quite like live, in-person theatre.
14. Closing night of a show (strike and cast party!)
This one is bittersweet because it's an ending, but it's also a celebration of the hard work you've done as a team and the pay off! I also just really enjoy strike for some reason. It's also so fun to go out with your friends afterwards and celebrate, usually with some food, usually in a diner.
15. Standing Ovations (especially for Lauren Patten singing "You Oughta Know")
You know you've witnessed something special when the whole audience is on their feet mid-show to give someone a standing ovation. One of the most memorable instances of this I have been so fortunate to experience is the standing ovation Lauren Patten received after singing "You Oughta Know" in Jagged Little Pill, which is one of my all time favorite performances. I miss being able to watch her sing that song, even though I didn't see it that many times before.
I am optimistic that all these experiences will soon return safely! I feel like I say something along the same lines in almost all of my posts, but I think I should say it again: the theatre community is so brilliantly resilient, and not even a global pandemic could stop the creation of art. I hope that we all get to be on stage and watch shows in person again soon! In the words of Irving Berlin, "There's no people like show people."