Click Here to Visit the College Center

Blogs are the opinions of the authors and do not necessarily reflect the opinions of BroadwayWorld. BroadwayWorld believes in providing a platform for open and constructive conversation.

Student Blog: Interview with Racks Nieto - A Costa Rican Actress in London
Racks Nieto recently graduated from Royal Central School in London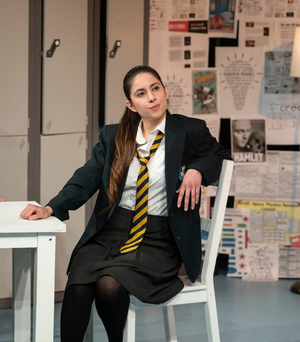 "I've always wanted to be an actress," Racks Nieto tells me. She's 6 hours ahead of me. She's in London and I'm in Costa Rica. But not even the Atlantic Ocean can get between our friendship. She remembers a documentary she watched recently, because a dancer is asked the same question. "She thought it was a weird question because it was like asking her why she breathes. She just does it. And I know what she means. I feel the same way about acting. It's always been a part of me. I just do it."
I first met Racks six years ago, in a school production of Into the Woods. She was the Baker's Wife and I was a last minute addition to the cast, playing the prince's steward. We were also working simultaneously in another musical, an interscholar high school production of Les Mis, even though we'd both graduated from high school long ago ("but that's another story, nevermind" like the Witch from Into the Woods would say).
Rack's acting career began years before that. "I was in Jack and the Beanstalk when I was in kindergarten," she remembers. "I was the duck that laid eggs. Apparently people loved it because whenever someone would steal one of my eggs I would cluck."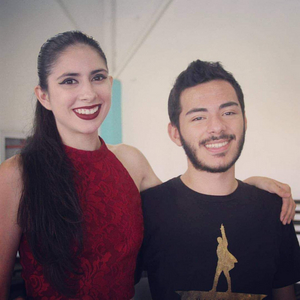 But acting is not her only passion, she's also one of the most talented dancers I've ever met. When Racks watched Step Up 2, a dance film that came out on her birthday, she thought to herself "I wish I could dance like that." Her mom put her in hip-hop classes soon after and she realized she loved it as much as she loved acting. She was actually the person who encouraged me to start taking hip-hop classes. We would both go to Place, a dance academy in Costa Rica, and we'd dance all night long and then go get some pizza and iced tea.
Her family's support has always been essential throughout her journey. Her mother even calls herself Racks' "mom-ager" (because she's basically her manager and her mom). It was actually her "mom-ager" who told her about La Colmena, the musical theatre school where I first met Racks. As an actress and dancer, it was only a matter of time until she discovered musical theatre, an art expression in which you can combine acting and dancing.
While Racks was assisting to these musical theatre classes, she was also applying for acting schools overseas, and she finally chose Royal Central School of Speech and Drama, in London. I interviewed her about her experience studying abroad.
How was your process auditioning for Royal Central? Did you always want to go to that school?
For me, going to college was hard. I had the motivation, the passion and my parents' support but we didn't have the money. At first I was auditioning for schools in the USA and even Spain, but it was expensive. I remember skimming through London, but I don't remember giving it proper thought at first cause I was so decided on the States and I forgot they had the West End and there's so much going on.
But I found a lot of great schools there and I wanted to see them, so I planned a trip to London and visited the ones that caught my attention. I ended up with a selection of four schools that I auditioned for. Two of them I could do through video, but I had to do another London trip to audition for the other ones.
The moment I walked into Royal Central, it felt like my school. I could see myself going through the hallways and knowing this is where I wanted to learn. I feel like even though I struggled, everything fell in the right place in the end.
Was it hard adapting to London?
Even though I've lived in different places, it's always been with my family. Moving to London was my first time moving out of the house, out of the country and out of the continent. I checked all the boxes. My dad came with me to help me settle in. But the day he left I knew I was all alone. I never realized how much I loved my country until I moved out. I was leaving everything behind but I was doing what I loved.
One of the things that kept me sane was Andrew. He's my best friend here in London and it was his first time moving out of his country, Australia. We were both coming from extremes of the world and we didn't have anyone so we kinda grabbed each other and had each other's back. Sometimes we missed home but it was okay cause we had each other.
Do you think community is important when you create art?
Yes. It's such a competitive industry and you need to have friends, a community, your support. You'll be fighting a lot of stuff and you need to know there's someone backing you up. If you don't have a community you can create it. But it has to be a symbiotic relationship and help each other. You can't just leech on someone.
Speaking of Andrews, Andrew Garfield is a Royal Central alumni. I know you met him in your Third Year. Tell me a little bit about that experience.
The school grabs some previous students that are successful and they make them give this workshop where we can ask them about the industry. That's how I met Andrew Garfield. He's the nicest guy, so humble and wise. He had great advice to give us. He actually told us about having our own tribe. Your tribe is the people you choose that you know are going to help you and tell you things when you need to and will always be there for you. It's basically like a community.
How was it to be on a show during the pandemic?
I struggled a lot to go to college, and then the pandemic hits and we don't have an audience. I did my third year shows without an audience and without touching people. Luckily, we made it work. We took a bad situation and turned it into something cool. At least, because we were filming it, everyone at home got to see it.
Our very first show happened when the rules were very strict. We couldn't be near each other or touch each other. We had to take a COVID test twice a week. We had our own props that only we could touch. You had to be very meticulous about the things you were doing, but it was also hard, acting wise. When you're acting you have to follow your gut, and what's natural. But here, we had to try to talk without facing each other, and I had to tell another character I loved them without touching them. If anything, it teaches you that you have to be adaptable as an actor.
Which one was your favorite show?
It was definitely Punk Rock. It was fun and we all thought it was so perfectly cast. We loved working with our director, he made everything so easy and it flowed. There's so much going on and there are so many layers to your character. My character, Cissy, was definitely one of my favorite characters to play. I love playing a mean girl, it's so much fun.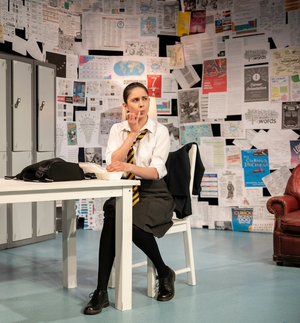 Now that you graduated, do you have any plans?
I graduated in December, but it hasn't quite sunk in yet. I just came from three intense years of training. I needed to take a breath, but now I know what my plan is. At least for now I feel very motivated, which is a good thing, and I want to hold on to it. I wanna get new headshots done and put myself out there with new material. Once I have all my stuff, I will sit down and write emails to agents like there's no tomorrow.

I want to find an agent that's gonna help me grow and I'm gonna have a good relationship with. I wanna audition a lot. If I can't find anything for me, I'm gonna write or create something for me. I want to dance again, be more active and use all my time to the fullest extent. When we were talking about Encanto and our friend, Isa, was like "I don't know how Lin-Manuel Miranda did all this. How does he find the time?" I think he just does it, he finds the time to do it. And that's what I have to do. I'll make time to do all these things I want to get moving. It's gonna be hard, I know, but when you're fighting, there's no easy way.