Sam Chanse, Dipika Guha, And Dave Harris Named Recipients Of The Lark's 2019-20 Venturous Playwright Fellowships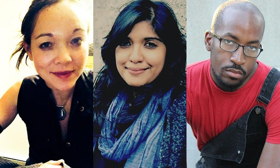 The Lark and Venturous Theater Fund of the Tides Foundation are thrilled to announce that the plays and playwrights selected for the second round of The Lark's Venturous Playwright Fellowship program are: Trigger by Sam Chanse; Passing by Dipika Guha; and Incendiary by Dave Harris. The fellowship supports the advancement of ambitious, risk-taking, and innovative plays by providing concurrent residencies for their authors, and advocating for their production by partner theaters. Fellows each receive an award of $50,000 over two years, as well as a Production Subsidy Grant of up to $50,000 to support a production of the play at a theater of the playwright's choosing. Throughout their two-year fellowships, the playwrights will be in residence at The Lark where they will have access to an individually-tailored lineup of new play development and advocacy resources, including readings, workshops, writers' groups, retreats, career guidance, and community engagement activities, designed to nurture their writing and advance their work into the repertoire.

"There was so much brilliance in the pool of nominated writers for these fellowships. We're living in intense times, and these are intense plays," said Lloyd Suh, Director of Artistic Programs at The Lark. "They each explore urgent and vital themes - the criminal justice system, female rage, the emotional devastation of colonialism - in humane, unexpected, and deeply impactful ways. Dave Harris' Incendiary presents as a topical, satiric hero's journey, but it explodes the expectations of those tropes with a rocket launcher. Sam Chanse's Trigger is at once a philosophical treatise on the history of anger, and a primal scream of theatrical imagination. Dipika Guha's Passing is a delicate puzzle, an impressionistic nightmare, and an intimate, heartbreaking and ultimately empowering portrait of the colonized body. The Lark is honored to partner with Venturous Theater Fund to champion these plays, and privileged to support the continuing adventures of their authors."

Fellows were selected through a multi-step process, led by The Lark and Venturous Theater Fund staff. Nominations were solicited from artists and theater makers within The Lark's network, and selections were made based on choosing work identified as "venturous," defined as challenging in form, controversial in subject matter, ambitious in scale, and/or experimental in concept.

"Sam Chanse, Dipika Guha, and Dave Harris are three exceptionally talented writers, and we are delighted to support them in creating audacious work that defies the conventional wisdom about what makes a play 'producible,'" said Ben Pesner, Program Director at Venturous Theater Fund. "We look forward to working with the theaters that bring these bold, unconventional plays to the stage; and we hope these fellowships inspire other companies to produce plays by writers who push the boundaries of the theatrical form, embrace risk and experimentation, and create works of scale and ambition. We are proud to continue our collaboration with The Lark in championing ambitious new plays and empowering and supporting the writers who create them."

Past fellows include Olivia Dufault (For Want of a Horse), Susan Soon He Stanton (Today Is My Birthday, Page 73), and Mike Lew (Teenage Dick, Ma-Yi Theatre Company in association with The Public Theater). Mike and Susan's plays both received world premieres last season, as a result of the Venturous Playwright Fellowship.

"The Lark and Venturous Fund's contribution is radical because by putting financial heft directly behind the writer, they break the cycle of playwright infantilization," Mike said, on his experience of the Fellowship. "The Venturous Fellowship allowed me to approach the producers with a real sense of agency."

The Venturous Playwright Fellowship is part of The Lark's acclaimed portfolio of fellowships, which includes the Apothetae and Lark Fellowship, Jerome Fellowship, and Van Lier New Voices Fellowship, among others. These programs are designed to gather and engage a cohort of diverse and extraordinary playwrights at various career levels, from across the country and around the world, to explore the most important issues of our time.
Related Articles
More Hot Stories For You