Review Roundup: What Do Critics Think of P-VALLEY on STARZ, Based on Katori Hall's Play?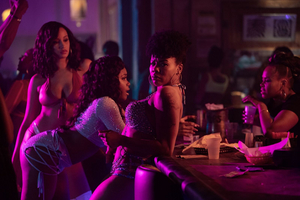 STARZ is set to premiere P-Valley, the new series based on creator Katori Hall's (The Mountaintop, Tina: The Tina Turner Musical) play Pussy Valley.
In P-Valley, down deep in the Mississippi Delta lies an oasis of grit and glitter in a rough patch of human existence where beauty can be hard to find. This southern-fried, hour-long drama tells the kaleidoscopic story of a little-strip-club-that-could and the big characters who come through its doors-the hopeful, the lost, the broken, the ballers, the beautiful, and the damned. Trap music meets film noir in this lyrical and atmospheric series that dares to ask what happens when small-town folk dream beyond the boundaries of the Piggly Wiggly and the pawnshop.
Find out what critics thought of the series before its premiere on July 12!
*BroadwayWorld will update the article as new reviews come in*
---
Inkoo Kang, The Hollywood Reporter:
Created by Olivier Award-winning playwright Katori Hall (The Mountaintop, Tina: The Tina Turner Musical), P-Valley is the kind of series so variously accomplished you don't know what to praise first. (The unfortunate title is a family-friendly abbreviation of Pussy Valley, Hall's play and the adaptation source.) Like last year's Hustlers, P-Valley is largely a drama about day-to-day existence within the club: the economic ecosystem, the uneasy but real sisterhood, the untraditional and sometimes compromised motherhood and most of all the always-underappreciated labor of stripping.
Kristen Baldwin, Entertainment Weekly:
With its broad slate of characters and multiple interlocking story lines about race, class, and gender, P-Valley seems better suited for the expanse of television than the boundaries of the stage. (The 2015 production, which received solid reviews, had a three-hour run time.) The plotting is convoluted at times, and the ongoing hints about Autumn's traumatic past feel unnecessarily vague. But Hall's characters and the cast - especially Evans and Annan - are vibrant and compelling. A crafty twist in episode 4 involving Mercedes and her mother, meanwhile, could send the second half of the season in a variety of promising directions.
Aramide Tinubu, AV Club:
Helmed by an all-female directing lineup, P-Valley is a compelling character-driven story that shines a spotlight on the beauty and scars of women, Black women, in particular. It is an unapologetically Southern and Black story that puts women who are often shamed and pushed toward society's edges right back where they belong-center stage.
James Poniewozik, New York Times:
Sex and flash may get audiences to pay the cover charge into "P-Valley," but at heart it's really about work. Specifically, it's about working-class women at the frayed edges of a service economy, with no net to catch them if they lose their grip on the pole. Stripping, it shows, is skilled labor, not just physically but emotionally, from handling aggressive clients in the private champagne room to sizing up which customers are likely to tip and which are a waste of time.
"P-Valley" didn't need a pandemic and economic collapse to feel relevant. But a series about women literally using their bodies to survive undeniably hits harder arriving in the middle of a crisis that's killing and impoverishing already marginalized people.
Malcolm Venable, TV Guide:
P-Valley is an unadulterated, unfiltered work that pours light into a specific slice of the Black experience - one that, from the outset, may not seem particularly artful or elegant - and turns it into an achingly beautiful song. It shines a light on women who some might consider the "least of these," giving them agency, understanding, and love. Bring a stack of bills to throw at the screen.
Matthew Gilbert, Boston Globe:
The plot lines don't always intersect effortlessly, but the acting is consistently stunning. Evans makes Mercedes into a fully developed character instantly, with body language that screams queen-bee confidence. She chose her work, and she owns it proudly - even as she mentors Black girls onto a straighter path. She embodies the show's toggling take on stripping as both empowerment and exploitation. Annan's Uncle Clifford is riveting - funny, frightening, and movingly protective of her dancers, at times with the help of the club's Iraq War veteran bouncer. And the erotic dancing - much of it done with body doubles - is remarkable, for all the physical prowess on display, and for the intimate cinematography that puts you right there beside these fully dimensional women.
Alan Sepinwall, Rolling Stone:
Adapted by Katori Hall from her play Pussy Valley, the series is terrific as an experience itself. The world of the Pynk, its dancers, and its owner Uncle Clifford (Nicco Annan) instantly comes to life in a way so many dramas try and fail to do from the jump. It's a vibe show more than a story show - the plot is a familiar stew made up of shady land deals, stolen identities, and extramarital affairs - but that vibe borders on hypnotic. The Pynk and the people who work there feel real, and desperate, and all kinds of complicated.
Adrian Horton, The Guardian:
P-Valley hooks in with Hall's dialogue, which undulates and swerves, melodic and vulgar at once, cascading so fast sometimes it's hard to catch on the first go round. Though sometimes veering into the heavy monologues more fit for the stage, it's an easy rhythm to submerge in for an episode, or four, or all eight. The troubles in P-Valley feel both substantial, genuinely life-altering, and the germane hurdles imposed by a country designed to wring profit out of segregation and economic segmentation. But for all the rot coursing through, P-Valley is blisteringly entertaining, its dance sequences regularly outdoing J Lo's star-cementing turn in Hustlers, a show with firm command on its world, of the numerous faces - flattering and not - presented by each character. The end of the season leaves more threads loose and waving than tied up; everyone a little compromised, everyone with more work to do. It would be a shame not to see more of it.
Related Articles