Review Roundup: What Did The Critics Think Of Paper Mill's HALF TIME?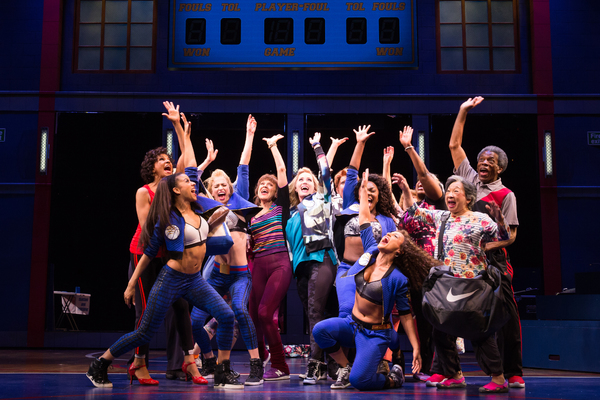 Paper Mill Playhouse is currently hosting the East Coast premiere of Half Time, a new musical.
The cast features five-time Emmy nominee Georgia Engel ("The Mary Tyler Moore Show," The Drowsy Chaperone) and Tony and Emmy Award winner Lillias White (The Life, "Sesame Street") along with André De Shields (The Wiz, The Full Monty, Ain't Misbehavin') and Tony award winner and Broadway legend Donna McKechnie (A Chorus Line) who with this all-star cast will tell the uplifting true story of ten New Jersey seniors with extraordinary dreams.
Half Time features a book by Bob Martin and Chad Beguelin, music by Matthew Sklar, lyrics by Nell Benjamin and additional music by Marvin Hamlisch and Ester Dean. Half Time is directed and choreographed by Tony Award winner Jerry Mitchell and co-choreographed by Nick Kenkel with music direction by Charlie Alterman. Half Time is based on the motion picture Gotta Dance, directed, written and produced by Dori Berinstein.
Let's see what the critics had to say!
Ben Brantley,
New York Times
: Ms. Engel is one of several legitimate reasons to stay awake during this production, which was inspired by Dori Berinstein's 2008 documentary "Gotta Dance," about a basketball halftime dance team made up of performers over 60. Featuring a book by Bob Martin and Chad Beguelin, with songs by Matthew Sklar and Nell Benjamin, "Half Time" allows you the pleasures of reacquaintance with other vintage talents. They include Lillias White, who won a Tony Award in 1997 as a big-voiced, big-hearted, blunt-spoken prostitute in "The Life," who appealingly shows up here as a big-voiced, big-hearted, blunt-spoken grandma. The septuagenarian André De Shields, a two-time Tony nominee who never met an audience he wasn't determined to seduce, is on hand to strut his radioactive charisma as a determinedly seductive widower.
Patrick Maley,
NJ.com
: If the exuberance of the opening-night crowd is any indication, this show hits a lot of notes that people love. Jokes seem frequently hackneyed, but there is no denying they killed, and the plot may be recycled, but it has worked so many times before that it's a safe bet that it will work again here. The opening-night crowd was on its feet before lights came up for curtain call. Marina Kennedy,
BroadwayWorld
: Half Time audiences will be enthralled by the show's lively musical numbers and charming scenes, superbly performed. Outstanding ones include "A Number" by the Company; "Dorothy/Dottie" by Dorothy and Company; "Princess 2" by Bea and Kendra; "Prince of Swing/There You Are" by Ron and Company; "The Waters Rise" by Mae; "Who Wants to See That?" (Reprise) by Tara; "Como No?" by Camilla and Company; "Too Good for This" by Joanne; and "Gotta Get Up" by the Company. Suzanna Bowling,
Times Square Chronicle
: Joanne (A Chorus Line's graceful Donna McKechnie) gave up her one show Broadway career, for her doctor husband, and now that he has left her for a younger women, she wants her moment in the sun returned, no matter the cost. Camilla (the seriously fabulous Nancy Ticotin, "Orange is the New Black") is a salsa dancer with a boyfriend half her age, who is not a fan of being "age appropriate." Her samba/salsa infused "Como No" dance solo is the stand out of the night. Then there is Mae (the perky Lori Tan Chinn, "Orange is the New Black"), whose dancing is not so much on point, but brings joy and heart to the show as she deals with her husbands Alzheimer's in the wonderful "The Waters Rise."
Related Articles
More Hot Stories For You