Click Here for More Articles on GLORIA: A LIFE
Review Roundup: What Did Critics Think of GLORIA: A LIFE?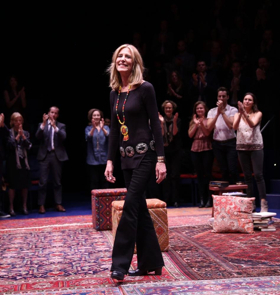 GLORIA: A Life officially opened last night, October 18, 2018 at the Daryl Roth Theatre on Union Square.
GLORIA: A Life is written by Tony Award-nominee Emily Mann(Having Our Say), and is directed by the visionary Tony Award-winning Diane Paulus (Waitress, Pippin).
GLORIA: A Life brings us a richly detailed tapestry about one of the most inspiring and remarkable women of our time. Five decades after Gloria Steinem began raising her voice for equality and championing those of others, her vision is as urgent as ever. Gloria's life's work and philosophy on the necessity of conversation as a catalyst for change offer us all a path forward in a way that only live theater can. The first act is her story; the second is our own.
Joining previously announced Oscar, Emmy and Golden Globe winner Christine Lahti as Gloria Steinem, will be DeLanna Studi(And So We Walked, August: Osage County) as Wilma Mankiller and others, Patrena Murray (Venus, The Death of the Last Black Man) as Florynce Kennedy and others, Joanna Glushak(War Paint, A Gentlemen's Guide to Love and Murder) as Bella Abzug and others, with other roles to be played by Liz Wisan(Other Desert Cities, These Paper Bullets!), Francesca Fernandez McKenzie (As You Like It, Othello, Our Lady of 121st Street), Fedna Jacquet (Ain't No Mo,The Tempest/Henry V), and Brittany K. Allen (True Right, Minor Character).
The creative team features scenic design by Amy Rubin (Miles for Mary, Nobody Loves You), costume design by Jessica Jahn(One Night..., Love, Loss and What I Wore), lighting design by Jeanette Yew (KPOP, Fruit Trilogy), sound design by Robert Kaplowitz and Andrea Allmond, and projection design by Elaine J. McCarthy (Notes from the Field).
Let's see what the critics had to say...
---
Jesse Green, The New York Times: Something powerful is happening at the Daryl Roth Theater in Union Square - but it isn't so much the play that opened there on Thursday night as the audience...what happened next took the raw materials of the play and turned them into thrilling community drama.
Sara Holdren, Vulture: Gloria: A Life isn't a straightforward bio-play. It's a unique, deeply moving performance created in the hopeful, conversational spirit of its extraordinary subject, an act of looking back in order to look forward, and - at least for me, though I think perhaps for many - a vital education.
Elisabeth Vincentelli, The Hollywood Reporter: Directed in the round by Diane Paulus (Waitress, Pippin) and put together by an almost entirely female creative team, the production is not as theatrically audacious as its subject was politically daring. What it does is give many audience members a release valve in our tumultuous times.
Thom Geier, The Wrap: The show's real power, though, comes in Steinem's - and Lahti's - ability to give voice to the deep-seated feelings of powerlessness and frustration and exploitation that many women feel - and to channel those feelings into meaningful action. Hers is a plainspoken voice borne of her Midwestern upbringing, and one that manages to make even the most aphoristic statements ("Don't worry about what you should do, just do whatever you can do") ring absolutely true. Bromides, it seems, are for bros.
Naveen Kumar, Towleroad: What we left with was fuel. It was as though we'd warmed our hands around a glorious flame and were ready face the cold once more. The worst times always come after victory, Steinem told us, but we are in the majority. Don't worry about what you should do, she said - do what you can do. We each took a pledge to do one outrageous thing the very next morning, before heading back out into the night.
Melissa Rose Bernardo, New York Stage Review: If you're in need of a little inspiration, some reassurance that the world is not the total dumpster fire that Fox News would have us believe, confirmation that, as the title character says, "you're not crazy-the system is crazy-and you're not alone," Gloria: A Life is just the ticket.
Photo Credit: Walter McBride / WM Photos