Click Here for More Articles on THE LIGHTNING THIEF: THE PERCY JACKSON MUSICAL
Review Roundup: THE LIGHTNING THIEF Opens on Broadway- The Critics Weigh In!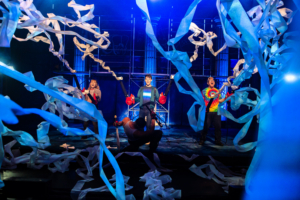 The Lightning Thief: The Percy Jackson Musical opens officially tonight, October 16, at the Longacre Theatre (220 W. 48th Street).
As a son of Poseidon, Percy Jackson has newly discovered powers he can't control, monsters on his trail, and is on a quest to find Zeus' lightning bolt to prevent a war between the Greek gods. Based on the bestselling novel by Rick Riordan and featuring a thrilling original rock score, with an onstage company of seven playing more than 47 characters, The Lightning Thief: The Percy Jackson Musical is an action-packed theatrical adventure about accepting that normal is a myth and embracing the superpowers inside all of us.
Let's see what the critics had to say...
---
Jesse Green, New York Times: Here's an idea for a Broadway musical: An awkward boy with an absent father and an overwhelmed mother gets involved with friends in a dubious scheme that spins out of control and almost undoes him. Is it "Dear Evan Hansen"? If only. Alas, "The Lightning Thief: The Percy Jackson Musical" is a pale patch on the earlier show and a failed attempt to board the teenage fantasy-angst train. (See also: "Be More Chill" and, more successfully, "Harry Potter and the Cursed Child.") Based on the popular 2005 novel by Rick Riordan, it is both overblown and underproduced, filled with sentiments it can't support and effects it can't pull off.
Frank Scheck, Hollywood Reporter: Mea culpa. The show's producers apparently took my review, and many other favorable notices, too much to heart. Arriving on Broadway following a national tour for a limited run (timed to the upcoming holiday season, natch), The Lightning Thief: The Percy Jackson Musical has lost all of its charms while gaining a dramatic uptick in ticket prices. What seemed inventive and clever in the confines of a small off-Broadway theater feels utterly wan in its current incarnation. The production represents glorified children's theater, only with seats going for as much as $199. Any parents who shell out that kind of money for this tacky, bargain-basement production seriously need to reevaluate their financial priorities.
Helen Shaw, Time Out: In order to enjoy the The Lightning Thief, a myth-filled musicalization of Rick Riordan's first Percy Jackson novel, you'll need to read the book. Many of the show's current attendees obviously have: Secondary characters get entrance applause. But while those young theatergoers can fill in any missing details from memory, the challenge of turning a YA bildungsroman full of epic battles and road trips and snake-haired monsters into a musical has overwhelmed the creative team. In staying faithful to the novel, they've wound up with a mess.
Chris Jones, Chicago Tribune: Kids love Harry Potter because J.K. Rowling refused to dispense facile bromides and instead trusted them with complexity and ambiguity. And Potterland has always showed the punters how their hard-earned cash has been spent for their enjoyment. Those are the lessons "The Lightning Thief" has to learn. You know, along the way.
Michael Sommers, New York Stage Review: Although the musical is mostly a yawn for adults (and probably smarter kids), sub-par visuals make it even a less attractive event. The production looks so cheap visually that let's be kind and not name the designers. Industrial scaffolding can only go so far to create places effectively, while the cheesy effects for the story's monsters and miracles are heralded by blasts of white lights meant to bedazzle viewers into not seeing the stagecraft. There is not an inch of magic anywhere on the stage, unfortunately.
Elysa Gardner, New York Stage Review: So now we know: The Greek gods were not helicopter parents. That's the takeaway, at least, from The Lightning Thief: The Percy Jackson Musical, adapted from the popular young readers' book by Rick Riordan, the first installment in a series that's emerged as a sort of Harry Potter lite. The show follows the adventures of a group of "half-bloods"-not the offspring of witches and wizards and non-magical "Muggles," as in J.K. Rowling's novels, but the spawn of gods or goddesses and mere mortals. And rather than meeting at a school for superior beings, these teens cross path at a summer camp for misfits, where our titular hero is sent after being tossed out of three schools; the last expulsion occurs after Percy attacks a teacher, when she turns into a creature called a Minotaur. (Think Dementor, Potterheads.)
Frank Rizzo, Variety: McCarrell's believable boyishness, sweet vulnerability, gangly posturing and off-handed humor is appealing, and he manages to keep you engaged even if you've long lost interest in the details of the plot. His singing is sure, and in "Good Kid," the best number in the musical, he shows in a heartbreaking way the pain of trying to fit in before he discovers that "normal is a myth."
Greg Evans, Deadline: The indefatigable cast, given loads of stage business by director Brackett and clever lines by Tracz (whose credits, besides Chill, include Netflix's wildly inventive Lemony Snicket's A Series of Unfortunate Events), pulls everything together. Each performer taking on any number of roles (except for McCarrell and, as the Hermione to his Harry, Kristin Stokes), the cast includes Izzy Figueroa, Jorrel Javier, Ryan Knowles, Sam Leicht, Sarah Beth Pfeifer, James Hayden Rodriguez, Jalynn Steele and T. Shyvonne Stewart.
Robert Hofler, The Wrap: Standouts in the ensemble include Ryan Knowles and Jalynn Steele in a variety of roles. Steele goes from mom to schoolgirl to disco diva, as well as a goddess or two in between. Likewise, Knowles morphs repeatedly throughout the show and manages even to channel the late Paul Lynde, placing his Hades in the center space of "Hollywood Squares." That Knowles and Steele play over a dozen characters between them and do so with such skill is a thrill for even the most seasoned theatergoer. For the first timer, it may be a real shock when so few actors take their bow at the final curtain.
Jackson McHenry, Vulture: It's becoming hard to leave a big musical without having something rain down on you, whether confetti (Moulin Rouge!, Beetlejuice), streamers (Little Shop of Horrors), or fake snow (Frozen). To that messy trend, The Lightning Thief: The Percy Jackson Musical is here to add rolls and rolls of toilet paper, shot over the audience's head with leaf blowers when its young hero summons streams of water to fight one of his mythical enemies. The young fans at my performance cheered like the ball was being dropped on New Year's Eve.