JERRY SPRINGER OPERA Comes to BroadwayHD on August 30th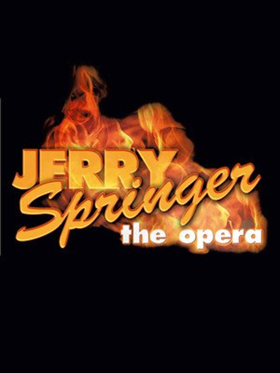 Jerry Springer the Opera Comes to BroadwayHD on Thursday, August 30th.
Written by Richard Thomas and Stewart Lee, this critically acclaimed musical debuted at the National Theater in London in 2003 winning the Olivier Award (the British equivalent of a Tony) for best new musical that season. The New York Times called it "a vulgar romp with elements of high- and low-brow culture - soaring, Handel-like arias juxtaposed with the violent and vulgarity-filled scenes THE TALK show is known for."
After its popular run in London, the show made its way to New York City for a concert staging at Carnegie Hall in 2008, then later as part of the Off Broadway troupe New Group's 2017-18 season.
'Jerry Springer-The Opera' tells the story of a day in the job of world famous talk-show host, Jerry Springer. Jerry has to sort out a number of guests' problems; including a man who wants to dress up as a baby, a man with 3 lovers (one of them a transexual) and a fat woman who wants to be a pole dancer. However, on this particular day, something out of the ordinary will happen.
The BroadwayHD streaming of the show features the original cast and performance from London's Cambridge Theatre in 2005.
ABOUT BROADWAYHD
BroadwayHD, founded in 2015 by Tony Award® winning producers Bonnie Comley and Stewart F. Lane, is the only online streaming service of its kind, offering "Broadway Your Way" through an unprecedented in-hand theatre experience that delivers premium live productions to theatre fans globally. In addition to exclusive live streamed content of the world's best productions, BroadwayHD offers subscribers unlimited on-demand access to a library of more than 250 theatre productions from the comfort and convenience of their own homes - or wherever streaming is possible. It's the Broadway you know and love, curated from the stage to your screen.