Interview: Anthony Rapp Talks WITHOUT YOU Off-Broadway Premiere, RENT's Long-Lasting Impact & More
Rapp discusses the meaningful relationship he's developed with his fans, why Rent continues to touch people, and more.
Anthony Rapp, who is perhaps known for bringing the character of Mark Cohen in Rent to life, is now sharing his story his one-person show, Without You, premiering Off-Broadway at New World Stages on January 14th.
In Without You, which is based on Rapp's New York Times bestselling memoir of the same name, Rapp brings the audience into his earliest years with the phenomenon that is Rent, and takes you on a journey through personal joy and loss.
BroadwayWorld spoke with Rapp about performing his own material, Rent's lasting impact, and more.
Learn more at https://withoutyoumusical.com/.
---
Your one-man show Without You begins performances at New World Stages this weekend. What can people expect to see and hear?
It's a one-person show, but I have a five piece band. So, you can expect to hear me tell the story of when I first did the workshop of Rent in '94, through the experience of opening on Broadway a couple years later. And during that same time we lost Jonathan Larson very suddenly when we were still Off-Broadway, and during that time also my mom was in a prolonged battle with cancer. So, it's a very personal story about these life-changing events all converging, and using music to help tell the story as well. Some of it is original music, and some of it is music from Rent, but trying to use the theatrical convention of music, and monologue, and even dialogue where I play various characters, to help tell the story.
This show is your personal story, your material, and you've performed it before, how does it feel to get up in front of an audience and lay your soul bare?
Actually, it's always felt pretty good! I suppose I've had the good fortune of the audiences responding pretty well to it, so that helps! [laughs] That they seem to take the journey with me. It's never been that hard for me honestly. The first time I ever did a reading of it, I wasn't sure what it was going to be like, but I still did it, and the response was so strong from the get-go that that just helped settle any concerns. And the response includes people sharing back with me stories about their own losses, and so it's an opportunity for a very meaningful exchange.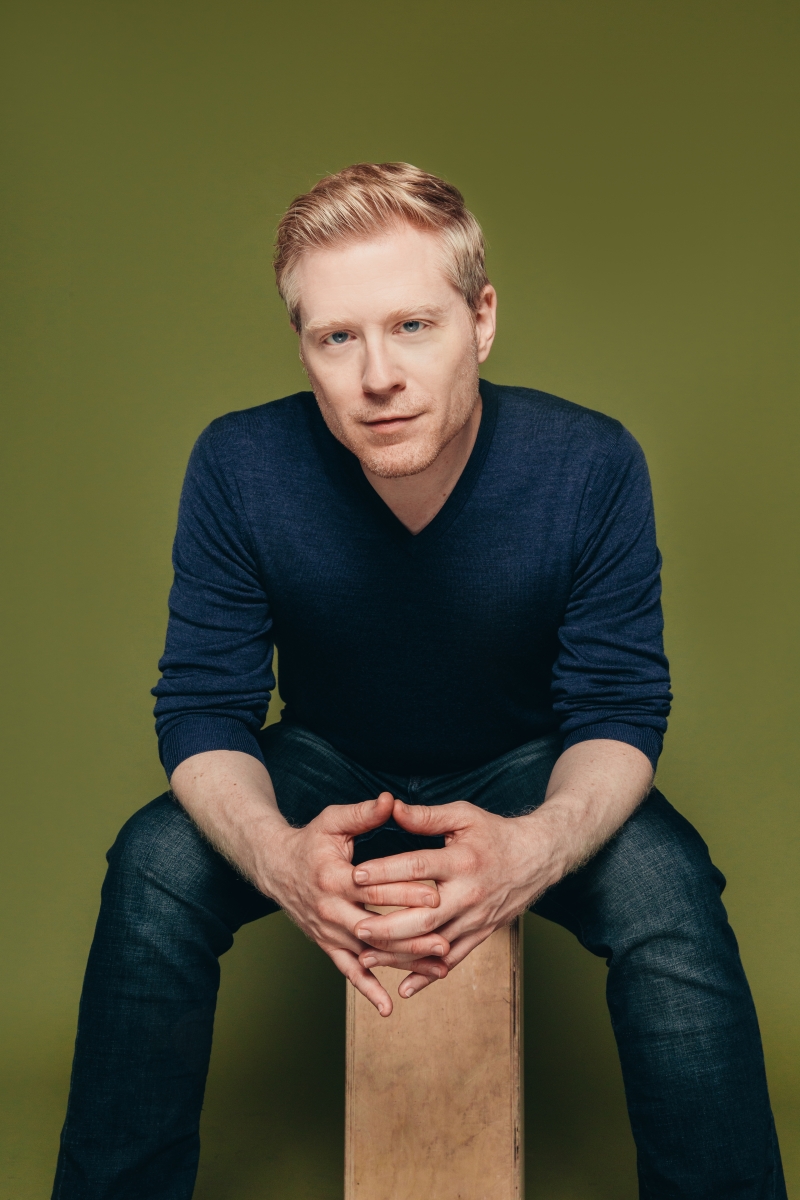 You've been with this material for a long time now, how has your relationship to Without You changed throughout the years and what do you continue to learn from it?
So, we did a kind of presentation of the script and the score in the spring of 2022 to revisit it, it had been a while, several years since we'd really done it. And when I did that, I had a friend who had never seen it before. And she said, "You've lived half your life since that happened." And I was like, "That's really true!" There's just a little bit of a way that that has changed my relationship to the approach to some degree. Here I am, half of my lifetime later, evoking, and bringing to life, and honoring the memory of these incredibly important people and these events. And so, I think we've found a way to have that be a kind of frame of the performance. And beyond that, we've reinvestigated, we've made some other textual changes, and there is a new song that's never been in the show before. So, it's been exciting to reinvestigate it and try to make it feel as seamless and as complete as possible.
Through Rent, which is one of the most influential pieces of theatre of all time, and through your personal story, you've developed a special relationship with your fans. What does it mean to you to know that you've had such a profound impact on people?
I mean, it's an honor. I grew up as an artist who was profoundly impacted by other artists' work, and so, I've tried to follow their example. So, it certainly means a great deal to me that other people find me as a source of that for them. It's very meaningful and I'm very grateful, and I do take it seriously, and I try to honor the grace that people grant me, and I try to meet it with the best work that I can do.
Rent premiered Off-Broadway over 25 years ago and its impact only seems to continue to grow. What are your thoughts on how and why Rent continues to touch people?
Well, I think that Rent tells the truth, it tells the truth about aspects of the human experience through a very powerful medium of musical theatre, because music helps communicate to people's hearts and souls, and not just their minds. So, I think it strikes a nerve, a very powerful nerve that people take into their hearts and souls. And, in many cases, over the course of these past two-plus decades, it's helped people really think about how they approach living. It's far beyond a piece of art, it's for many people become influential in how they see themselves in the world. Especially in the last couple of years with the pandemic, there are these events that have happened, the conversations that happened around inequities, Rent's touched on those themes, it keeps being relevant, even though it's very much a period piece. And it's based on a 100-plus year old opera, La boheme, that also continues to be very powerful, and resonant. So, these are timeless themes. And then it has really beautiful music that just communicates powerful ideas.
Without You the stage show is based on your memoir. Would you write another memoir?
Writing a memoir was truly one of the hardest things I've ever done. I don't know, it would have to be the right kind of situation. It was very rewarding but it was also really, really hard. I don't have anything in mind at the moment. Possibly down the road! We'll see.
What are you most looking forward to with bringing Without You Off-Broadway?
New York is my home, New York is where Rent started, it feels like it belongs here. I've had great experiences performing the show in London, and Edinburgh, and Boston, and Seoul, and I did a very short run as part of the New York Musical Theatre Festival, but I've really been hoping and longing for the chance to do a real run in New York. I love performing on stage, I love being home and working, so it's just a dream come true. I just hope that the audiences respond to the show in its new incarnation with an open heart, and that we enjoy a successful run.
Photo credit: Richard Corman, David Urbank
---
Shop BroadwayWorld

Shop this season's new musicals! Get dressed up for a night at the theatre, or just a night at home, with merch from some of Broadway's biggest hits including SOME LIKE IT HOT, KIMBERLY AKIMBO, and more!
---
Related Stories