Industry Exclusive: Michael Riedel Out at Theater Talk; To Be Replaced by Multiple Co-Hosts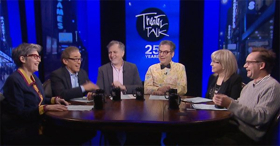 BroadwayWorld has learned that the longtime on-air partnership of THEATER TALK co-hosts Susan Haskins and Michael Riedel has come to an end. We're told that Riedel will no longer appear on the program, and instead will be replaced by multiple rotating guest co-hosts (opposite Executive Producer and co-host Haskins) for the foreseeable future. According to the show, "Michael Riedel has left the show and is enjoying life as a columnist and now a podcaster with ON THE TOWN. Michael's replacement(s) will be announced early in the fall."
Michael Riedel tells us "I did Theater Talk for 25 years -- I ran longer than 'Cats'! Susan's going on with the show -- she was instrumental in putting it together -- and I wish her the best of luck with it."
Michael Riedel has been a theater columnist for The New York Post since 1998. He worked at the Daily News (New York) for five years before returning to the Post and has written for The Guardian, Harper's Bazaar, Mirabella, Departures, and Commentary. Along with cohosting Theater Talk with PBS, he is a contributor to the BBC, and has appeared on Larry King Live, the Today show, Good Morning America, and many other news programs.
THEATER TALK is the series devoted to the world of The New York stage and beyond. Previously co-hosted by series executive producer Susan Haskins and Michael Riedel, Broadway columnist for The New York Post, the acclaimed program features conversations with important artists working in the theater today; plus lively and entertaining panels of insightful critics, reporters and other writers discussing what's going on in the theater now, as well as the legacy of theater from the past.
Now in its 25th year, the program is produced at its home station CUNY TV in NYC and airs on TV weekly on PBS stations THIRTEEN & WLIW in New York City and public TV stations across the USA. It's archive of over 700 episodes is on YouTube.
For more information, visit: http://theatertalk.org
Photo: Theater Talk on Facebook