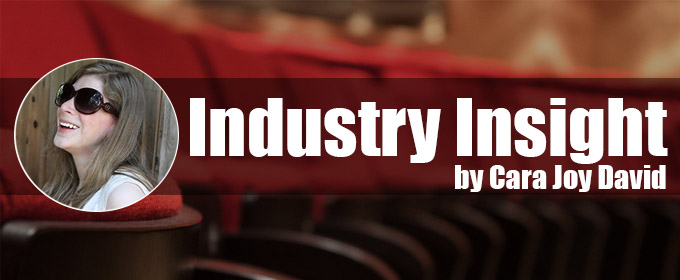 Industry Insight - by Cara Joy David
Industry Editor Exclusive: The Trouble with Late Seating
We've all had it happen: we're sitting in the theater, we're enjoying a scene and half of the row in front of us gets up because of the arrival of a latecomer. You think: "Can no one stop these people?"
Seating for latecomers is in fact generally staged. The director, house manager and sometimes producer coordinate with regard to when to let people in. Kathleen Marshall, a Tony Award winning choreographer and director, said she usually sets three different late seating times. "If it is a musical, then I have the ushers wait until the end of the first number and the audience applauds or on the first scene change," Tony winning director John Rando explained. "For a play, I have the ushers hold the late comers in the back of the house till a scene change, big laugh moment, or a major lighting change."
Ushers say they do their best and people are generally understanding about the seating delay. Out of over a dozen spoken to, only one had a real latecomer horror story.
"This man was freaking out because his kid was supposedly in the seat alone," the veteran usher explained. "I broke the rule and took him in a little early--only to find there was no kid in the seat next to him."
Others complained patrons often don't like to get up mid-show, which leads to latecomers having to climb over people and bags, causing more disruption than is necessary. Which brings us to one major problem with late seating: it is rarely perfectly executed. That is not the fault of the ushers generally; it simply takes a while to seat people. For example, arrive a minute or two after the start of BEAUTIFUL and you watch the first scene on a monitor because seating is reserved until after that scene. Unfortunately, people in the middle of rows are often not in their seats until midway through scene two. There is the time it takes to find the row, for people to stand or adjust so others can get through. It is just what happens.
Directors spoken to for this piece complained there is no ideal time to sit people late. Some believed late seating was still important, with one calling it "a must," whereas others said, over the years, they've fought with producers about disallowing late seating altogether.
For producers, the equation is tricky. Yes, audience members are disturbed by late comers being seated. But, as long as there is no safety hazard (as there sometimes is if actors are in the aisles), producers generally want satisfied customers, and a minute of inconvenience sometimes seems better to them than someone missing an entire show. If someone's subway had a sick passenger--should they really miss out on a whole experience they paid steeply for? Isn't that cruel? And, of course, the less altruistic point of view is that when people aren't let in or offered an exchange, those people tend to be mean to box office staff and, more importantly, on social media. No one involved in a show wants a low rating on Facebook or an audience site; those low ratings happen when people are denied admission.
Yet Broadway heavyweight producer Scott Rudin doesn't allow late seating at any of his shows. If the show is two acts, you can watch on a monitor for the first and take your seat for the second. If it is one act, you are out of luck. An email that goes out to HARRY POTTER AND THE CURSED CHILD ticket buyers encourages them to arrive one whole hour before showtime, stating clearly that late comers are not seated until intermission. (There are monitors in the lobby but the spectacle is definitely not the same.) BOYS IN THE BAND, the first entry of Broadway's brand-new season, and a one-act, also does not allow late seating. (These shows usually also don't allow you to retake your seat if you have left mid-act; restrooms are for before the house lights go down.) So there does seem to be a little movement toward banning late seating. But is that a good thing?
Some questioned believe late seating shows, as Rando put it, "good will from the theater company/production," and therefore prohibiting it would be a mistake. Others favor axing it altogether. As another director, who wished to remain anonymous, said: "I direct a show. I direct entrances from onstage people, not audience members. I do want people to see it, but I want them to see it in its entirety."
Photo Credit: Walter McBride / WM Photos
Related Articles
Industry Classifieds