Industry Editor Exclusive: Actors' Equity vs. ROCKTOPIA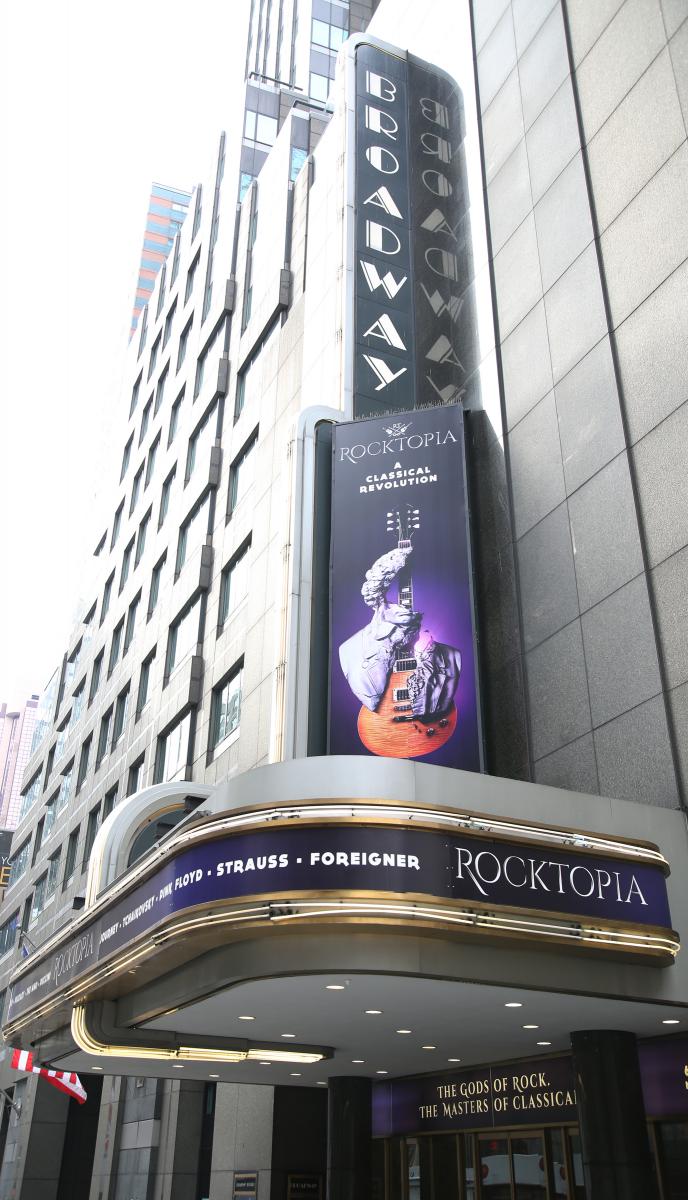 When you think Broadway, a lot of things come to mind. For me one of them is unions because I've had to cover many a threatened strike in my day. Except Actors' Equity, the union that represents actors and stage managers, is not involved in every Broadway show.
It has a contract with the Broadway League for "First Class Performances," as defined by the Dramatists Guild. That generally means what we think of as Broadway plays or musicals, though the actual definition is way more confusing: "live stage productions of [a] play on the speaking stage. . . under Producer's own management, in a regular evening bill in a first class theatre in a first class manner, with a first class cast and a first class director."
The trouble hits for Equity when shows come that aren't what we traditionally think of as a play or a musical with people we traditionally call actors. In those cases, if the producer is a member of The Broadway League, which has a bargaining agreement with Actors' Equity, that producer has an obligation to try to negotiate with Equity, at least according to an Equity spokesperson Brandon Lorenz. If a producer is not a member of the League, and is bringing in a show that is not a "First Class Performance," there is no obligation for that producer to even speak to Equity.
Except Equity wants all producers to speak with them and they are willing to put pressure on producers to do just that. The latest example is the situation with ROCKTOPIA.
ROCKTOPIA is a touring concert with a choir. Personally I'd prefer had MISS SAIGON stayed in the Broadway Theatre, as that to me is much more Broadway, but, we're apparently getting ROCKTOPIA there very soon in spite of my preferences. It lands on the Great White Way for a limited engagement starting March 20 and lasting six weeks. The show has no dialogue--it's a concert. There are lead vocalists, some of which are Equity members, and there is a choir of 35-40 (depending on which materials you read) and some of those folks in that choir might be Equity members too.
A few weeks ago it started leaking that members of the choir were allegedly being offered deals at $215 a week, which is obviously substantially lower than the minimum for a union Broadway gig. A ROCKTOPIA insider told us that $215 is incorrect; the real number is higher. Equity wanted to strike a deal with the producers and there were negotiations, but they failed. My source said ROCKTOPIA offered to have its leads on union contracts and employ an Equity stage manager (even though no stage manager is needed for the tour). That wasn't satisfactory to the union because it didn't handle this alleged $215 issue. So the union took matters into its own hands in a kamikaze 21st century way--it urged its members to take to social media to attack the show.
An email from Equity's communications director Brandon Lorenz stated: "ROCKTOPIA's Facebook page accepts reviews that are visible to the public, and we want you to tell everyone that producers who charge Broadway ticket prices while paying their Chorus rock-bottom wages are only worth one star (the lowest rating)."
When ROCKTOPIA shut down its comments, Equity told members to post on Twitter and their own pages, send emails and so on. These "reviews" were not based on the quality of the show, but rather payment structure.
ROCKTOPIA responded with a statement defending itself, which stated in part: "We have been in respectful discussions with AEA for months, despite AEA having no jurisdiction over a musical concert in general, let alone choir participants in particular." They also said the show had "no actors onstage," which I think was probably an inarticulate way to say that, while some of the folks in the cast are indeed actors, and Equity members, they are not acting in this particular show, they are simply singing in a concert.
Equity's email spins the choir as a chorus, making it seem more familiar to musical folk: "Producers are advertising this as a Broadway show and charging Broadway ticket prices - but their Broadway Chorus isn't being offered an Equity contract. In fact, we've heard from members who have reported being offered as low as $215 for a week of Chorus work. You know that Chorus members are no less talented than any other performer on Broadway, but the Rocktopia producers are refusing to put their Chorus on an Equity contract."
Is it a chorus? Well, when we think of chorus we think of musicals with acting. There is blocking and tons of rehearsals for those folks. Apparently this choir does one rehearsal and then gets on stage in front of a paying audience. The ROCKTOPIA choir members get paid per performance and there is no obligation that they do a full week; they come and go basically as they please. That said there is no bright line rule dividing chorus and choir. In fact, the Dictionary.com definition of chorus is "a group of persons singing in unison," which would seem to cover the ROCKTOPIA folks.
On the other hand, that definition also might cover "The Four Seasons" and last season's engagement of Frankie Valli AND THE FOUR SEASONS ON BROADWAY was not covered by Actors' Equity. Indeed, last season there were four Broadway shows with no Equity contract: BLACK TO THE FUTURE, Equity member/Broadway superstar Kristin Chenoweth's MY LOVE LETTER TO BROADWAY, Frankie Valli, and Alton Brown LIVE: EAT YOUR SCIENCE (THE ILLUSIONISTS used Equity stage managers but the union did not require the title players be on union contracts).
This season, SPRINGSTEEN ON BROADWAY is non-Equity, even though there is a script and lines are delivered by both Springsteen and his wife. There hasn't been much uproar about these shows. Chenoweth's show even had a nightly guest star and a choir--or many choirs in fact. She had a guest youth choir every night. Word is each choir received a donation for their participation.
There are fewer people consistently involved in the other productions, which might be one reason Equity didn't cause quite as big a stink about them. Another reason is that $215 is an astoundingly low number. If you figure these folks work 3 hours for each performance and they do eight performances a week that is $8.96 per hour, well below minimum wage. So Equity knew they would get press out of putting that number out there. (When I raised to Equity that someone involved at ROCKTOPIA disputes the number, a spokesperson said that was a few weeks ago, so the number could have risen, and also noted that this was the floor number told to them by members.) The more press they get the more likely they are to get producers to cave to their demands in the future, even if they don't score a win on ROCKTOPIA. And for Equity that is what matters--getting more shows on Equity contracts. But such a move is not without impact on the industry.
Personally, I could live without these touring shows coming to Broadway. I'd like if theaters were full all the time with what I think the Broadway theaters should be filled with, but there are harsh realities at play. These engagements are generally positive for Broadway landlords, filling gaps between larger productions. That gives them more money for their summer houses, but also more money to invest in plays and book musicals. That is the spoonful of sugar I take to make the medicine go down. And the sad reality is, the bigger shows might not come if everyone needs to be on union contracts. Of course, the counter to that is that Broadway is about prestige. You need to pay for that prestige. After all, many of these shows use the phrase "Live from Broadway" or "Broadway Production" or "As Seen on Broadway" for years after their short engagement in NYC. But, still, it is unclear whether spending the extra money will be worth it for all of these shows.
Also, remember Equity isn't the only union that might want in on the game. The performers for Hugh Jackman, BACK ON BROADWAY were not represented by Actors' Equity during their engagement in that show (though many were members), but rather the union of variety, comedy, and revue performers, American Guild of Variety Artists (AGVA). AGVA was also at the center of a dispute Equity had with Cirque du Soleil over PARAMOUR. AGVA represents circus performers, who fill most Cirque shows. Except there were a lot of roles for Equity members in PARAMOUR and Equity put the show on its "do not work" list until a deal could be reached with Cirque du Soleil so the traditional musical roles in the musical/circus hybrid show would be held by actors on an Equity contract. And let's not forget The American Guild of Musical Artists (AGMA) who represent choral singers like, well, the type in choirs.
The thing is though, considering ROCKTOPIA producers do not have any obligation to talk to Equity, given that the show is not a first class production and it is produced by non-League members, one wonders why the union is striking so hard against it. Encouraging members to bash a show on social media is fairly extreme. Why didn't Equity scream that Chenoweth wasn't on a union contract? Was it only because they knew she wasn't getting paid $215? And, if it was something similar, what is the number that is okay? And, if it was more than that, what is it? Union contracts come with a lot of protections beyond the salary, but if those protections are of concern they should be of concern in all cases. Five years back when Il Divo hit town, Heather Headley was the special guest. Headley is an Equity member, but the show didn't use union contracts. Whereas that same year, the singers in THE RASCALS: ONCE UPON A DREAM were on union contracts. We didn't hear about this difference then. Yet now we are all attune to the difference between HOME FOR THE HOLIDAYS, something that seemed like a concert but had a little bit of a script and Equity contracts, and ROCKTOPIA, a concert without those things. According to Equity, this is because we are in a time when Equity members are being more vocal about wanting their union to take on these battles with producers.
"Today is a new day at Equity," Lorenz said. "The past will not be the prologue in this case."