Click Here for More Articles on Debut of the Month Features
Debut of the Month: John McGinty Lends His Strong Voice to CHILDREN OF A LESSER GOD
John McGuinty makes his Broadway debut as Orin Dennis in the new revival of Mark Medoff's Tony-winning play, Children of a Lesser God. The story follows the conflicted professional and romantic relationship between deaf former student Sarah Norman and her teacher, James Leeds. Today, BroadwayWorld speaks with John McGinty about making his Broadway debut in a play that asks audiences to stop, listen and really communicate with each other so that we can all get to a better place.
[NOTE: BroadwayWorld's fabulous photographer Walter McBride captures images of the Broadway stars profiled in our monthly column in a special photo shoot. Check out the pics of John McGinty throughout the feature!]
---
Was there one particular show you saw in your early years which made you realize you wanted to be an actor?
There were actually two productions for two different reasons. First when I was little, about six, I went to London with my grandmother and we went to see PHANTOM OF THE OPERA. There was no subtitling or interpreting or open captioning, but I sat and watched it, and because of the design, the production, the story, the performances, it was so clear to me, and it made me realize how that creative art had inspired me to want to be a part of that world. Then, from that age to when I starred in THE HUNCHBACK OF NOTRE DAME, that journey and that play was wonderful because I was the first deaf actor to play Quasimodo. It was then that I realized that I really wanted to continue this as a career.
It's funny, I went to college and studied finance, so a finance degree to being a theater performer is so crazy - but I know I'm in the right place. And I also think it's good to have tried different things in your life until you really find your passion. And there's no deadline in someone's life. Sometimes you find it at a different point in your life, and I think that is a beautiful thing.
Were you familiar with the story of CHILDREN OF A LESSER GOD before you were cast?
No, not in depth. Honestly, if someone had asked me, 'have you heard of CHILDREN OF A LESSER GOD?', I think the first thought I would have is, 'yes, it's about a love story between a speech therapist and a maid.' I did know that. But I didn't realize the depth of the story, everything that was there. So when I read the play for the first time I realized that it's not just a love story. It goes much deeper than that message. It's about connection between people whoever you are. And so I'm really proud to be a part of this play.
And when I read for the character of Orin, my first thought was, 'oh, he's just like a little Chihuahua', that's what the role said to me. I thought Orin was a young man who was angry, rebellious. But as I read the play through and through and we started rehearsal, I really began to look at him as another human being. He's got passion, he's full of life, he's trying to do the right thing. And I think that's what the play is about too, trying to do the right thing. Whether you do something that's wrong or right, it's really your way of thinking.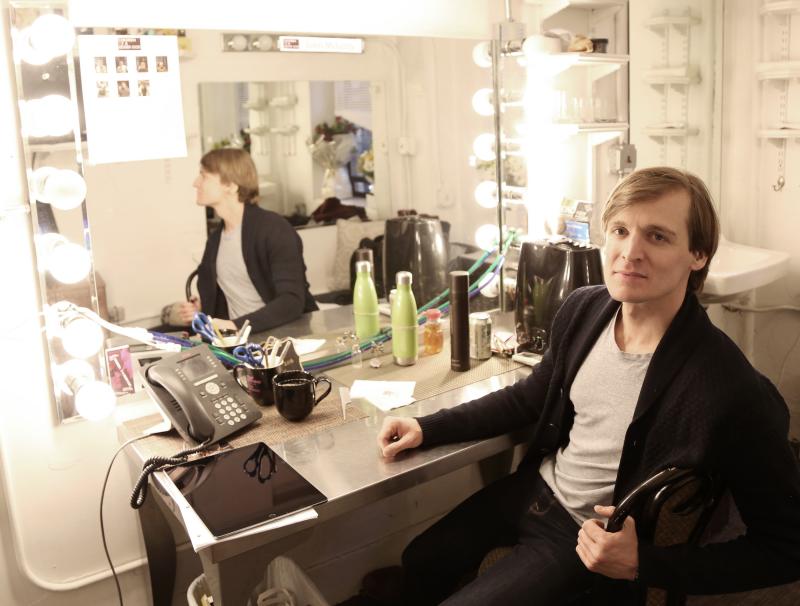 You mentioned Orin's passion and his anger. What do you think is the root of those emotions?
I think that Orin's anger is actually from realizing that there is a betrayal out there, the betrayal of Sarah. We had been together, we had been on the same page, and then James Leeds shows up and he thinks he's the prince on a white horse saving the land. And Orin is clear that that is not true, that's not what he wants. And so he wants to make that stop. So that is what Orin is thinking - he wants to do what's best for the hard of hearing and deaf community. And what that means is, he wants them to have equal treatment. He doesn't want them to be unequal in the eyes of the world. And really, I believe Orin is the truth-teller of this story.
Do you see similarities between yourself and Orin? Are there things you can draw upon in your portrayal of him?
Yes and no. We're both deaf of course, and we both sign, we both can use our voices and speak, we both have a passion for what we love to do. However, I will be very honest with you, I am a fairly quiet person, I am reserved. I don't jump in and speak up; maybe I should do it more. So since the time I read for the character, I have grown to really appreciate him because he has taught me how to speak up more than I typically do. And if you don't speak up, then you face the consequences of that. So Orin encourages me to speak up when it's right. I'm getting goose bumps talking about this, but I really love that. It makes me understand that I'm here for a reason, I'm here as a human being to speak up more often than I have in the past.
You have a unique challenge in that you're performing your role in two languages, American Sign Language and English.
Yes I am, although I don't compare myself with Joshua Jackson at all. Hats off to Joshua because he's doing that pat your head, rub your tummy kind of thing! The challenge is really rewarding for me too, because that challenge is a scary thing . Every night I have to make sure that my speech is projected enough, clear enough and that my signs are clear enough and projected enough. So it's scary. But at the same time I think it's a beautiful thing because I want to be as authentic as possible. People aren't perfect, I'm not perfect. This is who I am and it's part of being human.
This story takes place in the 1970's, but do you believe its message still has relevance in today's world?
Well I was born in the 1980's, but after talking with people who have lived during the '70's and listening to their stories and their experiences, it does make me realize that there are many things that are still relevant today. For example, access is not 100% equivalent. Deaf people are still fighting to get interpreters, for getting what we need, and the deaf education system out there is not perfect. There are many things that continue to be a struggle. However the biggest difference is technology of course. There was no social media back then, there was no video relay services, no FaceTime. And our lives are a little bit easier today for that reason. But if it wasn't for this play showing up back then, I don't think a lot of things would be as easy today or as accessible today. So this play reminds us what has been missing and what has improved.
And if you look at the outside world today and at the political climate of this country, no one is listening to each other. Everyone just says, 'this is my way of thinking! I don't want to hear your way of thinking!' So the parallel to this story is so powerful. I hope that this story is really telling audiences to stop a second, look at each other, make eye contact and really understand what the other person's concerns are and what they are feeling. And really listen and try to really communicate and get to a better place. That's what I think the message of this play is really about.
What has it been like to work with this cast and creative team?
Well first of all, the Drama League nominations just came out and I just sent out a text to our group because they are my family, I feel like this cast and creative team, we're all one big family. We have this really special love for each other and I'm so proud of it. I couldn't ask for a better cast than this and it's all thanks to Kenny Leon, our director. He brought everybody together, so really it's him. He made this whole journey happen and I really enjoy working with everyone. Every performance we do, we do things different every time we're on stage. You know it's such a cool experience on stage every night.
What was it like to make your Broadway debut?
Well one of the first things that I remember when I was growing up was thinking about being on Broadway. It was such an impossible dream, right? And as the years went by and I got to my 30's I thought, 'ok well this isn't going to happen!' So if you had asked me three years ago I would be laughing at you, saying 'no, I'm not even thinking about Broadway.' So, last week at opening night, the first words that came to my mind were 'an honor' - such an honor to be on the stage. I have no words; there are no words to describe the surreal feeling of that experience. I feel part of this new family, this new community now, this heart that I have. I can't wait to be working with everybody. I really have no words.
And when we had finished the show on opening night, the first thing that I saw from the stage was my family who had come to see me. And that was the first thing on my mind - I thought of them because if it weren't for them, I wouldn't be here. And so feeling their presence and their support was such a peaceful, wonderful feeling and it just felt like I was on fire on that stage!
BroadwayWorld congratulates John McGuinty on his Broadway debut in Children of a Lesser God. The actor's other theater credits include THE HUNCHBACK OF NOTRE DAME (Sacramento Music Circus and La Mirada Theatre), FETES DE LA NUIT (New Ohio Theatre), Tribes (Guthrie Theater, Steppenwolf Theatre and PIPPIN (Center Theater Group, Deaf West. His Film and TV credits include WONDERSTRUCK, SIGN, and HBO's "High Maintenance."
Photo Credit: Walter McBride / WM Photos