BWW Review: Mark Blum and Mare Winningham Encounter SoCal Suburbia in RANCHO VIEJO
Dan LeFranc's Rancho Viejo, now receiving its world premiere in a handsome Playwrights Horizons production featuring a terrific cast, is one of those three-hour long plays that may find you tempted to flip through your program at any time for a clue as to what the heck is going on.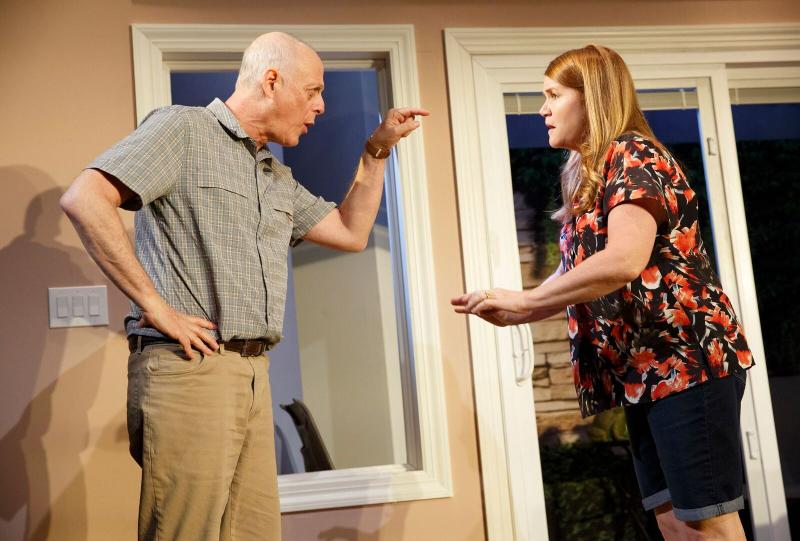 Inside its pages you'll find a five-paragraph article by the playwright addressing the question "Why does this play exist?" without ever answering it and a page-long essay from artistic director Tim Stafford comparing its lead characters to the protagonists of Samuel Beckett's absurdist classic WAITING FOR GODOT.
So in this case Vladimir and Estragon come in the form of married couple Pete and Mary, played by two exemplary stage actors, Mark Blum and Mare Winningham. The pair have retired from what was no doubt a simpler American locale to a suburban community that is probably not very far off from the playwright's native Southern California.
The cleverest aspect of director Daniel Aukin's production is that, while the first two of the play's three acts take place in several homes, designer Dane Laffrey's living room set, dominated by an ostentatious, long-stretching couch, is used for every location. (Despite this convenience, the transitions between the multiple scenes are achingly slow.)
Most of the play takes place at parties thrown by neighbors, the point being that none of the gatherings are in any way distinguishable from the others.
Julia Duffy, who is excellent at verbal comedy, first received national attention on television's "Newhart" playing a privileged deb with an airy high-pitched voice. Here, as the emotionally detached Patti, she uses a gravel pitch to spurt out putdowns with deadly accuracy. She's married to Mark Zeisler's gregarious Gary. There's also tech-obsessed Leon (Tyrone Mitchell Henderson) and his dour girlfriend Suzanne (Lusia Strus). Mike (Bill Buell), who has a habit of helping himself to stuffing hors d'oeuvres in plastic bags to take home, met his Spanish-speaking Guatemalan mate Anita (Ruth Aguilar) as an Internet match.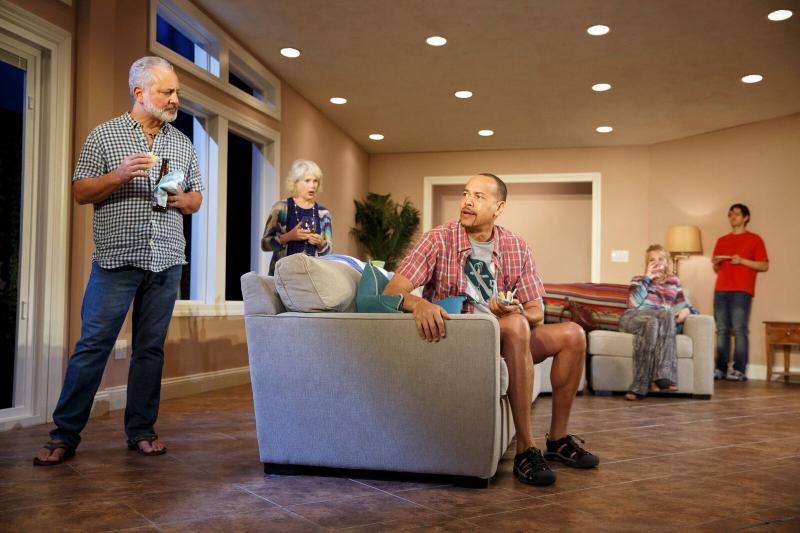 The most significant aspects of the banal chatter is that Mary can't get any of the others interested in joining her to visit an art fair and that Pete is oddly overly concerned with the troubled marriage of Gary and Patti's son, despite having never met him.
The third act takes us outside, where Pete is searching for Leon and Suzanne's lost dog, played by an elegant canine named Marti, trained by William Berloni. Somehow he finds himself bound and gagged by aloof teen Tate (Ethan Dubin), who then strips down nearly naked and performs a dance.
Theatregoers have been discussing the meaning of WAITING FOR GODOT for over half a century. Discussions of the meaning of Rancho Viejo shouldn't take up more than half a minute.
Related Articles
After 20-odd years singing, dancing and acting in dinner theatres, summer stocks and the ever-popular audience participation murder mysteries (try improvising with audiences after they?ve (read more about this author...)