Interview: Now Holley Fain Does the Dazzling in THE FERRYMAN
Holley Fain had just sat through the play she was about to audition for, The Ferryman, and what came next is still not quite clear. "I don't remember leaving the theater," she said. "I was vibrating from the experience." She likened her state to the aftereffects of seeing Tracy Letts' AUGUST: OSAGE COUNTY.
Fain landed the role of Caitlin Carney, the not-quite-widow living in suspended animation in Jez Butterworth's sprawling historical drama set in 1981 during the thick of The Troubles in Northern Ireland. Ten years before, Caitlin's husband disappeared and she and her son moved in with her brother- and sister-in-law and their large, extended family on their farm in County Armagh. She has become the linchpin of the family, the glowing, vibrant coals of the homestead in place of her sister-in-law, Mary (played by Emily Bergl), who has taken to bed and appears only in her uniform of nightgown and housecoat.
THE FERRYMAN packs themes of family, survival, youthful yearning, elderly yearning, forbidden love and the ever-present shadow of the I.R.A. into three hours and 15 minutes that pass like a day at the beach with giant breakers stirred up by an unseen storm. The play won the Tony for Best Play. Sam Mendes won for Best Direction, and two more Tonys went to Rob Howell for Scenic Design and Costume Design.
Numerous changes in the original Broadway cast brought fresh faces to the stage at the same time. Both original leads - Paddy Considine as Quinn Carney, and Laura Donnelly as Caitlin - moved on (but not before being nominated for best actor Tonys).
"I wasn't the only one coming into this epic play," Fain said. "It's a lot to step into." The mesmerizing Brian d'Arcy James took over the lead role of Quinn Carney. Several original actors remain, including the luminous elder Aunt Maggie Far Away, achingly portrayed by Fionnula Flanagan (best featured actress nominee).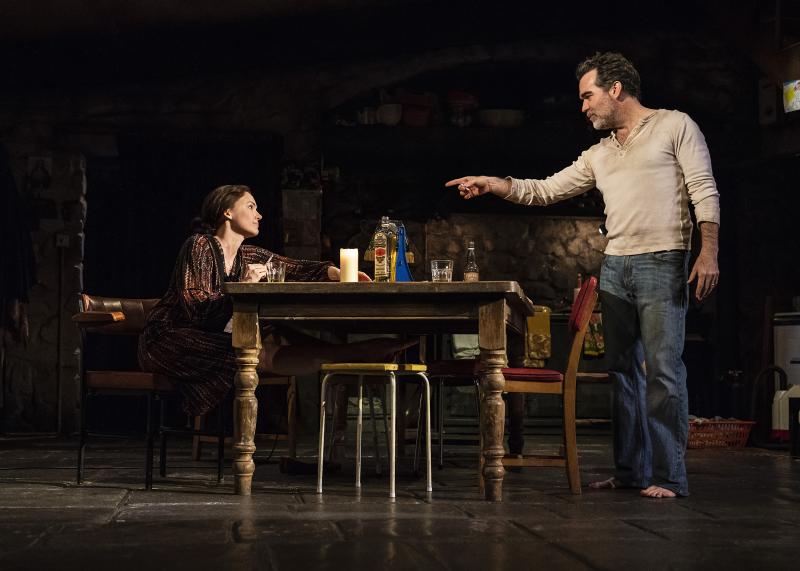 THE FERRYMAN opened to stellar reviews last year, and the new cast continues to win praise. "We've created a whole new family," said Fain, a Californian who switched coasts when The Ferryman called.
Fain watched the play again about three weeks into rehearsal. "I had a nice little bookend and did my own research about that period of time in Northern Ireland.
"I was aware but shamefully did not know the depth and amount of time it spanned," Fain said of the 40-year virtual war the I.R.A. fought against British rule.
"After I arrived in New York, I had a lot of table work, and we spent time talking about the dynamics of the family and the history," she added. "One of our company members is from Belfast and to have that insight was really great."
THE FERRYMAN ranks as Fain's top play. "It's the best play I've ever read; it's an absolute dream," she said. "I can't think of a more fulfilling and challenging role to play."
Caitlin is a complex, sensual woman and mother and is an integral stitch in this oversized family tapestry.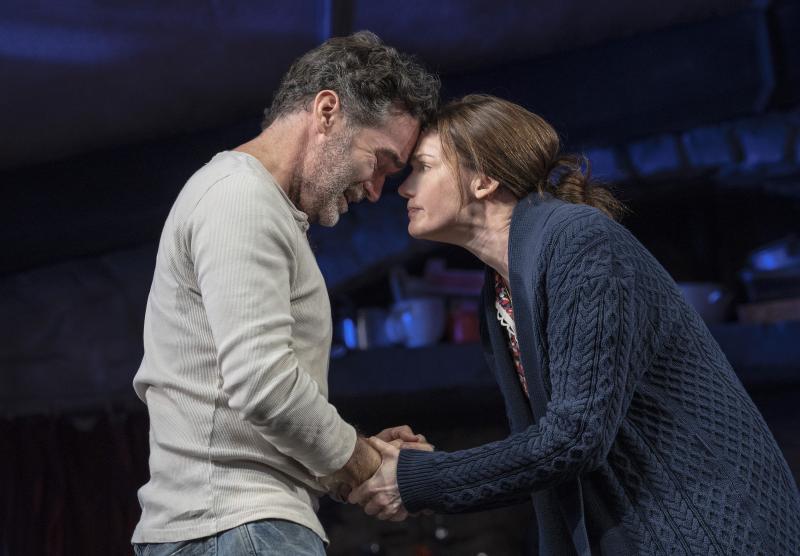 "There's something really beautiful about what Jez does with this work," Fain reflected. "The story runs so much deeper than most pieces, I think. It's Shakespearean, mythic, and one of those ringing moments in a family's generational story."
THE FERRYMAN turns on a tragedy, but much is to be celebrated by the Carney folk. It's harvest time and there's a feast to prepare. Dancing and singing bring delight and a little danger to Caitlin as alcohol and grief loosen her guard.
The 21 cast members who fill the stage are all crucial to the story's unfolding. Mary and Quinn's seven children, ranging from nine months to 16 years, bring a welcome lightness and irreverence to this gut-punch of a drama. When the infant got the hiccups during one performance, the audience seemed grateful for the opportunity to chuckle.
The three hours and 15 minutes fly.
"I think part of why it doesn't feel so long, is because the characters are so fleshed out," Fain said. "Every little corner of the story opens a new door and the audience is along for the telling."
Fain believes the story is relevant on multiple levels.
"It's a good story and occurs during a historic moment in 1981, but it could take place today," she said. "It's about family and love and has veins bigger and deeper than just what's happening then.
"As an American who stepped into this very Irish story, I think there are things that are relatable in our country today," she said, mentioning religious and racial warring factions.
Caitlin's character resonates for her. "I feel a personal connection, I can't really give you one reason why, it's not one thing," Fain said. "I love the family she's a part of and the feeling grows every night. As the play progresses, I learn more and more about her and all of her relationships."
"I love her ability to keep going after having a loved one disappear," she explained. "I can't think of anything more awful-that psychological torture every day he's gone. It's part of her survival to oversee the Carney household. They took her in and she's grateful to be able to help and protect them," Fain said.
Ultimately, she feels that The Ferryman resonates with audiences because of the deeply engaging, multi-dimensional story.
"People go to the theater to have their heart broken," Fain said. "This play reminds people that they're alive."
The Ferryman is playing at the Bernard B. Jacobs Theatre, 242 West 45th Street through July 7.
---
Shop BroadwayWorld

Shop this season's new musicals! Get dressed up for a night at the theatre, or just a night at home, with merch from some of Broadway's biggest hits including SOME LIKE IT HOT, KIMBERLY AKIMBO, and more!
---
Related Stories