Interview: Donna McKechnie on Dancing in HALF TIME at Paper Mill Playhouse
All Donna McKechnie needs is the music (a mirror) and she'll still dance for you. The 75-year-old is currently starring as Joanne in the original musical, Half Time, at the Paper Mill Playhouse in Millburn, New Jersey.
"I am in sneakers so it's a lot easier," the actress says of all the choreography, including hip hop, in the show. The Tony Award winner is perhaps most famous for her dancing roles as Cassie in the original 1975 production of A Chorus Line and as a secretary in the 1968 original musical Promises, Promises. "It's a different style and I think what makes it exciting."
Directed and choreographed by Jerry Mitchell, the story of Half Time which is based on a documentary, centers around a group of seniors over the age of 60 who are determined to make the half time show dance troupe fora major basketball team. The principal cast also includes André De Shields, Georgia Engel and Lillias White.
Half Time, which opens tonight and runs through July 1, features a book by Bob Martin and Chad Beguelin, music by Matthew Skylar with lyrics by Nell Benjamin and additional music by Marvin Hamlisch.
BroadwayWorld's Leigh Scheps spoke with Donna McKecknie about how it feels to dance on stage again capping an illustrious career and reuniting with old friends from Georgia Engel to Lillias White.
What's it like to be back at the Paper Mill?
Well, I'm thrilled. I was there in 1959 [for] my first show, Redhead. [I was] in the chorus. They don't even have any record of it that's how long ago it was. In 1998, we did Follies. Looking back [at] the high points of [my] life [and my] career that always stands out. That was one of them.
How is it being a part of this new musical?
Although I love revivals, I love doing great classics. To be in an original when you are marking the piece and everyone is coming together in a uniquely creative way, it's very exciting.
What's it like working with Jerry Mitchell in this show?
It's like coming home in a way, because I've known Jerry a long time. I worked with him in Follies. I'm older than he is, but I knew of him and his influences were my influences. I called it "old school" in a way. When you're in a [rehearsal] room, everybody has their own way of working. One of the things I was excited about is that Jerry goes over the scene over and over, like repetition. A lot of people don't do that as much anymore because it's time and it's money. And if you get a chance to do it once or twice you're lucky. [Bob] Fosse said a minimum of five times, maybe seven. That's what I call very "old school" -- to do the same scene over and over, but it's how it gets it out of your head and into your emotional impulses.
Tell me about your role of Joanne.
There's a surprise element I don't want to give it away for the audience. But what's revealed is that she's not the person that she pretends to be. Joanne reads about this audition for dancers. It was her dream to be on Broadway but she got married, settled and had a family when she was 23. She missed her life and you find out as the onion layers are revealed in [the show's] good writing.
What's it like to be on stage with so many other great performers like Georgia Engel and Lillias White and the countless others?
I haven't seen Georgia since we did a play in 1990 at the West Side Theater, called Cut the Ribbons. Lillias, I've known for a long time and we've done concerts and benefits together. I think the world of her. At rehearsal, I burst out into tears and I'm not supposed to at this one point, because Lillias started singing at me. I looked at Lillias, and go, "Oh, my God. Lillias White is singing to me." And I just burst into tears. I said, "Lillias, you're making me cry." She said, "Don't cry. I can't take it either." She sings to me and I couldn't be in a happier place. There's mutual admiration in the women that I'm meeting.
You mentioned Follies was one of your most defining career moments. What role do you think was that turning point for you? Was it Cassie in A Chorus Line?
There's been a few but I think that one stood out in a way because it was everything. I kept saying to [Michael Bennett], "Write this show. The show you want to write about dancers because I'm already 30 and if it doesn't happen soon I'll be too old."
Do you watch yourself perform the famous "Turkey Lurkey Time" from Promises, Promises on YouTube ever?
Oh, yeah. Yeah. I'm just so glad I'm not doing it anymore.
When Thanksgiving rolls around do you parade around the kitchen singing it?
No. I don't. On YouTube when I saw this one kid in his bedroom doing the whole [dance] it made me laugh so much. He was so fabulous.
What do you remember about doing the number on Broadway?
In the beginning it just was a big failure. Michael [Bennett] didn't have dancers do it the first time round. He used three secretaries and I was one of them. I wasn't a dancer in the show initially. I was a singer and an actor. It bombed so badly that I call it Springtime for Hitler. The audience's mouths were open. It was the first act finale and Michael and Neil Simon are in the back of the theater and Michael said, "Oh, my God. I can fix this. I can fix this." He immediately knew that he was trying to be too real, too honest, as if these three secretaries had choreographed it in their living room --- it looked really kind of silly, tacky and amateurish. So [Michael] and Bob Avian went to their hotel room and created this whole dance number. The next day we learned it and it went in like two nights later, I think. And then it stopped the show.
Do you still take dance lessons?
I take ballet. I mean, I'm not going to go through the whole class. I can't do it. I'm building myself to at least get into the middle of the floor. But there's a very wonderful teacher I study with at Steps. I go as much as I can when I'm not traveling.
How about all the dancing you do in Half Time?
I am in sneakers so it's a lot easier. It's not killing me but it feels like it's killing me right now. In other words, I'm surviving it but it's all maintenance. I'm on ice every night.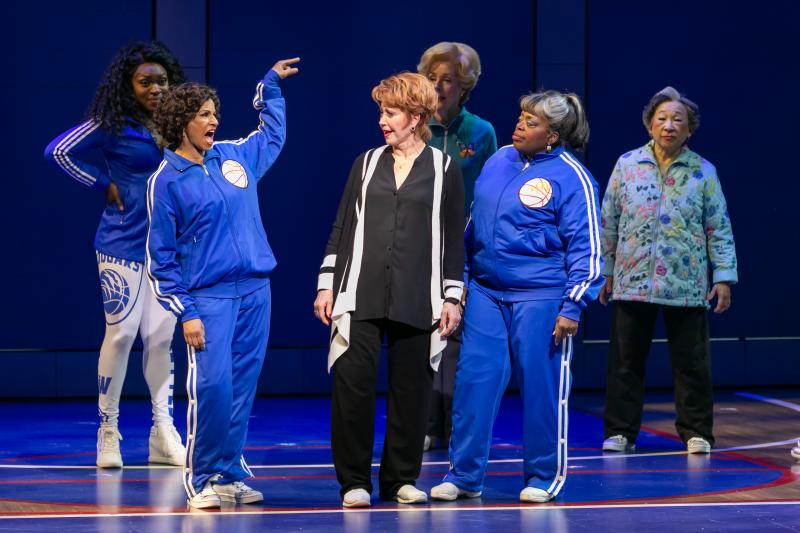 What is it like doing hip hop?
It's a different style and I think what makes it exciting. It's a lot of upper body. We're not doing jump kicks or double pirouettes but we're drilled. That has not been the easiest thing for me, to be in the chorus. I was in one chorus. That's why that part of the character of Cassie came about because I was doing a show for Michael [Bennett] one year and Bob Avian said, "Well, she's not with everyone. She's doing her own thing." I would hear something in the orchestration and I would put my hand to my Is there any role you have always dreamed of playing that you still would love to do in your career?foot or something, or my head. And Michael said, "Just leave her alone." So he incorporated that into the Cassie character when she can't do it like everybody else.
Is there any role you're still eyeing to play?
You know, there isn't because, I always loved creating an original piece. At the heart of me I feel like I'm a dramatic actress. So I have a lot of things to do yet.
---
Half Time will be performed at Paper Mill Playhouse eight times a week, Wednesday through Sunday through July 1, 2018. Performance schedule: Wednesday at 7:30pm, Thursday at 1:30pm and 7:30pm, Friday at 8:00pm, Saturday at 1:30pm and 8:00pm and Sunday at 1:30pm and 7:00pm.
---
Shop BroadwayWorld

Shop this season's new musicals! Get dressed up for a night at the theatre, or just a night at home, with merch from some of Broadway's biggest hits including SOME LIKE IT HOT, KIMBERLY AKIMBO, and more!
---
Related Stories