Perseverance Theatre Presents THE GREAT LEAP Beginning in February
Juneau performances are February 17 - March 5, 2023, on the Perseverance Theatre Mainstage.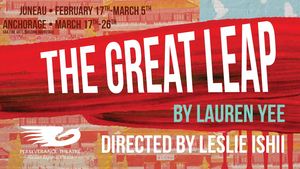 The Great Leap comes to Perseverance Theatre this year. The play is by Lauren Yee and directed by Leslie Ishii.
Manford Lum knows the game of basketball like the back of his hand. After all, he's basically a legend on the Chinatown courts. It's 1989 in San Francisco, and a determined Manford talks his way onto the American team scheduled to play a "friendship" game in Beijing. But when he arrives, he finds himself smack in the midst of post cultural revolution China, where tensions are high and one wrong move could get him into serious trouble. Here, Manford must come to grips with his identity, his past, and the choices he now faces. In this witty and fast-paced comedy by award-winning playwright, Lauren Yee, there's more at stake than winning and losing, and when personal loyalties and politics collide, it all comes down to the final buzzer.
Juneau Performances February 17 - March 5, 2023, on the Perseverance Theatre Mainstage
Anchorage Performances March 17 -26, 2023 on the UAA Fine Arts Mainstage