BWW Review: HOLIDAY INN at ARTS Theatre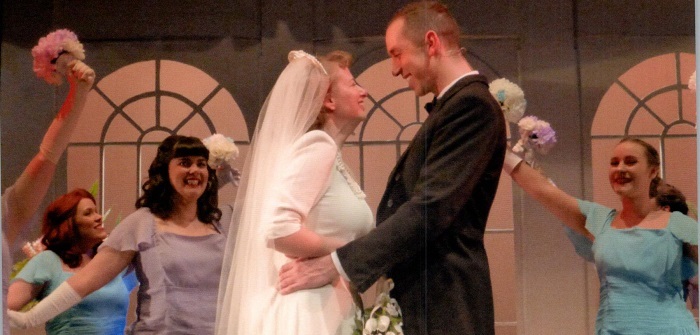 Reviewed by Barry Lenny, Thursday 7th June 2018.
The Therry Dramatic Society is presenting the stage version of
The
Irving Berlin
(Israel Beilin) favourite,
Holiday Inn
, with a libretto by
Gordon Greenberg
and
Chad Hodge
. It was loosely adapted from the
Paramount Pictures
black and white1942 film. The film was highly patriotic, brought on by the bombing of Pearl Harbour during the filming, the 4th July sequence featuring newsreel footage of armed forces. Directed by Jude Hines, with joint musical directors, Mark DeLaine (orchestra) and Joanna Patrick (vocals), and with choreography by
Thomas Phillips
, assisted by Lauren Noble, the bright and breezy production has a large cast and, I was told, involves 600 separate costumes.
Gary Anderson
's set and Richard Parkhill's lighting adds to the visual impact. The result is a right and breezy production that has plenty of appeal. To begin with,
Jim Hardy
,
Lila Dixon
, and Ted Hanover are a song and dance trio. Jim is assuming that Lila is going to marry him and that they will retire, but she is not yet ready to give up her career With their agent, Danny Reed, offering the remaining duo a prestigious booking, she goes off with Ted. Heartbroken, Jim goes ahead with his plans without her, buying the run down Mason Farmhouse in Midville, Connecticut, where he meets the schoolteacher,
Linda Mason
, whose family had previously owned the farm. Along comes Louise Badger, a local handyperson, who moves in to renovate the place. If you know the film well, you will already have noticed changes. The farm in the film was called Lazy Acres, Linda was an aspiring performer working in a flower shop, the character of Louise didn't exist, but Mamie, the housekeeper, and her two small children did. They have been cut, as has the character, Gus. Replacing the children, for that cuteness factor, is an errand boy named Charlie Winslow. Some of the songs and dance routines from the film have been dropped, or shortened, and others have been introduced. The black-face routine for Lincoln's birthday is one of those cut, for what should be obvious reasons. The film was released in 1942, although the stage musical is set somewhat later, in 1946 and 1947. In the film, the now politically incorrect, stereotypical character, Mamie, incidentally, was played by
Louise Beavers
, which makes the name of the replacement character, Louise Badger, rather intriguing. Jim comes up with the idea of turning the farm into an inn that is only open on the fifteen major American holidays, renaming it Holiday Inn and asking Linda to be his star performer, allowing her to realise a dream that she gave up to become a teacher. Later, Lila has dumped Ted for a Texan millionaire and, drunk, he arrives at Holiday Inn, where he meets and dances with Linda. The next day, Danny Reed, Ted's agent, thinks that Ted has found a new partner, but Ted remembers nothing of the event. They try to find her, so Jim does his best to keep them apart, afraid of losing Linda. They plan to return at each holiday, trying to find her. Eventually they succeed, with Ted and Linda dancing to the song
Be Careful, It's My Heart
, which Jim has written for Valentine's Day. This was intended to be the big hit number for the film but, instead,
White Christmas
took that honour, becoming the most iconic of all Christmas songs, and having the 1954 film, the very first made in Vista Vision and featuring Crosby, written to exploit it, ironically, being written by a Jewish songwriter. The other really big hit was
Easter Parade
, which also spawned its own 1948 film, for Astaire. On Washington's Birthday, Jim tries to sabotage their routine by changing tempos whenever Ted is about to kiss Linda, but she and Ted go to Hollywood, anyway, while Jim is forced to write songs for them for a film based on his Holiday Inn. To make matters worse, he is in love with Linda and thinks that he has lost her. He no longer opens the inn in his depression, until Louise convinces him to take action. Creating a stage production from the film is a mighty task and, of course, some simplification is unavoidable. Nobody can be expected to sing like that great crooner,
Bing Crosby
, with his unmistakably deep, rich, bass-baritone voice, and nobody can be expected to dance like Fed Astaire. Crosby, aged 39, and Astaire, aged 43, at the time, were at the peaks of their careers and, of course, they had the luxury of being able to make multiple takes that could then be edited, unlike live performances. Astaire's extremely complex and lengthy firecracker dance for Independence Day, for example, took 38 takes. Brady Lloyd, as
Jim Hardy
, and Lindsay Prodea, as Ted Hanover, do a superb job of reinventing the two roles, bringing their own interpretations to the characters. Jim is the embodiment of that "nice guys finish last" misconception, with Ted taking Lila away from him, and then repeating that with Linda; but the worm turns. Lloyd has the audience sympathy all through, and we are right there with him as his character finds the one thing that he refuses to accept; that he has lost Linda. Lloyd provides some eye-dampening poignant moments in an emotion filled performance. On top of his fine acting and singing, as the self-centred and unfeeling Ted, concerned about nothing but his own career in show business, Prodea does a very creditable piece of work with the tap routines, particularly the drunken one in which he first meets Linda.
Lila Dixon
is played by Nikki Gaertner Eaton, and she is every bit the show business professional, with a career in mind. Her Lila is stylish and sophisticated, giving rise to humour when she discovers the stark reality of farm life in a brief visit. Lauren Scarfe plays
Linda Mason
, giving a very warm interpretation of the role of the star-struck young woman who finally realises that what she really wants is marriage and a family with Jim, back on her family farm. Mason presents a charming and disarming characterisation and impresses with both her singing and dancing Louise is played by Kate Anolak, who has excellent comic timing and, arguably, the most powerful and expressive singing voice in the production. Andy Trimmings plays Danny Reed, Ted's single-minded agent, determined to keep Ted in business and collect his percentage, adding plenty of laughs to the production. Charlie was played, on opening night, by Charlie Zorkovic, providing a high level of lively cuteness, and the role will be played on alternating nights by Luca Camozzato. The chorus is well drilled, and offers some exciting song and dance numbers, making this a show that will delight any musical theatre aficionado.
Born in London, Barry was introduced to theatre as a small boy, through being taken to see traditional Christmas pantomimes, as well as discovering jazz (read more about this author...)