BWW Review: BEEP at Space Theatre, Adelaide Festival Centre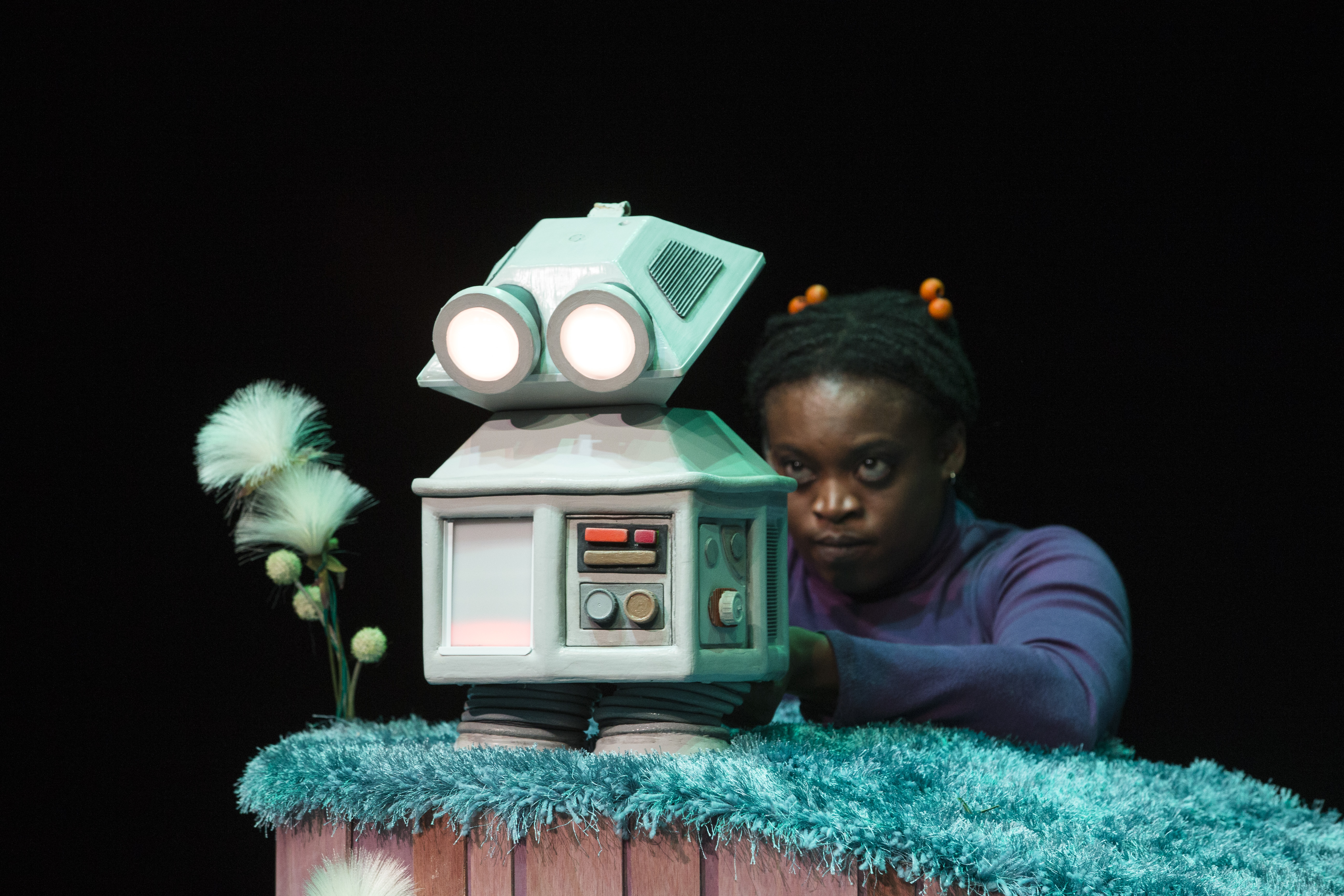 Reviewed by Christine Pyman, Sunday 27th August 2017.
Windmill Theatre Company is a long-running, well-known and award-winning company specialising in children's theatre. Director and co- creator, Sam Haren, together with his co-creators, designer Jonathon Oxlade and writer Katherine Fyffe have put together a wonderfully multi-layered story which the cast of three actors and puppeteers obviously enjoy performing. The advertising introduction to
Beep
, states "In Mort's village everything has its place, every day is the same and everyone likes it that way. Until one morning, crash, boom, bang... down comes Beep." This scene and the ongoing story is played out in a clever set reminiscent of a children's book illustration, with a furry, turquoise, wooded glade, a lived-in molly melon tree, and is completed with hidden compartments for mechanical puppetry. The appeal of simplicity takes the viewer into the magic of childhood. With subtle lighting changes and minimal sound effects, the story and stage design guide the audience through the child-familiar routines of sleeping, waking up, watching adults going to work, older children going to school, younger children playing. The tale, beautifully told and performed by actors, Antoine Jelk, Ezra Juanta, and Kialea-Nadine Williams, tells us of an idyllic village life, which is unexpectedly disrupted by the arrival of a young robot, Beep. Initial xenophobia is gradually overcome, with curiosity and shared play leading to the beginnings of acceptance and friendship, with total integration finally made with an act of selfless bravery on the part of Beep. Beep's act leaves her in dire need, and this rallies the village into uniting to save her life through the use of green power, with some much-enjoyed audience participation to ensure it works. An especially beautiful moment was the visual telling of Beep's escape from her home planet, told with simple lighting and props, and great compassion. Beeps voice was made using a ring modulator (think of the Daleks' voices, but cute and friendly). Tamara Rewse's puppets, together with the tech help of Chris Petrides, were the believable stars of the show, brought to life by the exuberance and obvious skill of the actors. At its heart, this is an age-old story of the new changing the old, a shake up of learning, and bravery overcoming fear. All learning is about the new, new knowledge, new experiences, new ways of understanding, leading to the growth of compassion and, amidst the enjoyment, children would take home this learning. Excellent children's theatre from Windmill, again.
Related Articles View More Australia - Adelaide

Stories

Shows
Born in London, Barry was introduced to theatre as a small boy, through being taken to see traditional Christmas pantomimes, as well as discovering jazz (read more...)