Review: THE RAILWAY CHILDREN - A MUSICAL, The Electric Theatre, Guildford
New musical triumphs in unapologetically old-fashioned show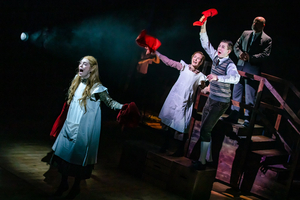 Sometimes, the most unexpected and most difficult thing one can do in a theatre is the most obvious, the most traditional, the least radical. With so many London stages reflecting the hot button issues that animate the febrile world of social media, it seems almost perverse to see a production that harnesses the unique power of musical theatre in such an unapologetic way. Get it wrong, and accusations of irrelevance might gain ground; get it right, and an audience is royally entertained and, wouldn't you know it, some of those hot button issues do seep through the production after all.
E. Nesbit's Edwardian novel, The Railway Children, is much loved, familiar and er... out of copyright, all of which appealed to Alex Parker and Katie Lam, exploring the foothills of the mountainous climb that is writing a new musical. With a couple of concert performances (and a pandemic) behind them, this short run in Guildford constitutes an assault on the peak after many years of development - and they have planted a flag for the future.
The book, should you require a reminder, concerns the eponymous poppets being uprooted from their comfortable London middle class life after their father is accused of selling secrets to Russia. In a rural village alight with gossip about the case, they find solace in waving to a train, a means by which they feel they can send their love to their absent parent. Their mother is leading the fight for justice, while Bobbie, Peter and Phyllis charm the villagers, particularly Mr Perks, the stationmaster, and The Old Gentleman, a passenger, on the 9.15 - a train that, one morning, is suddenly in danger.
A nine-piece orchestra deliver Parker's score beautifully, giving a real West End quality to the show, music perfectly balanced against voices, a technical element of any musical but an objective that eludes so many directors. That platform allows the singing to fly - and fly it does.
Anna Vardy, carrying much of the emotional heft of the show in a book that Lam's book has successfully focused on the Mother character, is a delight in songs like "The Best You Can" and, duetting Darren Street's Father, the moving paean to a love that sparks in youth and grows into middle age, "Here Is A Girl".
The three children each have splendid voices of their own, but when Laura Sillett, Cassius Hackforth and Charlotte Fleming sing in harmony (and they do, often) the house is filled with sound and there's an almost perceptible shift in the atmosphere - "Ah, here comes the magic" I found myself thinking and I'm certain I was not alone.
With so many songs, there's room for a cameo or two. Rosie Hatton (one of a few non-professional, but experienced actors in the show) nails her solo number about the position on women in a patriarchal workplace, "Invisible", and Jamie Jonathan is sweet indeed as the rescued boy, Jim, with a gloriously bashful Bobbie on "Let's Fly A Kite".
If there's no real standout 11 o'clock number, not every musical needs a "Don't Cry For Me Argentina" and song after song is interesting, with a hook or two to spare and they never pause the narrative, the story maintained on the boil by Deborah Crowe's pacy direction, important in a full length show the plot of which will be well known to most of the house. It's a rare surprise these days to find a show that feels to be shorter than it is!
Not everything works - the subplot of the mysterious Russian whom the family saves adds little and the motivation for their father's framing for treason (no less) by an office rival, is glossed over too sketchily.
But the positive side of the ledger is filled with ticks for all the elements that come together to create the alchemy of successful musical theatre, a technical and emotional achievement. And that relevance point? Navigating the thickets of growing up in a family with an absent parent (physically or emotionally) and in perilous financial health will hit home with many, as will the testing of a love long past its giddy first flush. Women will see their own struggles to be heard reflected and children will see that they sometimes have to support the people who have always supported them. Perhaps most of all, and there's real jeopardy in this production that keeps sentimentality at bay, there's the triumph of decency over hostility, an underlining of the benefits of embracing strangers and the cheering defeat of prejudice.
Old school stuff indeed, but when it's done with such skill and heart, it's a winning combination and an assertion of the sometimes doubted fact that big new musicals can succeed within the cost constraints and risk aversion of 21st Century Theatre. I can only hope that many more will enjoy this lovely show beyond its short run in Guildford - the country certainly needs its singing, its music and its message.
The Railway Children - A Musical is at The Electric Theatre, Guildford, until 5 February
Photo Credit: Danny Kaan