EDINBURGH 2018: BWW Q&A- Bad Things Happen Here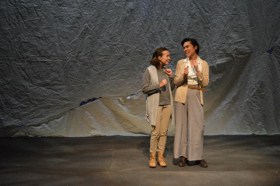 BWW catches up with Eric Marlin and Lila Rachel Becker to chat about bringing Bad Things Happen Here to the 2018 Edinburgh Festival Fringe.
Tell us a bit about Bad Things Happen Here.
Bad things happen here is a collage play that tells the story of a nation living under a military coup through the lives of over forty different women, all played by two actors. We slowly learn about this world through a series of discrete, elusive scenes.
The piece began when I was reading about the Dirty War in Argentina. In particular, I was drawing from this book Lexicon of Terror by Marguerite Feitlowitz which, in part, discusses how everyday language got corrupted during the Dirty War. Innocent words and phrases became oblique references to state violence. From there, I began writing a play about a fictional country.
Why bring it to Edinburgh?
The original production of this show was in Iowa City - a very Midwestern--which is to say rural--U.S. audience. Our audience in Iowa has different interests and concerns than the audience in a large urban center like Edinburgh. We're excited to bring this piece to a new community and a global audience to see what lands here differently than in the U.S.
We take the "here" of the play's title seriously--it means something different in Edinburgh than it does in Iowa. However, the questions that the play wrestles with around nationalism and fascism are the ones that the U.S., the U.K., and many other countries are dealing with right now. So the play is, for terrible reasons, meaningful to both audiences.
Do you think it is particularly relevant just now?
The piece is, unfortunately, becoming more and more relevant. bad things happen here is, in part, an examination of how political corruption and violence go hand-in-hand with the instability of language. In the era of Trump and Brexit, when blatant lies pass for truth, when words become untrustworthy, we're all searching for steady ground in our politics and our language. bad things happen here explores this search.
Who would you recommend comes to see Bad Things Happen Here?
The play is great for audiences who are interested in formally challenging, politically engaged work. But don't be put off if that's not normally your jam - the play also has good jokes, fun mysteries, terrific acting, and runs a little under an hour long!
What do you hope audiences take away from the show?
We hope the play creates a space for serious discussion about how we navigate oppressive systems, and what are the forms of resistance at our disposal--large and small. We also hope the shows makes people scared of lampposts (come see the play to find out what that means!)
https://tickets.edfringe.com/whats-on/bad-things-happen-here
Photo credit: R Eric Stone