Review: RUMPELSTILTSKIN, Queen Elizabeth Hall, Southbank Centre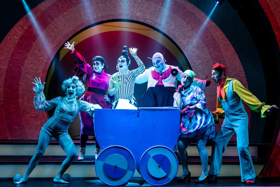 This Australian production of Rumpelstiltskin wanders as far from the original tale as Germany is from Down Under (and some might say the same with regard to its distance traditional theatre) - but that's all good. The reason that the stories the Brothers Grimm collated had lasted so long (and remain fresh to this day) is their appeal to some very deep-seated emotions: desire, greed, regret and redemption. That universality is acknowledged acknowledged by the director and writer (Rosemary Myers and Julianne O'Brien) in their excellent (and free!) programme notes.
Of course, none of this radical updating (Instagram gets a mention!) would matter if the kids (and the adults) weren't having a lot of fun in the stalls - and we do, the fundamentals of the plot insistently peeking through the rollicking razzmatazz.
Harriet is trying to make her way in the big city, when she stumbles upon a magical creature whose neglectful upbringing has left him with but a crow and a rat as companions. She is suddenly thrust into managing his shop, a fashion emporium that sells what exactly what people want - needful things indeed. Her ditzy assistant, Tootie, falls for gormless pretty boy Malcolm (the creature's stand-in on the red carpet), but he is soon claimed by Harriet. They have a baby who, because Harriet wanted more and more and MORE, is promised to the creature, who subsequently claims his prize.
It all seems a little convoluted, with the big camp fashion motif of the first half largely forgotten in the second (the ten year old Brüno Gehard schtick wasn't missed) and the interval came at the right time for a lot of the kids around me. Much can be forgiven though, as the second half picks up pace and packs in the best numbers of a very good score (by Jethro Woodward, doubling up as musical director). There's a nice message to leave with too, mercifully largely short on Disneyfied schmaltz.
The show really scores on two points. Chris Edser has provided animations far beyond anything I have seen on stage in a decade's reviewing. At times, one almost feels that one is in a cinema / theatre hybrid, but Jonathon Oxlade's strong design just about avoids the people being overpowered by the projections. There's bit of Fritz Lang, a bit of New Order's "Blue Monday" video, a bit of Paco Rabanne and a bit of the Commedia dell'arte that I spotted (but, doubtless, plenty more references for those with eyes to see). It's all rather gorgeous.
If that's all a feast for the eyes, the singing is a delight for the ears. All the cast have strong voices, with Paul Capsis (as our eponymous goblin) treating us to his edgy cabaret vocals (a hint of Weimar is always welcome) while Sheridan Harbridge (Harriet) and Michaela Burger (Tootsie) can belt with the best of them across the river in the West End. Best of all is Ezra Juanta (listed as Surprise Character - though he isn't really) who has something of James Brown in his soul-inflected vocals, perfectly suited to the big finale number. I would not be alone in wanting to have heard a lot more of him earlier.
So it's not a pantomime, but has elements thereof; it's not a cinematic SFX blockbuster, but has elements thereof; and it's not a traditional Rumpelstiltskin, but it has elements thereof. It doesn't all work, but enough does to make the show succeed and provide a fun filled evening for all the family.
Rumpelstiltskin continues as the Queen Elizabeth Hall, Southbank Centre until 6 January.
Photo - The Other Richard